Zane Kahin beat out 90,000 other impressive infants and tasteful toddlers to win the title of 2021 Gerber Baby.
The anointment was a bit of a surprise too, with parents Erin and Michael Kahin thinking that they were making an appearance on Today because their son was a finalist in the search.  All eyes quickly turned to mom Erin during the interview, when she shared the improbable and inspiring tale of how she overcame the odds to welcome a healthy baby boy.
Read More
Erin was diagnosed with
breast cancer
when she was in her 20s, and opted to take an aggressive approach to fighting the disease, which also meant she might never conceive. "So, when I was diagnosed the first conversation we had was about fertility, and potentially the treatment I was about to have, which included chemotherapy, radiation, a double mastectomy, that could impact becoming a mom," Erin told
Today
host Savannah Guthrie. "So, [husband Michael and I] met after treatment, and got married last year, and to our and our doctors' surprises we got pregnant naturally, and pretty quickly. "
She went to say:  "And even though I was high risk at first, we had pretty flawless pregnancy and delivery and now we have this very happy and healthy baby boy."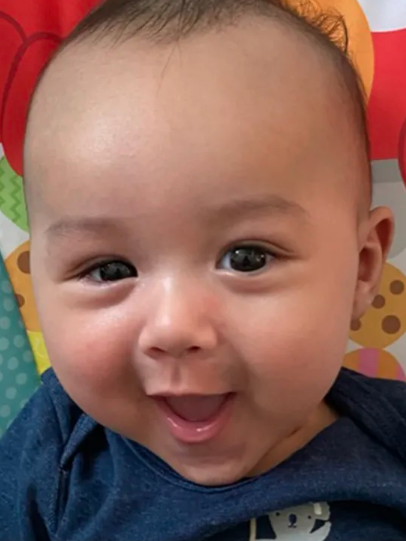 There was one minor hiccup at the birth, however, which is what prompted the pair to submit a photo of Zane for the annual baby search.
"So when Zane was born our nurse came over and told us how cute he was, but then a couple of minutes later we hear her give the same compliment to another set of parents,"  Michael said.
"We were like, 'Wait a minute! Is Zane really cute? Or is she just giving a rehearsed speech?' We had no idea. So to settle this we entered Zane into the Gerber baby search."
The hosts then had one more surprise as they told the family that Zane had won this year's nationwide search.
Erin and Michael quickly lit up while Zane, who had just scored  $25,000 signing bonus for his new roles as chief growing officer and chief taste tester at a Fortune 500 company played it very, very cool.
"He's in shock," joked mom Erin.
Dr. Jaime Knopman talks about fertility preservation after a cancer diagnosis.
How Cancer Treatment Can Affect Fertility
Some types of chemotherapy can destroy eggs in your ovaries. This can make it impossible or difficult to get pregnant later. Whether or not chemotherapy makes you infertile depends on the type of drug and your age since your egg supply decreases with age.
"The risk is greater the older you are," said Dr. Jaime Knopman a board-certified reproductive endocrinologist with years of experience treating couples and individuals experiencing infertility. "If you're 39 and you get chemo that's toxic to the ovaries, it's most likely to make you menopausal. But, if you're 29, your ovaries may recover because they have a higher baseline supply."
Related: Fertility Breakthrough – A Breast Cancer Survivor Gives Birth After Her Eggs Mature in a Lab
Radiation to the pelvis can also destroy eggs. It can damage the uterus, too. Surgery on your ovaries or uterus can hurt fertility as well.
If you are having a treatment that includes infertility as a possible side effect, your doctor won't be able to tell you for sure whether you will have this side effect. That's why you should discuss your options for fertility preservation before starting treatment.
Related: 'I didn't have time to preserve my fertility,' TLC Star Aly Taylor Builds a Family of Five Against All Odds
Research shows that women who have fertility preservation prior to breast cancer treatment, in particular, are more than twice as likely to give birth after treatment than those who don't take fertility preserving measures.
Your Options For Preserving Your Fertility Before Cancer Treatment
Most women who preserve their fertility before cancer treatment do so by freezing their eggs or embryos.
Dr. Terri Woodard discusses your options for preserving fertility after a cancer diagnosis.
After you finish your cancer treatment, a doctor who specializes in reproductive medicine can implant one or more embryos in your uterus or the uterus of a surrogate with the hope that it will result in pregnancy. If you freeze eggs only before treatment, a fertility specialist can use sperm and your eggs to create embryos in vitro and transfer them to your uterus.
When freezing eggs or embryos is not an option, doctors may try these less common approaches:
Ovarian tissue freezing, an experimental approach for girls who haven't yet reached puberty and don't have mature eggs or for women who must begin treatment right away and don't have time to harvest eggs.
Ovarian suppression to prevent the eggs from maturing so that they cannot be damaged during treatment.
Ovarian transposition, for women getting radiation to the pelvis, to move the ovaries out of the line of treatment.
Women's Key Concerns: Money & Time
"The biggest hesitation most women have is cost because this isn't always been covered by health insurance," noted Knopman.
There's financial assistance available for fertility preservation. Many fertility specialists discount the cost of treatment for people with a cancer diagnosis. Charitable organizations, such as Chick Mission of which Knopman is Chief Medical Officer, help cover these costs, too.
Related: Sportscaster Erin Andrews Opens Up About Her Cancer & Fertility After Treatment
"There are a lot of programs that will help you, so don't let the cost be a barrier," explained  Knopman.
Many women are also understandably concerned about delaying the start of their treatment to undergo egg harvesting and freezing, which takes about two weeks.
'Freezing eggs or embryos, what should I do?' — Dr. Jaime Knopman explains.
Fertility clinics, Knopman assured, can get patients with cancer in for their procedure almost immediately after diagnosis.
"There's no time lag. I see patients within 48 hours of their referral. We know how to streamline this. So, we all work together as a team to get the treatment started quickly," she noted, adding that if you need cancer treatment so urgently that there's no time to harvest eggs, your doctors will tell you so.
Risks of Pregnancy After Cancer Treatment
In-vitro fertilization and embryo transfer don't always result in pregnancy, but cancer survivors seem to have the same chance at success as other women, said Knopman. However, some types of chemotherapy can have long-term consequences, for example, for the heart or lungs.
"For a patient who has had chemo, I'll refer them to a high-risk obstetrician or a maternal-fetal medicine specialist for a full workup to make sure that she is healthy enough to carry a pregnancy."
Contributing: Sonya Collins
Learn more about SurvivorNet's rigorous medical review process.
---