A Sloppy Misdiagnosis Followed By One Woman's Inspiring Battle
Student teacher Jenna Patel, 21, found a lump in her shoulder and was told by a doctor it was "nothing to worry about."
Unfortunately, the lump turned out to be cancer.
Ewing sarcoma is a rare type of cancerous tumor of the bones, or the soft tissue around the bones. Typical treatment for the disease is chemotherapy, radiation and surgery. However, researchers are consistently trying to find other treatment options that may benefit patients.
College student Jenna, who was due to graduate this month, just lost her fight months after her tragic diagnosis.
Popular student teacher Jenna Patel, 21, found a lump in her shoulder and was told by a doctor it was "nothing to worry about." She was then diagnosed last July with a rare cancer called Ewing sarcoma.
Following her shocking diagnosis, she immediately started chemotherapy and had also participated in a clinical trial to help save her life, but the treatment wasn't working, and the cancer had spread to her lungs.
Read More
Due to graduate this month from Lancashire, England's Edge Hill University, she never gave up on her mission to educate, and was continually spreading positivity. Unfortunately, Jenna just passed away after putting up a brave fight for months.
"There was not a time of the day when she was not smiling," Jenna's younger brother Liam, 17, told Manchester Evening News. "We were really close and did everything together."
Just a couple of weeks prior to losing her fight, doctors told Jenna and her family that there was nothing more they could do—one of the most tragic experiences a cancer patient can go through.
"It was horrible," Liam expressed. "Even though she had been told that, she was still smiling. One thing I have always been inspired by was her mentality."
Liam shared about his sister's dream of becoming a teacher, and how she determined her path by the age of eight.
She had shared concern to her brother over the strange discovery in her shoulder.
"She said I have a little lump on my shoulder, and I told her it does not look go bad but to get it checked out. She went to the doctor and they said 'it's nothing to worry about, we think it's a cyst.' It carried on growing so she went back. After a few more tests, we found out it was something worse."
Related: Remembering 'Top Chef's' Fatima Ali, Who Passed 2 Years Ago From Cancer: Has There Been Any Progress On Ewing Sarcoma?
Ironically, the diagnosis came just a few months after the family received joyful news that Jenna's father, Manish, was in remission from battling brain cancer.
When Cancer Runs In The Family
The family is now honoring the bright young woman's memory by raising awareness, and set up a fund for the Ewing's Sarcoma Research Trust, which supports families and funds research into the disease.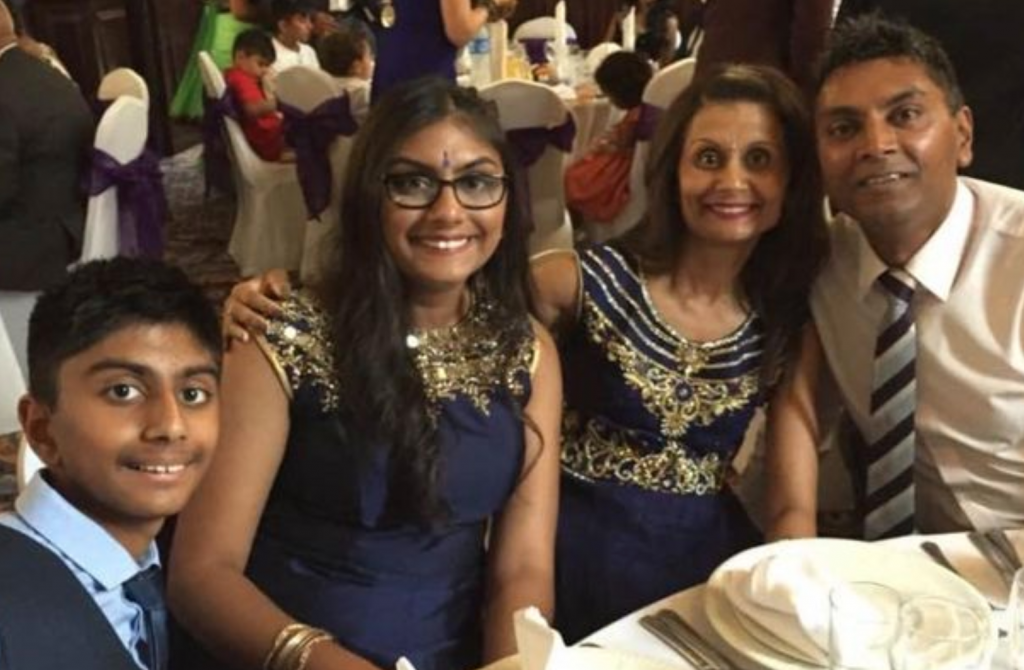 "It's nice to see how many people cared about her," Liam said. "She had so many great friends and they have all been helping out with the fundraiser. It's been hard but it's nice to talk about all the memories we have of Jenna."
Learning More About Ewing Sarcoma
Patients diagnosed with Ewing sarcoma may be given chemotherapy, radiation, or surgery. One of our SurvivorNet experts explains that many patients may benefit from doing multiple treatments at once.
"More than other types of cancer, the benefits of multidisciplinary care should prompt most patients to be seen by a group that specializes in treating sarcoma,"  Dr. Dale Shepard, director of the Cleveland Clinic Taussig Cancer Institute Phase I and Sarcoma Programs, told SurvivorNet in a previous interview.
"Even if only for a second opinion or to develop a treatment plan, multidisciplinary care is crucial," Dr. Shepard emphasized. As examples, patients may benefit from surgical resection or radiation therapy even with metastatic disease. Patients may benefit from the addition of chemotherapy to radiation therapy prior to surgery to resect a sarcoma."
Related: Mom of 2 Spots 'Strange Lump' On Her Head While Taking Selfie With Her Newborn: It Turned Out To Be Sarcoma Cancer
Researchers are consistently looking for new and better treatment options for those diagnosed with Ewing Sarcoma. According to John's Hopkins Medicine, targeted therapies are being studied to see how they could treat the disease.
While immunotherapy has shown huge promise in treating other types of cancers, it's still considered an experimental treatment for those battling Ewing Sarcoma. Additionally, experts say that they are studying genomic sequencing to see if a drug already approved by the Food and Drug Administration (FDA) may benefit tumors that have specific biomarkers so that these targeted therapy can quickly attack the cancer cells.
Clinical trials could be an option as well.  There are likely a few clinical trials for Ewing Sarcoma already at a select few cancer centers, so it's important to talk about options with your doctor.
'Why I'd Choose a Clinical Trial For Myself,' Says Leading expert Dr. Ben Neel
Clinical trials are incredibly important – both from an individual and a societal standpoint. These studies give patients, who have diseases that are not responding to typical treatments, access to a bevy of new drugs that are currently being developed by pharmaceutical companies. Testing these treatments on people in experimental trials is really the best way for research to progress.
While a lot of the therapies being tested in clinical trials will realistically fail, participants in clinical trials are statistically more likely to have better outcomes, according to the Director of NYU Perlmutter Cancer Center, Dr. Ben Neel. Among the large group of clinical trials that are currently underway, there will be some dramatic successes.
Contributing by SurvivorNet staff.
Learn more about SurvivorNet's rigorous medical review process.