Cancer Survivor Ben Stiller Raises Awareness Around Ukraine
Cancer survivor and actor Ben Stiller, 56, recently met with Ukrainian President Volodymyr Zelenskyy.
Ben Stiller was diagnosed with prostate cancer in June 2014 at age 48. He had surgery to remove his cancer, and was declared cancer-free shortly thereafter.
It's important to screen for prostate cancer via prostate specific antifen (PSA) test.
Actor, prostate cancer survivor, and UN Goodwill Ambassador, Ben Stiller, is visiting Europe for his ambassadorial duties, and he recently met Ukrainian President Volodymyr Zelenskyy.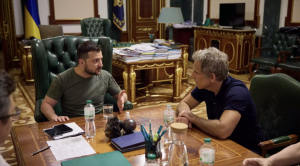 Stiller, 56, calls Zelenskyy – who is a former actor himself – his "hero," praising how he has handled the invasion by Russia into Ukraine.
Read More
The New York City native met with the president at his office after Stiller visited the ruins of Irpin. "It's one thing to see this destruction on TV or on social networks. Another thing is
to see it all with your own eye
s. That's a lot more shocking," said the 
Zoolander 
star, reports 
People. 
Zelenskyy told the actor, "What you saw in Irpin is definitely dreadful. But it is even worse to just imagine what is happening in the settlements that are still under temporary occupation in the east."
We love to see survivors like Stiller thriving and making a difference in the world after beating cancer, and raising awareness around the ongoing conflict in Ukraine.
 

View this post on Instagram

 
Ben Stiller's Prostate Cancer Diagnosis
In a 2016 appearance on The Howard Stern Show, Ben Stiller shared that he was diagnosed with prostate cancer in June 2014 at age 48.
He spoke about how the American Cancer Society recommendations suggest that average-risk men begin screening for the disease at age 50. (It remains unclear at what type of risk Stiller was of developing prostate cancer.) He also pointed out that had he followed the recommendations, his cancer would not have been detected. Stiller credits his doctor's initiative to begin administering the test early, and the effectiveness of the PSA (prostate-specific antigen) test with saving his life.
"The PSA test is the only early screener for prostate cancer and, right now, the United States Preventive Services Task Force does not recommend (taking) the test," Stiller said in the 2016 interview. "I think the American Cancer Society says you should discuss it at 50. If I hadn't taken the test — my doctor started giving it to me at 46 — I would not have known. Right now, I still wouldn't have known."
Stiller had surgery to remove his cancer, and was declared cancer-free shortly thereafter. But, he said, his message is still important: Even though the ACS recommendation is to begin screening at age 50, men should have a conversation about when is the best time to start with their doctors. Higher-risk men may have to start earlier.
There's No One Definitive Symptom for Prostate Cancer, But There Are Clues
Screening for Prostate Cancer
Men of certain ethnicities, such as Black men, are at a higher risk of developing prostate cancer, so, a doctor may opt to begin testing in the mid-40s. Men with a family history of prostate cancer may also want to consider screening early.
Screening is typically done with the PSA test. PSA is a protein secreted by the prostate gland; a large amount of PSA in a person's body can indicate that cancer cells are growing. But that is not always the case. (For example, if a man has an elevated PSA level, he has somewhere between a 20% to 40% chance of having cancer.)
The PSA test is not a perfect test, says Dr. Edwin Posadas, director of the Translational Oncology Program at Cedars-Sinai Medical Center in Los Angeles.
The PSA test is more controversial when it comes to using it to detect prostate cancer in older men. This is because most men will develop prostate cancer at some point in their lives if they live long enough, Dr. Geoffrey Sonn, assistant professor of urology at Stanford Medicine, tells SurvivorNet. But most men will not die from prostate cancer.
In addition, because prostate cancer is such a slow-growing type of cancer, it is much more likely that older men will die of something other than prostate cancer.
PSA Test is Not Perfect — But it is Helpful
SurvivorNet reporter Sydney Schaefer contributed to this article.
Learn more about SurvivorNet's rigorous medical review process.