Kari's fight
Kari Overington, 41, was diagnosed with breast cancer in September 2018. After having a bilateral mastectomy three months later, doctors determined her cancer was a grade 3, triple negative, BRCA 1 positive, stage 2b invasive ductal carcinoma.
After being free of cancer for two years, Overington purchased a new car and a vanity license plate reading "FCANCER." The plate, however, was revoked four months after she installed it.
Overington is suing Delaware DMV director Jana Simpler, Delaware Transportation Secretary Nicole Majeski, and DMV manager Levi Fisher.
Kari Overington, 41, purchased a new car and a personalized license plate in late 2020, just two years after doctors revealed she was cancer free. The 41-year-old breast cancer survivor decided her vanity tag should read "FCANCER," but months after she installed it in February 2021, she was informed her license plate was being revoked.
The Delaware woman reacted by suing her state's DMV director Jana Simpler, Delaware Transportation Secretary Nicole Majeski, and DMV manager Levi Fisher.
Read More
The officials were not in support of the plate due to it being "offensive in nature," "not representing the State and the Division in a positive manner," and because the first letter on the plate represents an expletive, according to
The Washington Post
. A Delaware Department of Transportation told the news outlet that Overington's license plate goes against the state's policy due to its "obscenity, vulgarity, profanity, hate speech, or fighting words."
Earlier this week, on August 1, 2022, U.S. District Court Judge Richard Andrews denied the motion put in place by Delaware officials to dismiss Overington's lawsuit, stating that the plaintiff raised a "significant constitutional issue."
Related: Updated Guidelines on Biomarkers for Early-Stage Breast Cancer
Overington has requested a federal judge to order the officials to reinstate her "FCancer" plate, arguing the decision to revoke infringed upon her First Amendment right to free speech.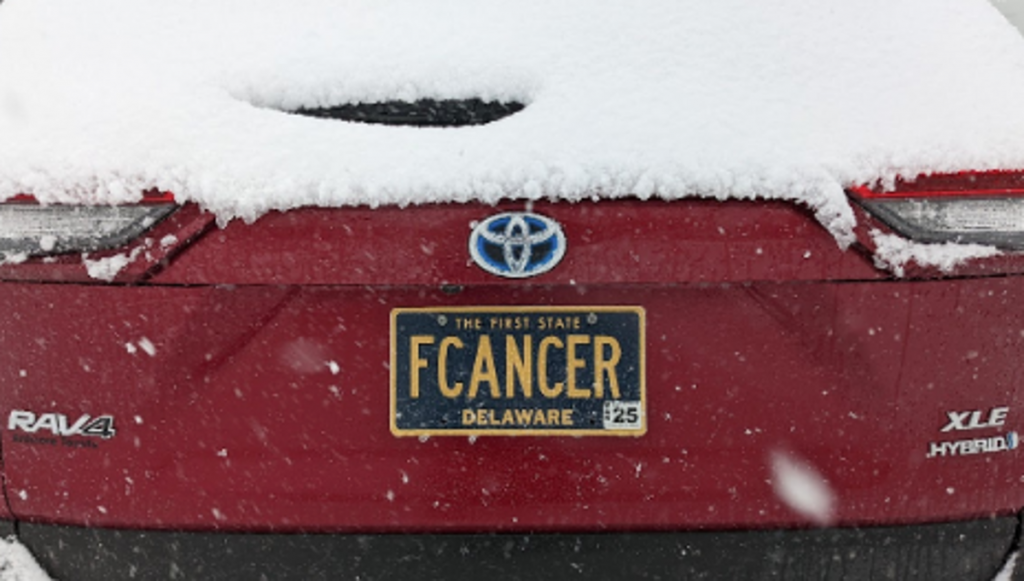 In July 2021, Overington emailed DMV officials requesting her plate to be reinstated. She wrote, "My vanity plate receives positive feedback everywhere I go, and I have had more than a few deep conversations with complete strangers about my cancer and how cancer has touched their lives because of it."
But DOT secretary Majeski wrote back explaining how DMV staffers "approved your vanity plate in error." A lawyer for state officials followed up by saying Overington's plate was "inadvertently approved" during the pandemic when staffers were "stretched to their breaking point."
Despite the backlash against her license plate, Overington will continue to fight for what she believes in. "I got it as a celebration of my battle," she told The Post on August 4, 2022. "And I think it's important to fight for what you believe in, and I believe in the 1st Amendment."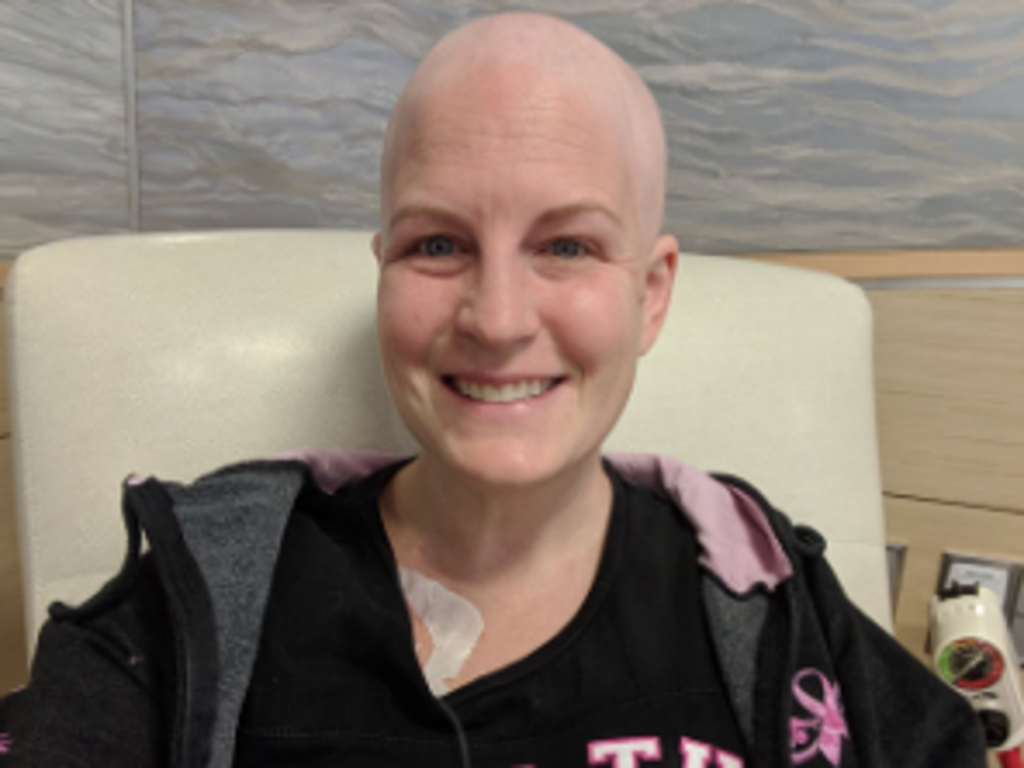 Kari's Cancer Journey
Meanwhile, on a website created by Overington and titled FCancerDE in support of license plate battle, the cancer survivor offered a backstory on her health.
"I was diagnosed with Breast Cancer on September 21, 2018. I waited to tell my family until after my sister's wedding on November 4, 2018, and had a bilateral mastectomy on November 7, 2018," Overington explains. "After my mastectomy, my cancer was determined to be Grade 3, Triple Negative, BRCA 1 positive, stage 2B Invasive Ductal Carcinoma. I started chemotherapy on December 31, 2018. My hair was starting to fall out by the middle of January and my fiancé Doug and I decided to shave our heads on January 21, 2019."
Overington continued, "In early March 2019 I caught the flu, collapsed, and busted my scalp open which caused an interruption in my treatments. I'll spare you those images. My treatments got back on track by the end of March and I had my final treatment on June 4, 2019. On June 24, 2019 I had my first reconstruction surgery and on January 6, 2022, I had what should be my last reconstruction surgery."
She also noted it'll be another two years until she's completely "out of the woods."
Why Mammograms Are An Important Screening Tool
Breast cancer is typically detected via a mammogram. During the mammogram screening, the doctor is checking for lumps in the breast tissue or early signs of breast cancer. Most women should begin screening for breast cancer at 45.
Dr. Connie Lehman, the chief of Breast Imaging Division at Massachusetts General Hospital, said in a previous interview, "If you haven't gone through menopause yet, I think it's very important that you have a mammogram every year. We know that cancers grow more rapidly in our younger patients, and having that annual mammogram can be lifesaving."
Related: Breast Cancer Survivor Robin Roberts Encourages People to Focus on Their Dreams & Have Faith; 'Don't Talk Yourself Out of Your Dreams'
"After menopause, it may be perfectly acceptable to reduce that frequency to every two years," says Dr. Lehman. "But what I'm most concerned about is the women who haven't been in for a mammogram for two, three, or four years, those women that have never had a mammogram. We all agree regular screening mammography saves lives. I want to be completely clear. If you are between 50 and 74 and you have not had a mammogram in the last two years, you are overdue. Please get a mammogram."
When You're Getting A Mammogram, Ask About Dense Breasts
Contributing: SurvivorNet Staff
Learn more about SurvivorNet's rigorous medical review process.
---