The Importance of Mammograms
Former MTV reality star, 32-year-old Charlotte Crosby, discovered a lump in her breast just weeks after learning she was pregnant, and just days after her 53-year-old mom Letitia was diagnosed with cancer.
Thankfully, Charlotte's lump was nothing to worry about. Her mom, however, is set to start chemotherapy and radiation after undergoing biopsies and surgery to combat an 11-millimeter tumor in her breast.
The mother-daughter duo is now pushing their government in the UK to lower the age of mammogram screening invitations.
Breast cancer is a common cancer that has been the subject of much research, so there are many treatment options out there. Mammograms, a standard screening procedure for breast cancer, and self-breast exams can save lives.
Charlotte Crosby, a 32-year-old British TV personality and original cast member of an MTV Jersey Shore knock-off called Geordie Shore, spotted a lump in her breast just days after her mom Letitia, 53, was diagnosed with cancer.
The mom-to-be, who announced she was expecting a child with her boyfriend Jake Ankers before her mom's breast cancer diagnosis, thankfully got the lump in her breast checked, confirming it was nothing to worry about. However, doctors found an 11-millimeter tumor in Charlotte's mom's breasts. Letitia had to undergo four biopsies, have surgery to get rid of the tumor, reconstruct her breast, and have three lymph nodes removed. She's now set to begin chemotherapy and radiation next month.
Read More
"It's been a tough year with a rollercoaster of emotions. The 4 people in my last picture have been my absolute rock throughout all of this I could not have gotten through this without them and the amazing staff, nurses and consultants at the Queen Elizabeth Hospital Gateshead," Letitia wrote alongside a recent
Instagram post,
which included one photo of herself in the hospital and another image of her supportive family. "I have still a rough journey ahead of me but with the support system I have around me I will get there! I donated all of my fee from the article I did to @factcancersupport who provide support to families and cancer patients."
Letitia—who insists "I won't let this beat me"—is sharing her cancer journey to raise breast cancer awareness and urge the importance of self-checks and mammograms.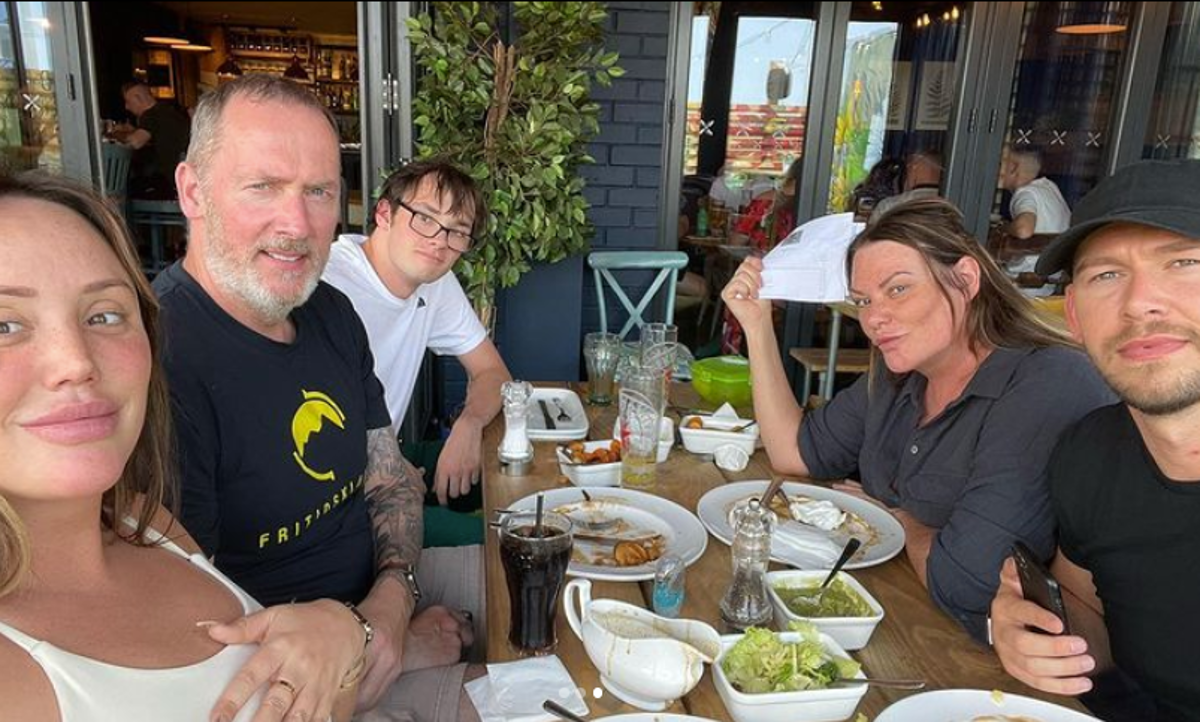 A few days ago, the mother-daughter duo opened up about how a routine mammogram helped save Letitia's life. "It was just a routine mammogram, I have never missed one. When they told me it was cancer I was floored," Letitia told The Sun. "I no symptoms, no lumps, nothing. The mammogram has helped save my life – they should be inviting women of all ages to one every single year. Not just women over 50."
Letitia's diagnosis has made Charlotte "so much more aware" of her own body that the former reality star noticed a lump in her own breast. "I went to get it checked out straight away. Luckily it was nothing bad," the eight-month pregnant TV personality said.
As Letitia recounted to The Sun how hard it was to tell her daughter she had cancer as her family was so delighted to learn a new baby was on the way. She said, "We were all so happy. We had so many things to look forward to. So telling her I had cancer when she was pregnant was so hard. All I was thinking about was my first grandchild and then you get the diagnosis and it just overshadows it."
Letitia also admitted she shed a lot of tears when she was first diagnosed, but her mindset has since changed to be more optimistic. "My operation was five weeks ago. They removed the tumor, the diseased tissue and three lymph nodes, and everything went well. The cancer has not spread to my lymph nodes and the tumor was smaller than they thought, it was 11 millimeters, not 19 millimeters like they had first thought. It was five and half hours in surgery," Letitia explained, noting that surgery took a while because her breasts were reconstructed during the same operation as the tumor removal.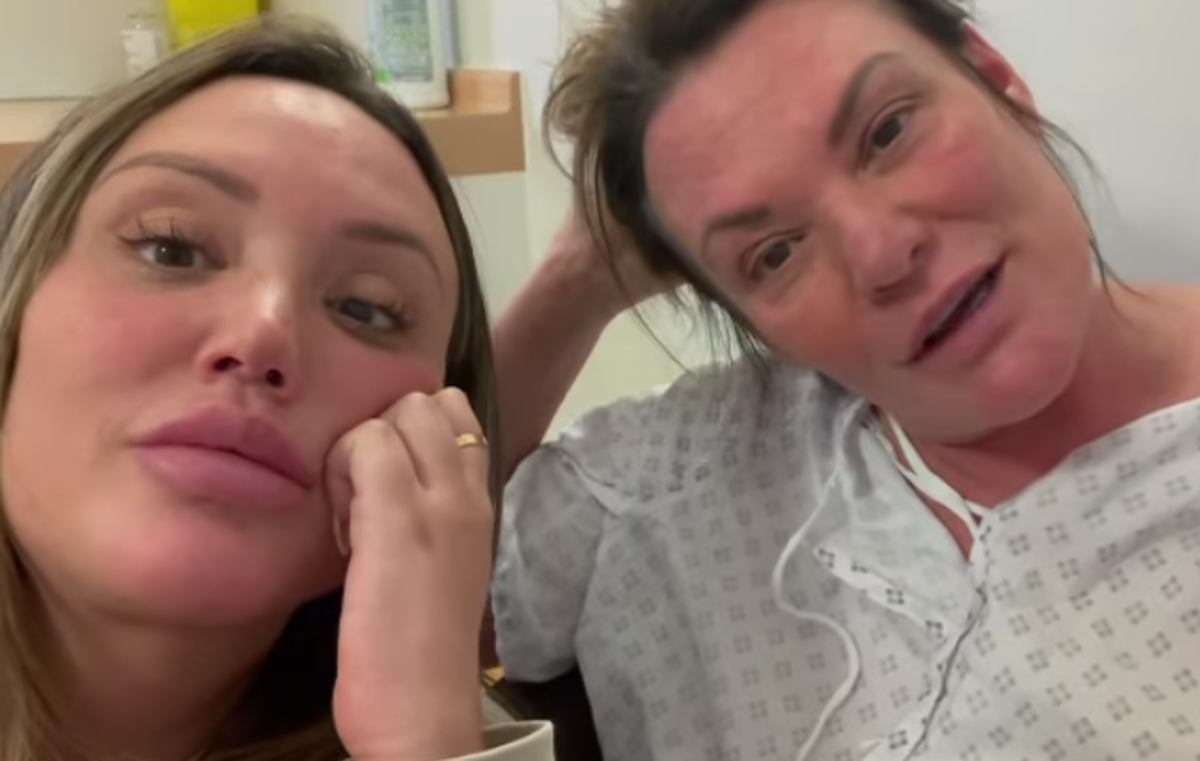 Now, Letitia and Charlotte are urging the government to lower the age women are called in for regular mammograms. "I am speaking to a girl now who has same cancer as me, oestrogen positive, and she is only 27 years old," Letitia said. "She was a nurse working on a cancer ward and she found a lump in her breast. Her doctor thought it was nothing but referred her and it turned out it was cancer. But not every woman will have symptoms. They need mammograms."
The Importance of Breast Cancer Screening
Screening for breast cancer is typically done via mammogram, which looks for lumps in the breast tissue and signs of cancer. The American Cancer Society (ACS) says women should begin yearly mammogram screening for breast cancer at age 45 if they are at average risk for breast cancer. The ACS also says those aged 40-44 have the option to start screening with a mammogram every year, and women age 55 and older can switch to a mammogram every other year, or they can choose to continue yearly mammograms.
For screening purposes, a woman is considered to be at average risk if she doesn't have a personal history of breast cancer, a strong family history of breast cancer, a genetic mutation known to increase risk of breast cancer such as a BRCA gene mutation or a medical history including chest radiation therapy before the age of 30. Beyond genetics, family history and experience with radiation therapy, experiencing menstruation at an early age (before 12) or having dense breasts can also put you into a high-risk category. If you are at a higher risk for developing breast cancer, you should begin screening earlier.
In a previous interview with SurvivorNet, Dr. Connie Lehman, chief of the Breast Imaging Division at Massachusetts General Hospital, said people who hadn't reached menopause yet should prioritize getting a mammogram every year.
When Should I Get a Mammogram?
"We know that cancers grow more rapidly in our younger patients, and having that annual mammogram can be lifesaving," Dr. Lehman said. "After menopause, it may be perfectly acceptable to reduce that frequency to every two years. But what I'm most concerned about is the women who haven't been in for a mammogram for two, three or four years, those women that have never had a mammogram. We all agree regular screening mammography saves lives."
RELATED: Check Your Breasts Today, and Once Every Month; Survivor Giuliana Rancic Stresses Its Importance
It's also important to be on top of self-breast exams. If you ever feel a lump in your breast, you should be vigilant and speak with your doctor right away. Voicing your concerns as soon as you have them can lead to earlier cancer detection which, in turn, can lead to better outcomes.
Thinking about Your Breast Cancer Risk
The risk of developing breast cancer varies greatly from person to person, so it's important to discuss your specific risk level with your doctor. That being said, there are some important risk factors to keep in mind.
Major Reduction in Cancer Risk by Following Old Standbys Diet and Exercise
In a previous interview with SurvivorNet, Dr. Elizabeth Comen, an oncologist at Memorial Sloan Kettering Cancer Center and medical advisor to SurvivorNet, laid out several risk factors for breast cancer including:
Being a woman: Women are at a higher risk for breast cancer, though men can get the disease too.
Age: "Breast cancer becomes increasingly more common as women age," Dr. Comen said.
Family history: "Some people think that breast cancer is only inherited through genes on the mom's side,' Dr. Comen said. "But it can also be related to genetic mutations that could be found on the father's side."
Having had a prior biopsy on an abnormal area: "There are different markers, that if a woman has had a biopsy, it's important that she talk to her doctor about whether those markers are lending themselves to an increased risk of breast cancer," Dr. Comen said. If you've had a biopsy that indicated atypical hyperplasia, for example, you are at an increased risk of breast cancer. Atypical hyperplasia isn't cancer, but it is a precancerous condition that describes an accumulation of abnormal cells in the milk ducts and lobules of the breast.
Radiation exposure: Cancer survivors who've had radiation to their chest are at an increased risk of breast cancer.
Lifetime estrogen exposure: "About 2/3 of breast cancer are driven by the hormone estrogen," Dr. Comen said. "So, that means if a woman has had her period at an early age and started to go through puberty at an early age, at seven, eight, nine, and potentially a later age of menopause, means that her lifetime of having had menstrual periods and being exposed to higher levels of estrogen is higher, and therefore her risk of breast cancer is slightly higher."
Not having a child before age 30 or never having children
Obesity
Drinking alcohol
Lack of exercise: "While there's more research to be done in this area, it looks like if a woman is not exercising, she may also increase her risk for breast cancer," Dr. Comen said.
Mammograms Are Still the Best Tool for Detecting Breast Cancer
Contributing: SurvivorNet Staff 
Learn more about SurvivorNet's rigorous medical review process.
---