Surviving Sisters
Sarah Seidl and Rebecca Lesnik, 49-year-old twin sisters of Tiffin and Cedar Rapids, Iowa, were both diagnosed with breast cancer just four months apart within the past year.
The twins, who are now cancer-free after both having a double mastectomy, are now urging others to get screened for cancer regularly.
Talk to your doctor about genetic testing, and evaluate your risk today, whether or not you have a family history of breast cancer.
Sarah Seidl and Rebecca Lesnik, 49-year-old identical twin sisters of Tiffin and Cedar Rapids, Iowa, were both diagnosed with breast cancer just four months apart within the past year.
Lesnick learned she had breast cancer in November 2021 after her doctor discovered benign microcalcifications, calcium deposits that develop in the breast tissue, in her right breast. After undergoing further testing, an MRI confirmed cancer had developed.
Read More
"I was shocked. Cancer is what other people have.
There wasn't a family history
, so it didn't make sense to me," Lesnik said in an interview with FOX Television Stations. "My first thoughts were about my kids and family. I wasn't sure who would take the news the hardest, but I knew it would be devastating to Sarah." Not long after she told her sister about the news Seidl learned that she, too, had the same type of breast cancer.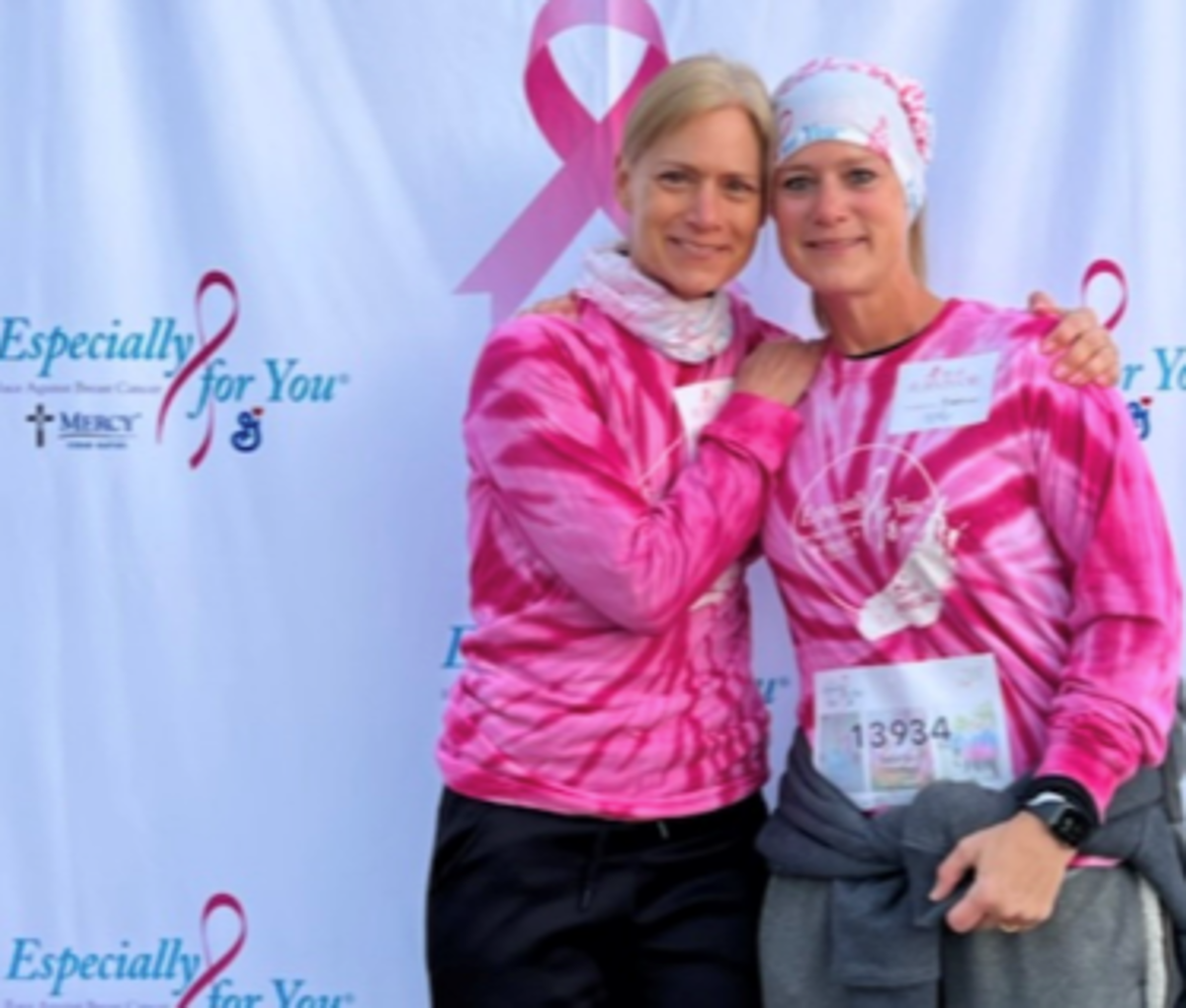 After getting mammograms and MRIS, like her sister, Seidl received her stage 1 breast cancer diagnosis in March 2022.
Recounting her reaction to the diagnosis, Seidl said, "I felt like the bottom fell out of my life. I was initially in shock, then cried and felt defeated."
RELATED: Mom Notices One Breast Was Suddenly Bigger Than The Other: Soon Both She And Her Sister Are Diagnosed With Breast Cancer
"Of course, you never want to hear a loved one tell you they have cancer, but when it is your twin, your best friend throughout life, it feels more devastating," Seidl, who calls her sister "a huge part of my life," explained.
The sisters have since beat cancer after undergoing a double mastectomy. The only different treatment Seidl received was radiation after her mastectomy.
RELATED: These 3 Sisters Were Each Diagnosed with Breast Cancer; Doctors Said It Was a Coincidence; Why It's Important to Know Your Family History
Now they are urging others to get screened for breast cancer.
"There's no particular reason for most of us getting breast cancer. We had no history of it in our family. Now all of a sudden, both of us developed it," Lesnik said. "Just because you don't have a family history doesn't always matter."
Doctors have not yet been able to explain why Seidl and Lesnick were diagnosed with the same cancer. Also, when Seidl had genetic testing done there was no connection found to breast cancer.
Cancer Screenings Are Critical
When it comes to getting a cancer diagnosis early, screenings are critical. By attending recommended screenings regularly, doctors can check for signs of cancer in the earliest stages. This, in turn, can lead to more treatment options and a higher likelihood of entering remission.
Screening recommendations can vary depending on the type of cancer and your risk factors, so it's important to pay attention to guidelines. If you want to know what screening recommendations are appropriate for you, have a conversation with your doctor about screening recommendations and your cancer risk.
Breast Cancer: Introduction to Prevention & Screening
With breast cancer, for example, screening is typically done via mammogram which looks for lumps in the breast tissue and signs of cancer. The American Cancer Society (ACS) says women should begin yearly mammogram screening for breast cancer at age 45 if they are at average risk for breast cancer. The ACS also says those aged 40-44 have the option to start screening with a mammogram every year, and women age 55 and older can switch to a mammogram every other year, or they can choose to continue yearly mammograms.
For screening purposes, a woman is considered to be at average risk if she doesn't have a personal history of breast cancer, a strong family history of breast cancer, a genetic mutation known to increase risk of breast cancer such as a BRCA gene mutation or a medical history including chest radiation therapy before the age of 30. Beyond genetics, family history and experience with radiation therapy, experiencing menstruation at an early age (before 12) or having dense breasts can also put you into a high-risk category. If you are at a higher risk for developing breast cancer, you should begin screening earlier.
In a previous interview with SurvivorNet, Dr. Connie Lehman, chief of the Breast Imaging Division at Massachusetts General Hospital, said people who hadn't reached menopause yet should prioritize getting a mammogram every year.
When Should I Get A Mammogram?
"We know that cancers grow more rapidly in our younger patients, and having that annual mammogram can be lifesaving," Dr. Lehman said. "After menopause, it may be perfectly acceptable to reduce that frequency to every two years. But what I'm most concerned about is the women who haven't been in for a mammogram for two, three or four years, those women that have never had a mammogram. We all agree regular screening mammography saves lives."
RELATED: Check Your Breasts Today, and Once Every Month; Survivor Giuliana Rancic Stresses Its Importance
It's also important to be on top of self breast exams. If you ever feel a lump in your breast, you should be vigilant and speak with your doctor right away. Voicing your concerns as soon as you have them can lead to earlier cancer detection which, in turn, can lead to better outcomes.
Breast Cancer in the Family
For anyone wondering whether or not breast cancer runs in their family, different types of genetic testing exist. There is testing for the DNA in our cells which shows what bad mutations we might have inherited or that could be passed along to our blood relatives. This testing for hereditary cancer risk requires your approval.
Then there is genetic testing of the tumor. This has been approved for payment by Medicare and has become standard practice, but does not require your approval.
Genetic Testing For Breast Cancer
For some patients, testing for a hereditary cause of cancer may be appropriate. This means determining whether you inherited an increased risk of cancer from your mother's or your father's side of the family. Your doctor will discuss your family history of cancer with you in the context of the type of tumor you have and your age at diagnosis. Hereditary genetic testing is usually done with a blood or saliva test.
The second test involves the genetic sequencing of your tumor. These genetic changes can be inherited but most arise during a person's lifetime. This process usually involves examining a biopsy or surgical specimen of your tumor. This testing can lead to decisions on drugs that might work against your cancer.
Contributing: SurvivorNet Staff
Learn more about SurvivorNet's rigorous medical review process.
---