Cancer can indeed happen during pregnancy. Charlotte Ngarukiye, 34, who lives in Maine, was diagnosed with liver and lung cancer after her doctors told her she had pains in her abdomen because she was pregnant. Ngarukiye is part of the Baha'i Faith, and her faith has helped her to stay hopeful during this difficult time.
Went it comes to faith and cancer, Ngarukiye isn't alone. 69 percent of cancer patients say they pray for their health, according to the US Centers for Disease Control and Prevention (CDC).
Read More
Ngarukiye has seven tumors in her liver and more than ten in her lungs, but is staying hopeful that she will live for another year. "I have not been given a prognosis, my doctor here doesn't feel that it benefits anyone to guess a date," she told The Sun. "However, I am seeing my palliative care team more frequently now and hope for another year."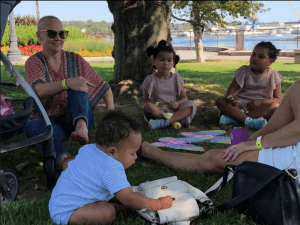 She was born in England, but moved to Maine in the US when she was eight. Now, her family in England is rallying behind her as she faces cancer. "I have an amazing support system with friends, community, neighbours and family, even across the pond, who have come to visit and help take care of Maxwell," she said.
And she has her husband's support as well. "My husband is so good with the kids – he helps me all the time, but it was been very challenging as you can imagine," she said. "I am often sick and do my best to take care of them all like I normally would most of the time. Sometimes it's impossible and that's when my friends and family step in to help. Emotionally it is hard to think of leaving my children behind but I also know that they will be OK. They are tough."
Information about faith during cancer
A lot of people in the SurvivorNet community have talked to us about the role of faith during their cancer journeys. Breast cancer survivor Sharonda Vincent told SurvivorNet that she leaned on faith to help her through. "I knew that if I just put my faith and trust in God, that I would be okay," said Vincent about her cancer journey.
RELATED: "I Had A Talk With God – And I Knew I'd Be Okay"
Sharonda discovered a lump in her left breast the day before her thirtieth birthday, with just over a month to go until her wedding. Her doctor initially dismissed her concerns, but follow-up tests confirmed that it was stage 2B breast cancer. "It was hard for me. I felt as if I was being punished," she says.
Breast Cancer survivor Sharonda Vincent on the role of faith in her cancer journey
But after chemotherapy, radiation, and then hormone replacement, Sharonda is doing well. She's currently a social service advocate at the Public Defender's Office in Philadelphia.
Sharonda's message: Don't give up hope. Educate yourself — and live every day to the fullest. "Breast cancer is no longer the end of the world," she says.
Mistaking cancer for pregnancy pains
Ngarukiye caught her cancer after feeling intense pains in her abdomen that wouldn't go away, but at first, doctors didn't think she was sick, "They kept telling me it was the pregnancy but it didn't go away after Maxwell was born and only got worse. That's when I made an appointment with a gastroenterologist."
After her diagnosis, she sought treatment at a really great cancer center, "Since that time I have been working with Dana Farber Cancer Institute in Boston which is associated with Harvard Medical School and one of the top hospitals here."
RELATED: Their Doctors Told Them They Had "Nothing To Worry About" — But These Three Women Pushed Back, And They Were Right
Doctor's can't do surgery, she told The Sun, but they can treat her in other ways, "I am considered inoperable which means they cannot surgically remove any tumors now but hope that I can remain stable for some time." She has started chemotherapy, but cancer in bowel spread again this summer.
Learn more about SurvivorNet's rigorous medical review process.