A Dangerous Misdiagnosis
Licensed nurse Kady Wheeler, 25, has had gastrointestinal issues as long as she can remember.
After she had her second child, the Canadian wife and mother's symptoms worsened, and doctors misdiagnosed her with irritable bowel syndrome, known more commonly as IBS.
Pushing for a colonoscopy, doctors found that she actually had a rare cancer called a neuroendocrine tumor (NET). A NET forms from cells releasing hormones into the blood.
Advocating for herself saved her life, which is why it's imperative that you always take control of your health. Don't be afraid to speak up if you know in your gut something is wrong.
Licensed nurse Kady Wheeler, 25, had gastrointestinal issues dating back to high school: rushing to the bathroom due to abdominal cramping was her norm. Years later the young wife and mother's symptoms worsened. Doctors initially determined it was irritable bowel syndrome, but later found it was a rare type of cancer called a neuroendocrine tumor (NET). A NET forms from cells
releasing hormones
into the blood.
After Kady had her second child in 2020, she was going to the bathroom frequently and had been losing weight unintentionally, typically a surefire way to know that something is wrong. Rapidly losing weight, her breast milk had dried up.
Read More
"While being on maternity leave with my second baby I started with severe abdominal cramping, facial flushing, and going to the washroom more than eight times a day," the Canadian told
Daily Mail
. "I was 90 pounds and could not gain weight. I was unable to make it to the bathroom in my own home and was tracking what I ate and there was no correlation."
"I weighed 89 pounds at my lowest at 24, right now I weigh 114 pounds at my healthiest," she continued. "I only knew I was pregnant both times because I hit more than 100 pounds."
Related: 'Constipated' Mom, 33, Learns She Has Bowel Cancer After Watching Her Favorite TV News Anchor: 'She Saved My Life!'
Luckily, the health professional asked for a colonoscopy, a minimal procedure doctors use to look inside the colon. Sure enough, there was a tumor. Grade 1 Neuroendocrine tumor.
Getting Cleaned Out for a Colonoscopy
Kady had surgery on her small bowel and luckily her medical team was able to clear out the cancer, despite the fact that it had spread to three of her lymph nodes in her bowel. She had 19 removed.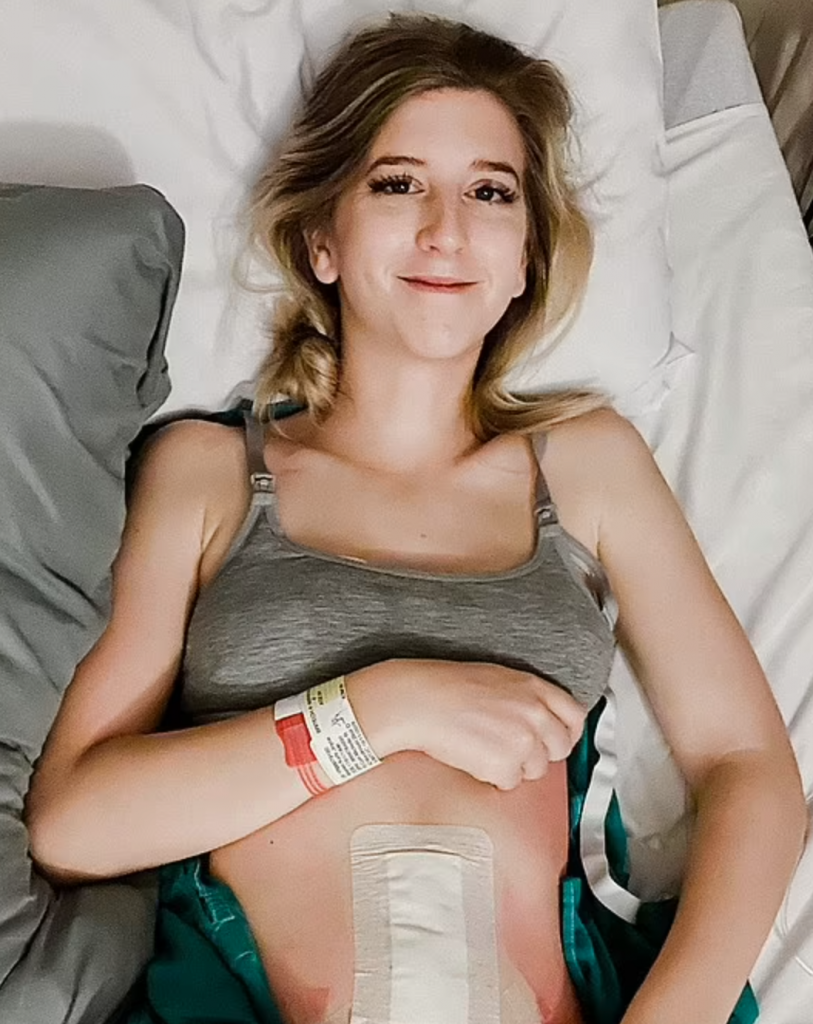 "Throughout my journey, I was so anxious I did not want to have surgery and leave my 10-month-old and three-year-old home," she shared. "I was breastfeeding at the time and felt guilty because the stress/medications made my milk dry up."
Though the diagnosis was "terrifying," it was quite a relief for the frustrated mom of two to find out what was wrong with her. She was living quite uncomfortably, and thankful she followed her gut, no pun intended.
Related: 'You Should Trust Your Gut:' Rita Wilson, 65, Who Is Wife Of Tom Hanks, 65, On How Pushing Forcefully For A Second Opinion Saved Her Life
"It's really easy to just go with the first diagnosis that 'mostly' fits, but to really look at things and especially with IBS really track your intake and see if there's a correlation,' she urged. "Refer to a specialist if you aren't a hundred per cent sure. I think there's a lot of cracks in the healthcare system all over, you really need to advocate for yourself and your loved ones. You can feel if something isn't right."
Be Pushy, Be Pushy, Be Your Own Advocate … Don't Settle
Neuroendocrine Tumors (NETs) Explained
According to the American Cancer Society, "neuroendocrine tumors may make higher-than-normal amounts of hormones, which can cause many different symptoms."
To help break this disease and its advancements down, we went reached out to Dr. Renuka Iyer of Roswell Park Comprehensive Cancer Center. Dr. Iyer specializes in neuroendocrine cancer and is the co-director of the Liver and Pancreas Tumor Center.
Speaking with SurvivorNet, Dr. Iyer says, "These [NETs] are brain and hormone-related cancers. That's one thing that's different about this disease, is the fact that it can produce hormones. Some [NETs] produce hormones like insulin."
Related: 'The Ghost of Steve Jobs Is Taking Over My Pancreas!': Ashton Kutcher on His Cancer Scare
Dr. Iyer shared some of the basics about NETs:
Neuroendocrine tumors are rare.
NETs are most commonly found in the GI tract.
Because of their hormone production, they can be found anywhere.
They're not as easy to diagnosis as other diseases, so that can be a challenge.
In fact, Dr. Iyer says, "The average patient sees 7-12 doctors before their NETs are properly diagnosed. Most people think they're gallstones or related to the appendix."
Current Treatment for NETs
There are many ways to treat NETs (primarily surgery, chemotherapy, and radiation), and specialists can offer different options. Here are the questions to ask when treating NETs:
Where is the cancer?
How far has it spread?
What exact type of NETs is it?
What symptoms is the patient experiencing?
Dr. Iyer tells SurvivorNet that surgery is the number one preference for treatment ,when possible. "Even if it has spread – if it is at stage four – it can be surgically removed."
Drugs also work for treatment, and Dr. Iyer says that drugs used to block the hormone signals and slow the cancer spread are effective. "We used targeted agents, targeted radiation. Radiologists have options to offer where they can burn these tumors or put other particles in the liver to try to attack [the tumor]." (The most common type of NETs are found in the liver.)
Learn more about SurvivorNet's rigorous medical review process.