Thackston is Back!
FOX anchor Lindy Thackston was diagnosed with stage 3 colorectal cancer in May 2020.
She recently finished her chemotherapy treatment and returned to work today.
Keeping a positive attitude – and thinking ahead to resuming pre-cancer activities, like your professional life – can help while fighting cancer.
FOX59's Lindy Thackston is back to work following cancer treatment! On-air, following a segment about her colorectal cancer battle, Thackston says, "I can't believe I did it. I share all that with you because I feel like I'm meant to; the messages from people getting colonoscopies and catching things are really blowing me away. I could never list everyone I want to thank."
The segment shows Thackston from the start of her cancer journey to the end: Ringing her end-of-treatment bell. The news anchor, mom, and wife, says in a candid video from her car last year while wearing a mask, "Well I just finished treatment number seven, so I'm more than halfway there. I'm really really tired. Overall things are going okay, but definitely not easy."
Read More
Thackston shares about her chemo fatigue, her hair loss, and what most days were like for her while fighting cancer. "'Most days went like this: Tears, doctors, surgeries, chemo, radiation, pills, ER stays, scans,
fear, and pain
."
The incredible colorectal cancer fighter shared some views from her workplace today.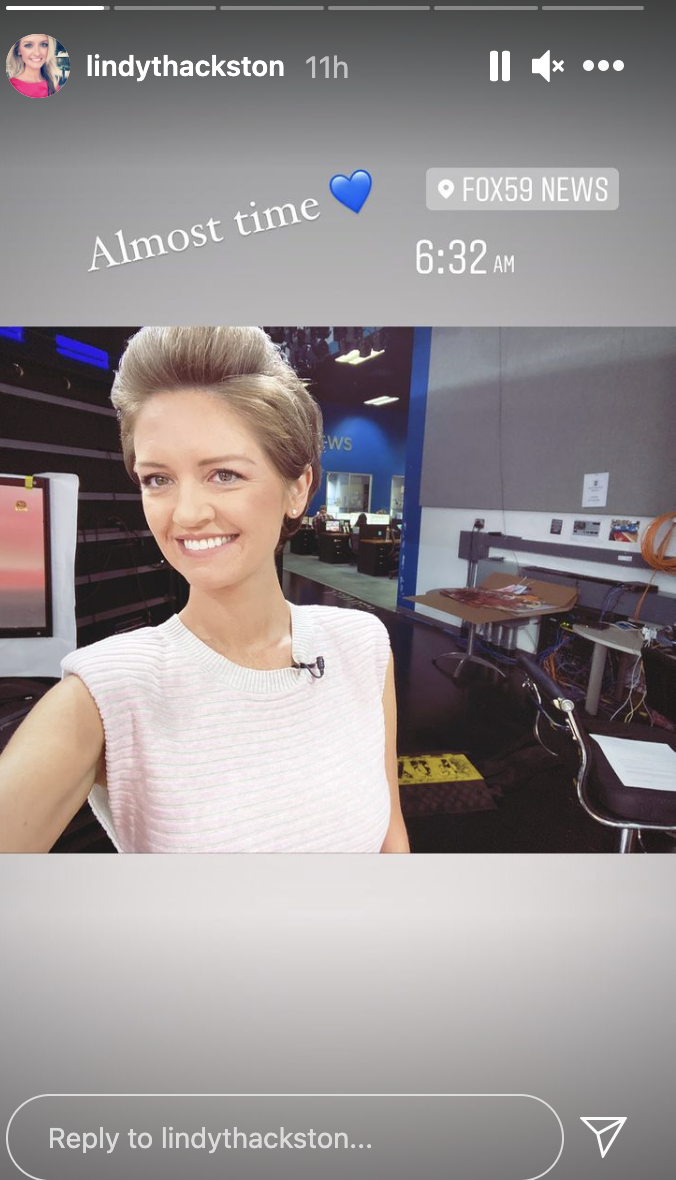 She also captured the anticipation in a post last week, writing: "See you at 6:40am and 8:40am Wednesday on @fox59, then I'll start anchoring just 6-7am on Thursday for awhile. I'll also host the race day show 6-8am before joining @indianapolismotorspeedway PA!"
View this post on Instagram
Thackston went on to thank her fans, saying, "Thank you all for helping me get through the last year and for still helping as I try to transition back to life. It's very overwhelming."
Lindy's Cancer Journey
Thackston was diagnosed with stage 3 colorectal cancer in May 2020 and recently finished her chemotherapy treatment. She had 10 rounds of chemotherapy.
Related: Colon Cancer Screening is Extremely Important; Guidelines Now Say to Start at Age 45 if There Is No Family History
On an episode of her podcast, she reflected on her treatment process, saying she lost 40 pounds while in the hospital. "After my tumor removal surgery in August," says Thackston, "I could start getting more foods back into my diet." Thackston shares that she began leaning on a heavily plant-based diet post-treatment.
Related: The First African American Rockette, Jennifer Jones, Says She Has Colon Cancer — A Wake Up Call
"Diet, exercise, and stress control are extremely important when going through both cancer therapy, as well as once you're done treating your cancer and trying to get back to the rest of your life," says Dr. Sairah Ahmed, an oncologist/hematologist at MD Anderson Cancer Center. "Often I will tell patients there is not any one diet that has better potential to keep their cancer away. I'm asked about Keto diets, alkaline diets, no sugar diets."
What to Know About Diet and Exercise if You Have Cancer
Getting Back to Work After Treatment
Thackston has been a beacon of light and positivity throughout her cancer battle, and it's so inspiring to see her tackle cancer treatment with vulnerability and gusto. Her return to work following treatment is exciting for all of her fans who have missed seeing her on-air.
While going through cancer treatment and thinking ahead to post-treatment days, when you may want to return to your job, it's healthy to keep a positive attitude about the future, experts say. Dr. Zuri Murrell, a colorectal surgeon at Cedars-Sinai, says in an earlier interview, "My patients who thrive, even with stage 4 cancer, from the time that they, about a month after they're diagnosed, I kind of am pretty good at seeing who is going to be OK."
"Now doesn't that mean I'm good at saying that the cancer won't grow," he says. "But I'm pretty good at telling what kind of patient are going to still have this attitude and probably going to live the longest, even with bad, bad disease. And those are patients who, they have gratitude in life."
Learn more about SurvivorNet's rigorous medical review process.