Kathy Griffin's Post-Lung Cancer Journey
Comedienne Kathy Griffin continues to share her post-cancer meals on Instagram.
Her last post for her nearly 700-thousand followers shows a picture of a box of arepas, with a caption that reads: "Do Not Start With Me'
Griffin was diagnosed with lung cancer in 2021, and had to undergo surgery despite being a non-smoker.
Lung cancer surgery impacts the body in various ways, including fatigue, leaving the patient feeling weak and tired.
Comedienne and lung cancer survivor Kathy Griffin, 61, continues to share pictures of her post-cancer meals on Instagram.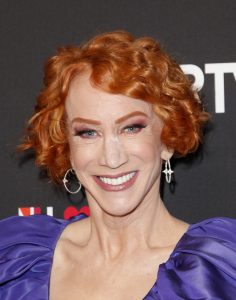 Read More
In her latest post, her followers see a picture of a box of Trader Joe's corn and cheese arepas, which are griddle corn cakes with a layer of mozzarella cheese in the middle.
View this post on Instagram
"DO NOT START WITH ME," Griffin wrote in the caption in all capital letters. "I'm having these for dinner and I don't need to hear any of your guff about it."
One follower quipped, "I'm coming over."
Another wrote, "Oh my gosh, I love Arepas!"
Fighter Kathy Griffin's Cancer Battle
Griffin was diagnosed with lung cancer in 2021 and has been public about her diagnosis and cancer battle. She's a non-smoker and was diagnosed with stage 1 lung cancer. A  stage 1 lung cancer diagnosis indicates that the cancer hasn't spread to the lymph nodes or other organs in the body.
Related: Non-Smokers Take Note: Kathy Griffin is Part of the 20% of Lung Cancer Patients Who Have Never Smoked; What You Need to Know
Griffin had surgery to treat her disease. Lung cancer surgery impacts the body in various ways. It may cause fatigue, leaving the patient feeling weak and tired. There's also the risk of infection after surgery. Signs of infection after lung cancer surgery can include: shivering, feeling nauseous, swelling or redness around the surgical wound, and fluctuating temperature. Speak with your doctor if you experience any of these things.
Breathlessness is also normal after lung cancer surgery. Long-term pain can present as well. A study published by the European Journal of Cardio-Thoracic Surgery examined the risk factors of vocal cord dysfunction (VCD) following lung cancer surgery in patients.
The study found that 86–100% of patients reported hoarseness after surgery following RLN paralysis (a nerve injury that has the potential to occur after surgery for lung cancer). And in 45% of the patients studied, hoarseness was the only symptom of VCD after lung surgery.
What Happens When You've Been Newly Diagnosed With Lung Cancer
Understanding Lung Cancer
There are two main types of lung cancer. And the type of lung cancer a person is diagnosed with will inform their treatment path, as well as the predicted progression of the cancer. The two types of lung cancer are:
Non-small cell lung cancer (NSCLC) is the most common type and makes up about 85% of cases.  Small cell lung cancer (SCLC) is less common, but it tends to grow faster than NSCLC and is treated very differently.
Lung cancer is a serious cancer, but fewer people annually are getting diagnosed with this disease because of a decline in smoking rates. Additionally, advancements in treatment options exist, too, which means better prognoses for some patients.
Treatment options for lung cancer can include surgery, chemotherapy, radiation therapy, targeted therapy, or a combination of these treatments.
New treatments, such as immunotherapy and targeted agents, are dramatically improving the prognosis and quality of life for people diagnosed with this disease.
Preparing for Lung Cancer Surgery
Staying Positive Through Cancer
Staying positive through cancer, as Kathy Griffin has done and continues to do through her remission, is so important. And there's anecdotal evidence to support it can make a difference as well.
In an earlier interview, one expert cancer doctor emphasized how attitude matters. He tells SurvivorNet, "My patients who thrive, even with stage 4 cancer, from the time that they, about a month after they're diagnosed, I kind of am pretty good at seeing who is going to be OK."
"Now doesn't that mean I'm good at saying that the cancer won't grow," he says. "But I'm pretty good at telling what kind of patient are going to still have this attitude and probably going to live the longest, even with bad, bad disease. And those are patients who, they have gratitude in life.
Stay Positive, It Matters
Learn more about SurvivorNet's rigorous medical review process.
---