Earlier this week, we gave an update on an incredible member of the SurvivorNet community — Jessica Melore. She has been through incredible hardships in her life — from needing a heart transplant at age 16 to beating cancer three different times. She even had to get her leg amputated when she was a teenager. But she never let that hold her back from accomplishing her goals — she's a Princeton graduate and an internationally-known motivational speaker. Recently, Jessica had to head back to the hospital because she is in need of a new heart.
In a conversation with SurvivorNet, Jessica said that instead of seeing her situation as a burden — she considers herself lucky.
Read More
"We can't always control what happens to us in life, but we can control how we handle it. I've been through a lot, but I think how fortunate I am to still be alive when I think of others who don't make it this far, " she said. "Even though I'm in the hospital, I don't see it as putting my life on hold — I'm keeping busy working during the day and catching up with friends I haven't seen. It's not easy — and it wasn't easy knowing I'd have to wait in the hospital — but I know it's only temporary, and I'm making the best of it in the meantime."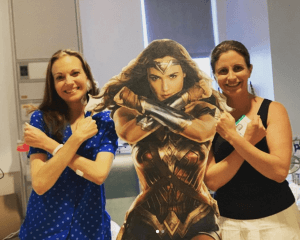 The way Jessica has been able to remain positive throughout her life is truly inspirational, so we asked her if she could offer a bit of advice for the SurvivorNet community. Her guidance was all about looking for the light, even when the world seems to be at its darkest.
"If you are struggling, think about something that might bring you joy — a phone call with a friend you haven't spoken with for a while, a book you've wanted to read and never had time to. It can make a big difference in your mentality," Jessica said. "Do the best you can — some days will be harder than others — but you will also have good days to look forward to."
For Jessica, some of those joyous things were a walk she was able to take outside of her hospital room this week, and decorating her room with a cardboard cutout of Wonder Woman (see above snap). Like so many survivors, she's just appreciating the little things.
Learn more about SurvivorNet's rigorous medical review process.