Idaho Officer Discovers Breast Cancer While Training
A 30-year-old police officer in Idaho, Erin Bustos, detected her stage two breast cancer after feeling pain in her breast while wearing a bulletproof vest during training.
Bustos has no family history of breast cancer; the current recommended age for women to begin annual mammograms is 45, if they don't have a high risk of developing the disease.
Bustos had IVF before beginning cancer treatment so she could preserve her fertility.
Police officer Erin Bustos, 30, initially didn't know what was to blame for the pain she felt in her right breast as she wore a bulletproof vest while training for her new job as a police officer in Meridian, Idaho.
Related: Terminal Cancer Can't Stop Her — Meet 6 Year Old Police Chief Abigail Rose Arias
Read More
In a recent interview with Idaho News 6, Bustos opened up about her stage two breast cancer, with which she was diagnosed in March after experiencing pain while wearing her vest on the job. "
My world flipped upside down
," says Bustos. "Nobody expects this to happen. I'm a planner – this was not my plan."
"Wearing a vest isn't comfortable in general," says Bustos of the bulletproof vest that ended up saving her life. The pain triggered by the vest led her to the doctor, where a mass was detected in her right breast.
Bustos is admirably using her voice and public platform for good. "I have a voice, I have a story," she says. "As painful as my story is to me still, it can help [other people]."
Before beginning treatment for her breast cancer, Bustos opted to undergo IVF to preserve her fertility, which can be damaged by some cancer treatments.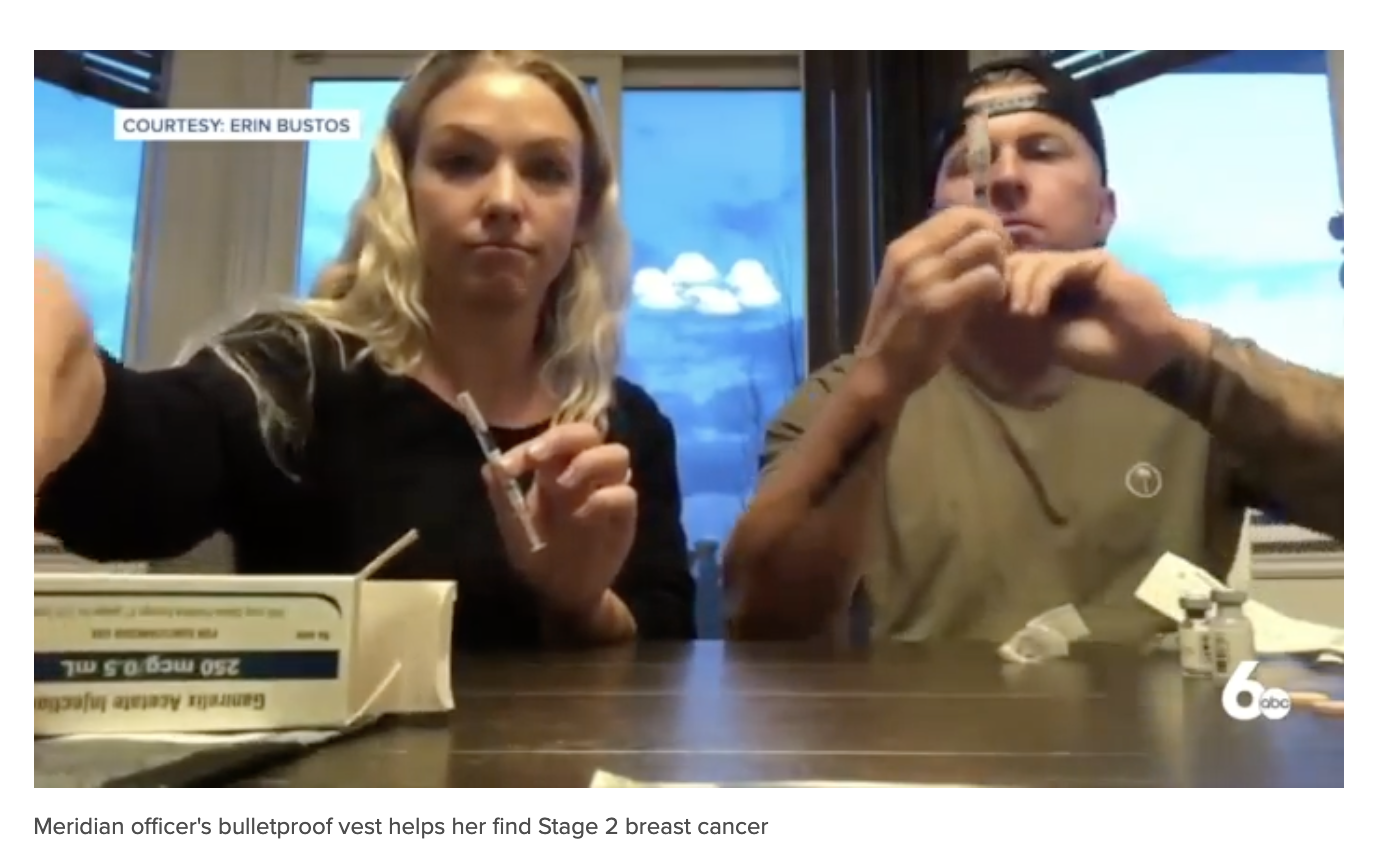 How Is Breast Cancer Detected?
Bustos says she has no history of breast cancer in her family, making her diagnosis at the young age of 30 all the more attention-getting.
Related: Learn Your Risk and Listen to the Guidelines: An Important Message About Breast Cancer Awareness
For women with a history of breast cancer you should begin screening for this disease – via mammogram – earlier than those with no elevated risk of breast cancer. For women with no elevated risk (i.e., they do not have a family history of the disease, nor do they carry the BRCA1 or BRCA2 gene mutation), the current recommended screening age for annual mammograms is 45 to 54.
During a mammogram, the technician is looking for lumps in the breast tissue, and early signs of cancer. Ask about dense breasts while you're getting your mammogram; dense breasts make it harder to detect cancer.
When Should I Get a Mammogram? 
Preserving Your Fertility Through Cancer
"To want children and to potentially not be able to do it, was earth-shattering for us," a teary Bustos tells Idaho News 6, underscoring a common issue for women battling breast cancer. Cancer treatments may negatively impact fertility.
Related: After A Cancer Diagnosis: Getting Fertility Hormone Injections
In an earlier interview, Dr. Jaime Knopman, director of fertility preservation at CCRM NY, discusses how chemo affects fertility. She says, "If I was guiding someone on what's the best thing to do for– what's the most important things know, in terms of chemotherapy and the effect it will have on your fertility, the first thing I would say is age."
"The younger you are when you get the chemo, the better you're going to be because you have more eggs there," says Dr. Knopman.
How Does Chemotherapy Affect Fertility?
Learn more about SurvivorNet's rigorous medical review process.