Thriving After Cancer
Actor Jeff Bridges, 73, who fought cancer and COVID in 2021, has received a Golden Globe nomination for Best Drama Actor in a TV Drama Series category.
The Golden Globes, which will be hosted by comedian Jerrod Carmichael, will take place on Tuesday, January 10, 2023.
The Old Man star announced in October 2020 that he was diagnosed with lymphoma and he was declared to be in remission.
Actor Jeff Bridges, 73, who fought cancer and COVID in 2021, has received a Golden Globe nomination for Best Drama Actor in a TV Drama Series category, it was announced this week.
Bridges, known for roles like 'The Dude' in The Big Lebowski, has been named a nominee for his acting as a former CIA operative in FX thriller The Old Man, a film which had to stop filming until the actor was healthy enough to return following his cancer battle.
Read More
Not only did Bridges star in
The Old Man,
he was also the executive producer. The Old Man is based on Thomas Perry's bestselling novel of the same name. Bridges acts as Dan Chase – a former member of the CIA who's now being hunted by an assassin (Gbenga Akinnagbe). Other cast members who worked alongside Bridges were John Lithgow, Amy Brenneman, Alia Shawkat, and E.J. Bonilla. The show was released on June 16, 2022. Before its release, filming for the series was halted in March 2020 during the onset of the COVID-19 pandemic and again due to Bridges' cancer diagnosis.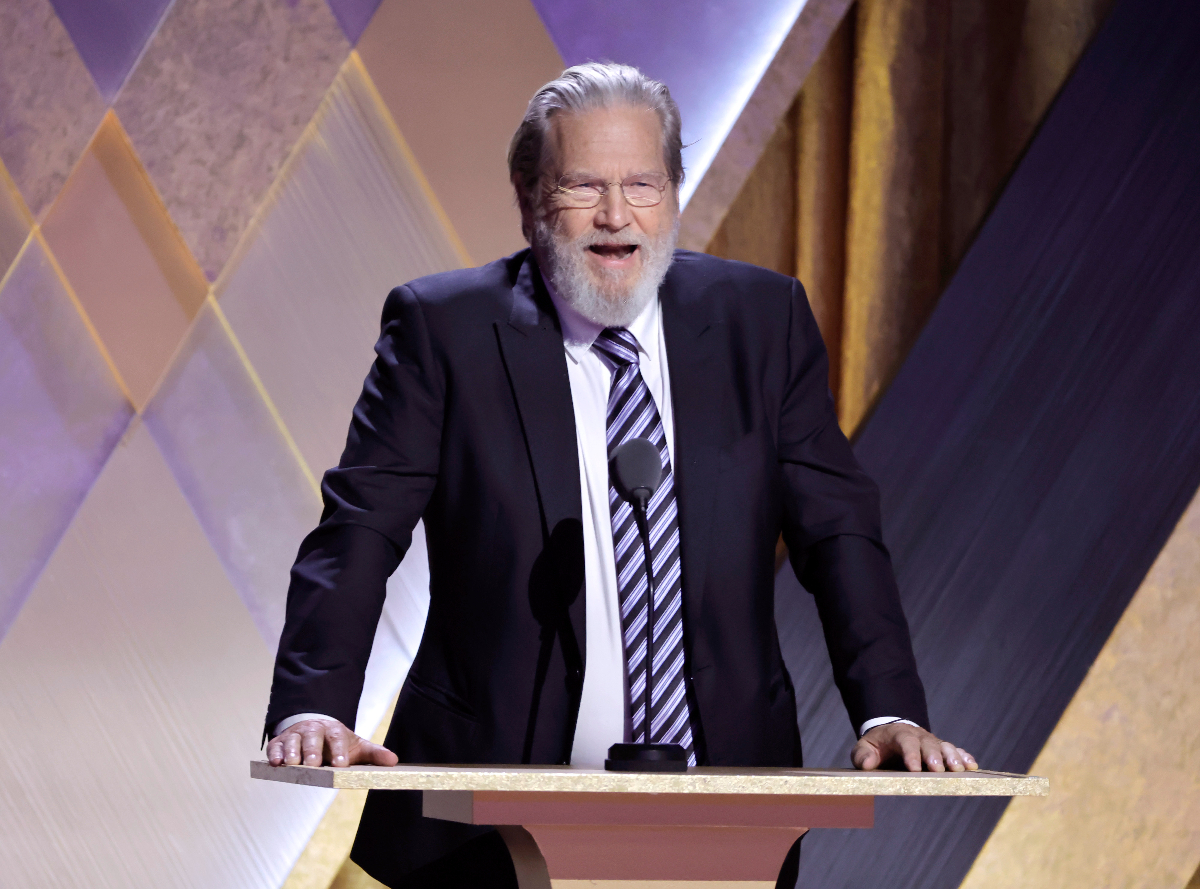 "I was sick for a year and then came back to work with all the same cast and crew, and it was like I had a bizarre dream or something," Bridges previously reporters on the red carpet at the Academy Museum of Motion Pictures in Los Angeles.
Jeff Bridges' Cancer Battle
Jeff Bridges announced the news of his non-Hodgkin lymphoma cancer diagnosis in October 2020 on social media. He revealed his diagnosis saying, "I have a great team of doctors, and the prognosis is good."
Related: Radio & Fox News Host Dan Bongino, 47, Says Cancer 'Put Horse Blinders On Me To See What Really Matters'; He Survived Hodgkin Lymphoma
The actor had chemotherapy to treat his disease, and throughout his cancer journey, he kept his fans updated on his treatment process. He shared exciting updates, such as news that his tumor is shrinking, in his online journal and on social media.
Luckily, his doctors were right about his prognosis. In September of last year, the actor posted on his blog that his cancer had entered remission.
"The 9" x 12" mass has shrunk down to the size of a marble," Bridges writes. He also suffered after contracting Covid in the midst of his cancer battle in 2021. "Covid kicked my ass pretty good, but I'm double vaccinated and feeling much better now."
Back in September, Bridges admitted he feels lucky to be alive after his fight with cancer and COVID in 2021, but he never informed the public of how close to death he was until this year.
Speaking with E! News, the Hollywood star said, "The chemo wipes out your immune system and when COVID hit me, I had nothing to fight it. I was just really at death's door a couple of times there."
"I remember the doctors saying to me, 'Jeff, you gotta fight.' I had no idea what they were talking about," Bridges explains. "I thought, 'Man, I'm in surrender mode here.' With a great medical team, great trainers and my family, everybody brought me back."
Bridges, who recalls being in the hospital for more than four months with COVID, is now working to spread awareness about lymphoma and how COVID-19 isn't over for immunocompromised Americans with AstraZeneca's Up The Antibodies campaign.
"While the option to up my antibodies to protect me from COVID-19 wasn't around when I was going through cancer treatment, it is now. As soon as I could, I upped my antibodies. And now I'm feeling more confident to get back to doing the things I love," Bridges told E! News.
He also took to social media to promote the campaign, captioning a sponsored post: "COVID-19 hit me while I was already down with cancer and on chemo, but I knew I wasn't out. #UpTheAntibodies to get an added layer of protection."
Bridges, best known for playing The Dude in the movie The Big Lebowski, is grateful for the "love of his life" Susan, who he married more than three decades ago, as well as three daughters and grandchildren.
In regard to his battle with cancer and COVID, Bridges adds, "It turns out there are many positive sides in my life that came out of that experience."
Understanding Lymphoma
While Jeff Bridges didn't disclose publicly the type of lymphoma he was diagnosed with, the two most common types of this disease are Hodgkin and non-Hodgkin lymphoma. Lymphoma is a cancer of the immune system that affects infection-fighting cells called lymphocytes. And there are more than 40 different types of lymphoma.
"Lymphoma is split up into a number of different categories," Dr. Elise Chong, a medical oncologist at Penn Medicine, previously told SurvivorNet.
Sneaky Lymphoma Symptoms Often Lead to a Late Diagnosis
"The first distinguishing breakpoint, if you will, is non-Hodgkin lymphoma versus Hodgkin lymphoma," she added, "and those sound like two different categories. But non-Hodgkin lymphoma comprises the majority of lymphoma, and Hodgkin lymphoma is a single specific type of lymphoma."
Hodgkin lymphoma has distinctive, giant cells called Reed-Sternberg cells. The presence of these cells, which can be seen under a microscope, will help your doctor determine which of the two lymphoma types you have.
There are a few other important differences between non-Hodgkin lymphoma and Hodgkin lymphoma to note. For one thing, non-Hodgkin lymphoma is much more common. And you're more likely to be diagnosed with it after age 55, like Jeff Bridges. People usually develop Hodgkin lymphoma at a younger age.
It should be noted that another difference between these two types of lymphoma is that non-Hodgkin lymphoma is more likely to spread in a random fashion and be found in different groups of lymph nodes in the body, while Hodgkin lymphoma is more likely to grow in a uniform way from one group of lymph nodes directly to another.
These two different types of lymphoma behave, spread and respond to treatment differently, so it's important for you to know which type you have.
What Kind of Lymphoma Do You Have? Why Your Type Matters
Non-Hodgkin Lymphoma Treatment — and Beyond
There are multiple kinds of non-Hodgkin lymphoma. These subtypes are all different, so it's important to understand the specifics of your diagnosis. The type of cancer you have can also determine what your life is like after treatment.
"There many different types of non-hodgkin lymphoma,"  Dr. Michael Jain, medical oncologist at Moffitt Cancer Center, tells SurvivorNet. "When patients come and see me about their lymphoma, I take a lot of time to explain the exact subtype they have. The reason being that one person may have one type of non-Hodgkin lymphoma, and it may be extremely different from one of their friends or one of their family members who may also have non-Hodgkin lymphoma."
Indolent vs. Aggressive Non-Hodgkin Lymphoma
Doctors divide up non-Hodgkin lymphoma into two groups based on how quickly it grows. Indolent lymphomas such as follicular lymphoma, marginal zone lymphoma, and small cell lymphocytic lymphoma (SLL)/chronic lymphocytic leukemia (CLL) grow slowly.
Aggressive non-Hodgkin lymphomas grow and spread quickly, and need prompt treatment. Diffuse large B-cell lymphoma "is the most common form of aggressive lymphoma that there is," Dr. Jain explains. "This type of lymphoma is often curable by chemotherapy, in combination with an antibody called rituximab."
Therapy for this subtype of lymphoma can lead to very good health outcomes. When people finish their therapy and go into a complete remission, that remission may last for a very long time, he tells SurvivorNet. "We think that people are cured in that sense when they have a long-term complete remission."
What Life May Look Like After Treatment
If patients have not experienced too many complications from their therapy, "they are often able to go back to many of the same things that they did before they had their diagnosis of cancer," Dr. Jain says, "and are able to live full and complete lives."
If the cancer does return at some point, any future treatment you get will depend on:
The type of lymphoma you had
The type of treatment you received for it
How long it has been since you finished treatment
Your overall health
Making a Survivorship Care Plan
So what's next after successful treatment? "At that point we often focus on the survivorship issues that they may have, preventing second cancers, and properly following them," Dr. Jain says.
A survivorship plan will include a schedule for follow-up exams and tests, plus a schedule for tests to check for any long-term health impacts from your cancer or treatment, and screening for any new cancers. (You're at higher risk for cancers such as melanoma, lung cancer, and kidney cancer if you've had non-Hodgkin lymphoma).
Your doctor will likely tell you what to look out for in terms of side effects that could show up late or over the long term. Your care team will provide you with diet and physical activity recommendations as part of your survivorship plan.
Thriving after Cancer
A cancer diagnosis will change your life. But we've seen so many survivors thrive on the other side of their cancer journey.
Take Marecya Burton, for example. She was diagnosed with ovarian cancer at just 20 years old. Burton was a college student-athlete looking forward to graduation at the time, but all that had to change when she was forced to move home to start treatment.
Former College Cheerleader Reinvents Herself After Surviving Ovarian Cancer
"That was definitely challenging for me," Burton said in a previous interview with SurvivorNet. "I was looking forward to graduating."
She also had planned on pursuing a law degree after graduation – another dream she had to give up.
"I really had to, in a sense, put my life on hold," she said. "Sometimes I look at where I am, and I can't help but wonder, would I be further had I not had my diagnosis?"
But instead of law school, Burton found a new passion: teaching. She became a high school teacher in Baltimore, Maryland, and she's since made peace with her new direction in life.
"I wouldn't change my career for the world," she says. "It's so fulfilling."
Contributing: SurvivorNet Staff
Learn more about SurvivorNet's rigorous medical review process.
---