Living With Macular Degeneration
Actress Judi Dench, who turned 88 years old today, recently opened up about how she's dealing with age-related Macular Degeneration, a degenerative eye condition that runs in her family.
Age-related macular degeneration (AMD) is a degenerative condition that damages the center part of the retina, which is called the macula, according to The American Academy of Ophthalmology (AAO). It is the leading cause of vision loss in people over the age of 50.
"With AMD you lose your central vision. You cannot see fine details, whether you are looking at something close or far," the AAO explains. "But your peripheral (side) vision will still be normal. For instance, imagine you are looking at a clock with hands. With AMD, you might see the clock's numbers but not the hands."
Actress Judi Dench, who turned 88 years old today, recently opened up about how she's dealing with age-related Macular Degeneration, a degenerative eye condition that runs in her family, nearly one year after her husband Michael Williams passed away from lung cancer at age 65.
Although the British star, who won an Academy Award for her performance as Queen Elizabeth I in the 1998 film Shakespeare in Love, has been struggling with partial blindness, she refuses to let her eyesight issues put an end to her career.
Read More
"I'm not doing anything much at the moment because I can't see," Dench admitted in a
recent interview
with British-American documentarian Louis Theroux for BBC Two, according to the Daily Express. The mother of one, who acted in the 1981 comedy series A Fine Romance and the 1988 film Handful of Dust, described her AMD condition, which she explained makes her vision "fuzzy," as "bad enough."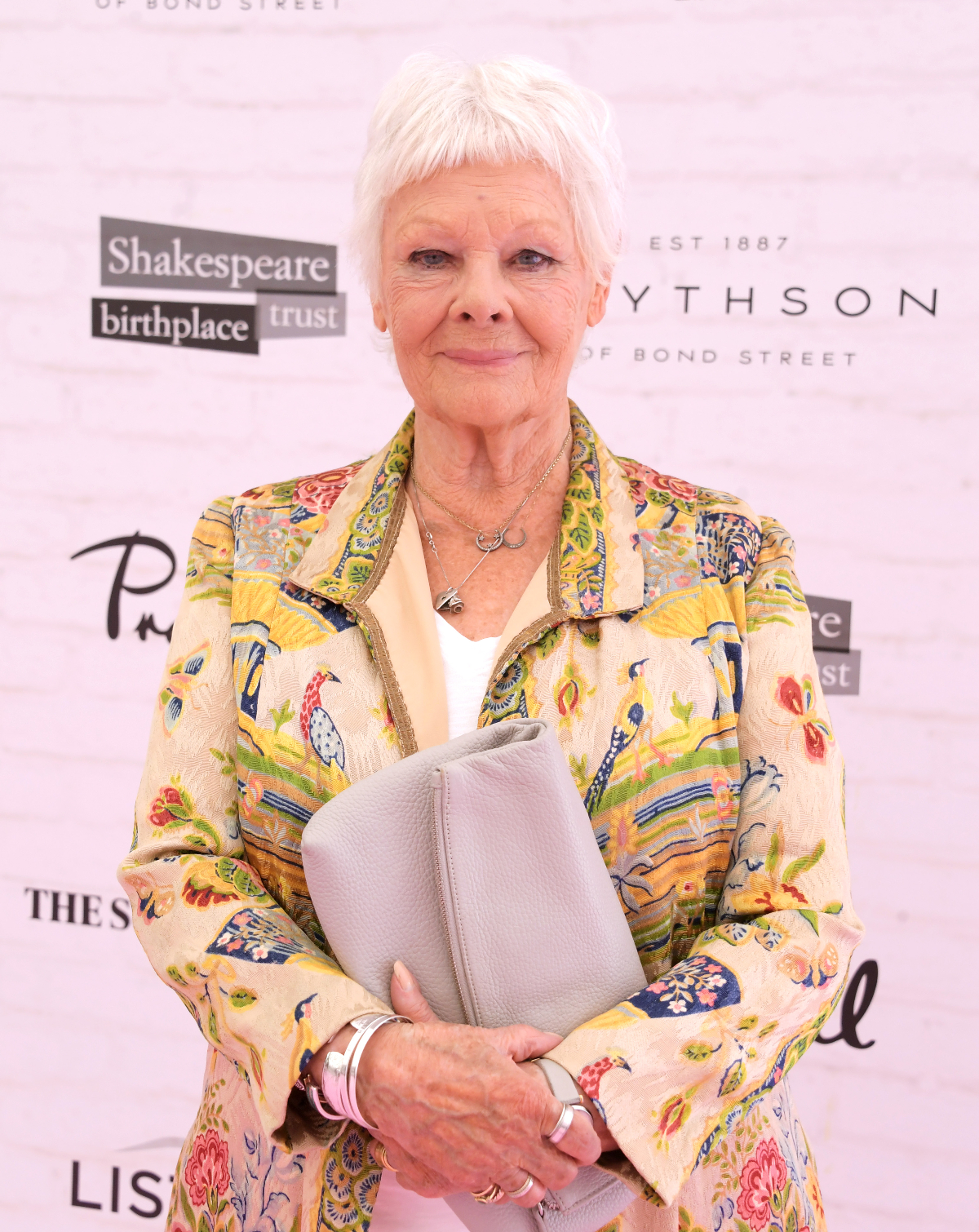 Recounting a recent party she attended, Dench said, "I went to a dinner a few weeks ago – a rather important dinner. It was so dark that I said to David, who was next to me, 'Have I anything on my plate?' He said 'Yes' and I said 'Does it need cutting up?' He said 'Yes' and I said 'Would you do it?' He handed something to me on the fork and that's the way I ate. I don't even know if I finished it."
Despite her eyesight issues affecting her ability to reach scripts for her acting jobs, Dench won't allow her career to come to an end.
"I've got to teach myself a new way of learning because I have a photographic memory," she told Theroux. "So, a person saying to me 'This is your line' and I can do that, and I have many people who will help me. Nevertheless, I realize that I need to know where it is on the page."
"I'll teach myself a way, I know I will as long as I don't trip overdoing it," she added.
Dench previously spoke about how she has already started printing out her scripts in a bigger font, the Daily Express explains.
"On my scripts, my font is point-size 22, so you can imagine… if we're doing a sonnet of 14 lines, all the others will have one page and I'll have 14," Dench said.
Macular Degeneration Basics
Age-related macular degeneration (AMD) is a degenerative condition that damages the center part of the retina, which is called the macula, according to The American Academy of Ophthalmology (AAO), which prides itself in being the largest association of eye physicians and surgeons in the world.
"With AMD you lose your central vision. You cannot see fine details, whether you are looking at something close or far," the AAO explains. "But your peripheral (side) vision will still be normal. For instance, imagine you are looking at a clock with hands. With AMD, you might see the clock's numbers but not the hands."
The AAO notes that the condition is so common that it's the leading cause of vision loss in people over the age of 50.
There are two forms of the disease, dry AMD (the most common type) and wet AMD (the less common type, but more serious). Dry AMD, which affects about 80% of people with the disease and is not yet treatable, "is when parts of the macula get thinner with age and tiny clumps of protein called drusen grow. You slowly lose central vision."
As for wet AMD, that's when new, abnormal blood vessels form under the retina. These vessels may leak blood or other fluids, causing scarring of the macula. You lose vision faster with wet AMD than with dry AMD," according to the AAO.
Some risk factors for developing AMD, are eating a saturated fat-filled diet, being overweight, smoking cigarettes, being over age 50, having hypertension (high blood pressure), having a family history of AMD, and having heart disease, or high cholesterol levels. Additionally, Caucasians are at a higher risk of getting AMD.
Treatment For AMD
The NIH's National Eye Institute explains that the stage and type of age-related Macular Degeneration (ADM) will decipher what type of treatment is needed.
"There's currently no treatment for early AMD, so your eye doctor will probably just keep track of how your eyes are doing with regular eye exams. Eating healthy, getting regular exercise, and quitting smoking can also help," the institute states on it's website. "If you have intermediate AMD in 1 or both eyes, special dietary supplements (vitamins and minerals) may be able to stop it from turning into late AMD. If you have late AMD in only 1 eye, these supplements may slow down AMD in your other eye."
For anyone dealing with wet AMD, treatment is used to prevent further vision loss, through "medicines called anti-VEGF drugs that the doctor injects in your eye
Photodynamic therapy (PDT), a combination of injections and laser treatment."
Staying Positive
Focusing on hope, and maintaining a positive attitude through dealing with a health condition – as Judi Dench is doing – can always help. Dench, who refuses to let her diminishing eyesight bring her down, explained during the BBC Two interview, "I'm not going to be beaten by my eyes for instance. I have macular degeneration, which means treatment every six weeks, but you just have to settle for it."
RELATED: 29-Year-Old's Brain Tumor Is Dismissed As 'Work Stress' Twice by His Doctors; Now He's Completely Blind
Anecdotal evidence from SurvivorNet experts points to how a positive mindset and gratitude can positively impact a cancer prognosis. One oncologist at Cedars-Sinai told SurvivorNet in an earlier interview, "My patients who thrive, even with stage 4 cancer, from the time that they, about a month after they're diagnosed, I kind of am pretty good at seeing who is going to be OK. Now doesn't that mean I'm good at saying that the cancer won't grow."
"But I'm pretty good at telling what kind of patient are going to still have this attitude and probably going to live the longest, even with bad, bad disease. And those are patients who, they have gratitude in life."
Dr. Zuri Murrell, a colorectal surgeon at Cedars-Sinai Medical Center in Los Angeles, also promotes positivity among his patients. He told SurivorNet in an earlier interview, "A positive attitude is really important."
If you have just been diagnosed with cancer or any kind of disease that changes your life, negative feelings are normal. Totally normal. Men and women react differently. Anger, shame, fear, anxiety. It's to be expected. Experienced doctors will tell you that people who find a way to work through the emotions and stay positive do end up doing better.
Determination & Hope — Despite Setbacks
If you're looking for a lesson in determination, look no further than Climbing Blind. The documentary, which is available here and for streaming on SurvivorNetTV, tells the story of Jesse Dufton, who is determined to climb the iconic Old Man of Hoy sea stack off the coast of Scotland — despite his physical limitations.
Dufton is blind, having lost his vision gradually due to an inherited condition. But his story, and his determination to make it up the nearly 500-foot Old Man of Hoy, serves as a beacon of hope.
Climbing Blind also showcases how important it is to have a support system when going through difficult times. In Dufton's case, the support system is his partner, Molly, who also serves as his eyes while he climbs.
"Molly is kind enough to lend me her eyes when we're climbing," he explains. "So, she'll spot critical holes from the bottom, and she'll help me spot places that might be good for gear. Without Molly … I wouldn't be climbing."
Check out Climbing Blind + many other inspiring documentaries on SurvivorNetTV!
Contributing: SurvivorNet Staff
Learn more about SurvivorNet's rigorous medical review process.
---