Kate Middleton Says Congratulations to Girl Who Beat Leukemia
Duchess Kate of Cambridge, 40, sent her congratulations to a young girl, Mila, 6, who recently beat cancer.
Mila was diagnosed with Acute Lymphoblastic Leukemia (ALL) at age 4. ALL is a type of cancer of the blood and bone marrow. Leukemia is the most common cancer diagnosed in children and teens.
Keeping a positive attitude through cancer can help make the journey easier to bear.
Duchess Catherine of Cambridge, also known as Kate Middleton, 40, is a champion for cancer fighters and she recently congratulated a six-year-old cancer fighter for beating cancer.
Mila Sneddon, 6, from Falkirk, Scotland, first captured Middleton's heart and mind when the Duchess of Cambridge saw a photo of Mila isolating during chemo. The Daily Mail reports, "The schoolgirl met Kate Middleton twice last year after the royal spotted the photo of the little girl in lockdown in March 2020; the image saw her gazing at her father Scott, who had been forced to move out of the family home to protect his daughter, through a window."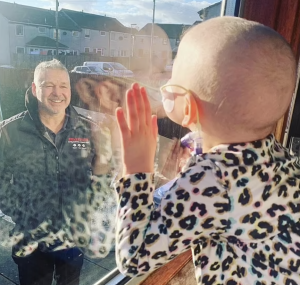 Read More
Sneddon's mother says that her daughter received an email from the royal office wishing Mila congratulations for getting the "all clear."
Kate Middleton Hears about Mila's Leukemia Journey
Mila Sneddon beat her cancer and got to ring the cancer bell at Team Jack Cancer Centre. Her mom Lynda tells The Daily Mail, "You think you're never going to see the end, so we're overjoyed and ecstatic that Mila has reached this stage."
Related: Kate Middleton Bonds with 5-Year-Old Cancer Patient for Her New Portrait Book 'Hold Still' Capturing Powerful Moments During the Pandemic
Mila was pictured getting chemo to treat her acute lymphoblastic leukemia, which is how Middleton was made aware of her. The girl was first diagnosed at age 4 with her disease. Acute Lymphoblastic Leukemia (ALL) is a type of cancer of the blood and bone marrow. Leukemia is the most common cancer diagnosed in children and teens. It accounts for almost 1 out of 3 cancers. On the whole, though, pediatric leukemia is a rare disease.
Related: Kate Middleton is a Class Act, Follows Through On Promise to Wear Pink Princess Dress for 5-Year-Old Girl Battling Cancer
The American Cancer Society says that approximately 3 out of 4 leukemias among children and teens are acute lymphocytic leukemia (ALL). Most of the remaining cases are acute myeloid leukemia (AML). ALL is most common in early childhood, peaking between 2 and 5 years of age, says the ACS.
In an earlier interview, Dr. Olalekan Oluwole, a hematologist with Vanderbilt University Medical Center, explains the steps that may follow an Acute Lymphoblastic Leukemia (ALL) diagnosis. He says, "Cancer is a really life-changing diagnosis. And we would like our patients to know that they don't have to feel that they are in there on their own. We have case managers that can help. We have social workers."
"In fact, we have a navigator– because sometimes they have blood test here, they see a doctor there, they get chemo there, they do a lumbar puncture. It can be completely overwhelming. So we actually have people that can help them find their way around the hospital," he says.
What Is Acute Lymphoblastic Leukemia ALL?
Keeping a Positive Attitude Through Cancer
Mila's mother Lynda says that their family is keeping a positive attitude into her remission and being cancer-free. The Daily Mail reports how their family is "overjoyed and ecstatic" for Mila being cancer-free.
Keeping a positive attitude through cancer cam positively impact one's prognosis, experts tell SurvivorNet, based on anecdotal evidence. One cancer expert at Cedars-Sinai says, "My patients who thrive, even with stage 4 cancer, from the time that they, about a month after they're diagnosed, I kind of am pretty good at seeing who is going to be OK."
"Now doesn't that mean I'm good at saying that the cancer won't grow," the doctor explains. "But I'm pretty good at telling what kind of patient are going to still have this attitude and probably going to live the longest, even with bad, bad disease. And those are patients who, they have gratitude in life."
Learn more about SurvivorNet's rigorous medical review process.