Maria Menounos on the Power of Hope & Good Doctors
Maria Menounos, who lost her mother to brain cancer in 2021, wishes all the doctors Happy National Doctors Day, and says she's thankful for how they cared for her mom in treatment.
Her mom, Litsa, had glioblastoma, a type of brain cancer. Glioblastoma is the most common form of brain cancer and is extremely aggressive; Litsa battled the disease for five years.
Maria Menounos shares how having hope for a miracle during her mom's disease helped make it easier.
Actress and TV journalist Maria Menounos, 43, recently reflected on the power of hope through a cancer battle, and also thanked her mom's doctors who treated her during her brain cancer battle. She says that holding onto hope for a miracle during her mom's cancer fight "really helped the journey."
The Medford, Massachusetts, native, who is also the daughter of Greek immigrants, writes on Instagram, "Happy National Doctors' Day to all the amazing physicians out there. I am so thankful for the ones that helped me and my mother on our journeys. Here are a few !!!"
Read More
Maria Menounos also shared a photo of her mom with her doctor on Instagram, when her mom was being treated for brain cancer.
 

View this post on Instagram

 
Maria Menounos' Mom's Brain Cancer Battle
Maria Menounos' mom, Litsa Menounos, was diagnosed with a glioblastoma, one of the most common—and most aggressive—brain tumors in 2016 when she was 61 years old. For those with brain cancer, treatment options include surgery, radiation, and chemotherapy. The treatment path will typically depend upon the stage of the cancer at the time of diagnosis.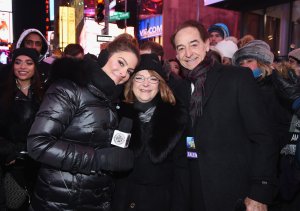 Glioblastoma is the most common form of brain cancer and is extremely aggressive. The life expectancy for those diagnosed with glioblastoma currently stands at two years, but thanks to years of research there may be a new option for those battling the disease.
A relatively new treatment option called Optune was approved by the Food and Drug Administration in October 2015 and is available to adults aged 22 or older. This tumor-treating therapy comes in the form of a cap that attaches to a patient's head, where electric currents run through adhesive pads. These currents disrupt the division of cancer cells, which can delay the disease from progressing and thus extend the survival time for some patients.
"I just want to emphasize to patients that when I first started doing this in 1999, there were maybe less than 5% of patients with this disease that were alive two years," Dr. Suriya Jeyapalan, a neuro-oncologist at Tufts Medical Center, told SurvivorNet in a previous interview. "Now we're getting out to maybe a third of patients alive at five years. This is not your father's brain tumor, and I want to sort of give a message of hope to patients. In the future we'll add to these treatments and make it even better."
While Menounos was taking care of her mother, she started having strange symptoms like ear pain, dizziness and blurred vision. She told her mother's doctor, thinking she was crazy that she was having similar issues. After an MRI, they discovered a golf ball-sized (non-cancerous) benign tumor. Menounos underwent 7-hour brain surgery on her 39th birthday in June 2017. And in May 2021, Litsa Menounos passed from brain cancer.
There Is New Hope for Those Fighting the Same Cancer That Took John McCain & Ted Kennedy; Using Polio & Immunotherapy to Fight Brain Tumors
The Importance of Hope Through Cancer
Menounos recently reflected on how staying hopeful through her mom's cancer battle really helped. She writes on social media – along with a picture of her and her mom – saying, "This time last year I was in Connecticut slowly watching my mom leave us. I kept saying, we don't know how the story will end so I will carry hope for a miracle while simultaneously holding space for the idea we could be in our last days…"
"Well, a year later I can say having hope really helped the journey…"
She continues, "It felt like a bit of an experiment. I didn't know if I was setting myself up for a huge devastation, if the miracle did not occur. Well, a year later I can say having hope really helped the journey. For all of us. I look back and I get sad that my mom had to go through any of this…"
 

View this post on Instagram

 
Menounos writes, "I see her looking so weak in pictures and my heart breaks. However, she was surrounded by her family 24/7 for those 5 months and the almost five years in total she courageously battled stage four brain cancer. I look back with extreme pride for all we were able to do for her and my dad in these times. I miss her sooooooo much and I still can't believe she's not here with me. I still cry a lot. I am still in disbelief but I know she's in a better place and I know she is still with me. And I know we made the journey as great as it could be for her."
She encourages others to have hope and faith in moments of hardship. "So…friends…carry hope. It's all we have in these moments. Hope will carry us through. It's not a form of denial. Walk both paths and whatever is meant to be, will be."
Focusing on hope, and maintaining a positive attitude through a cancer battle can help. Anecdotal evidence from SurvivorNet experts points to how a positive mindset can impact a cancer prognosis. One oncologist at Cedars-Sinai tells SurvivorNet in an earlier interview, "My patients who thrive, even with stage 4 cancer, from the time that they, about a month after they're diagnosed, I kind of am pretty good at seeing who is going to be OK. Now doesn't that mean I'm good at saying that the cancer won't grow," he says.
"But I'm pretty good at telling what kind of patient are going to still have this attitude and probably going to live the longest, even with bad, bad disease. And those are patients who, they have gratitude in life."
Learn more about SurvivorNet's rigorous medical review process.