Living Proud After Breast Cancer
Paige Swalue was diagnosed with triple negative breast cancer after noticing an unusual change in her baby's nursing behavior.
Her diagnosis also followed a change in her breast shape and texture.
Now she's cancer-free and sharing her story to inspire other young moms to be proactive and aware of possible cancer symptoms.
Triple-negative breast cancer is one of the most aggressive forms of the disease and makes up approximately 10-20% of all breast cancers.
Whether you're at a higher risk of breast cancer, or battling cancer, just know that should you decide not to reconstruct your breasts after a mastectomy, it's totally OK.
More and more women are taking pride in their decision to redefine beauty, just like Paige Swalue, who proudly wears her scars on her chest in photos shared on her Instagram.
When Paige Swalue, a hairdresser and mom of three from Australia, was 29 years old, she noticed her 6-month-old daughter Daisy didn't want to suckle from her right breast. And this unusual change in the baby's nursing behavior is what ultimately led to a life-saving diagnosis.
The unusual change in her daughter's breast preference, in addition to a difference in her breast size, breast texture, and the discovery of a "rock-hard little lump," eventualy led Swalue to being diagnosed with an aggressive breast cancer.
Read More
Speaking to 7News
in a recent interview, Swalue, now 32 and cancer-free, recounted, "I used to call my daughter a 'boobie monster' because she loved to feed. So it was really strange that she didn't feed that one day, from that side." Prior to this breastfeeding incident, which took place in December 2019, Swalue had realized one of her breasts appeared bigger than the other. She also noticed her skin had an "orange-peel" texture, along with stretch marks — something her midwives described as "pretty common."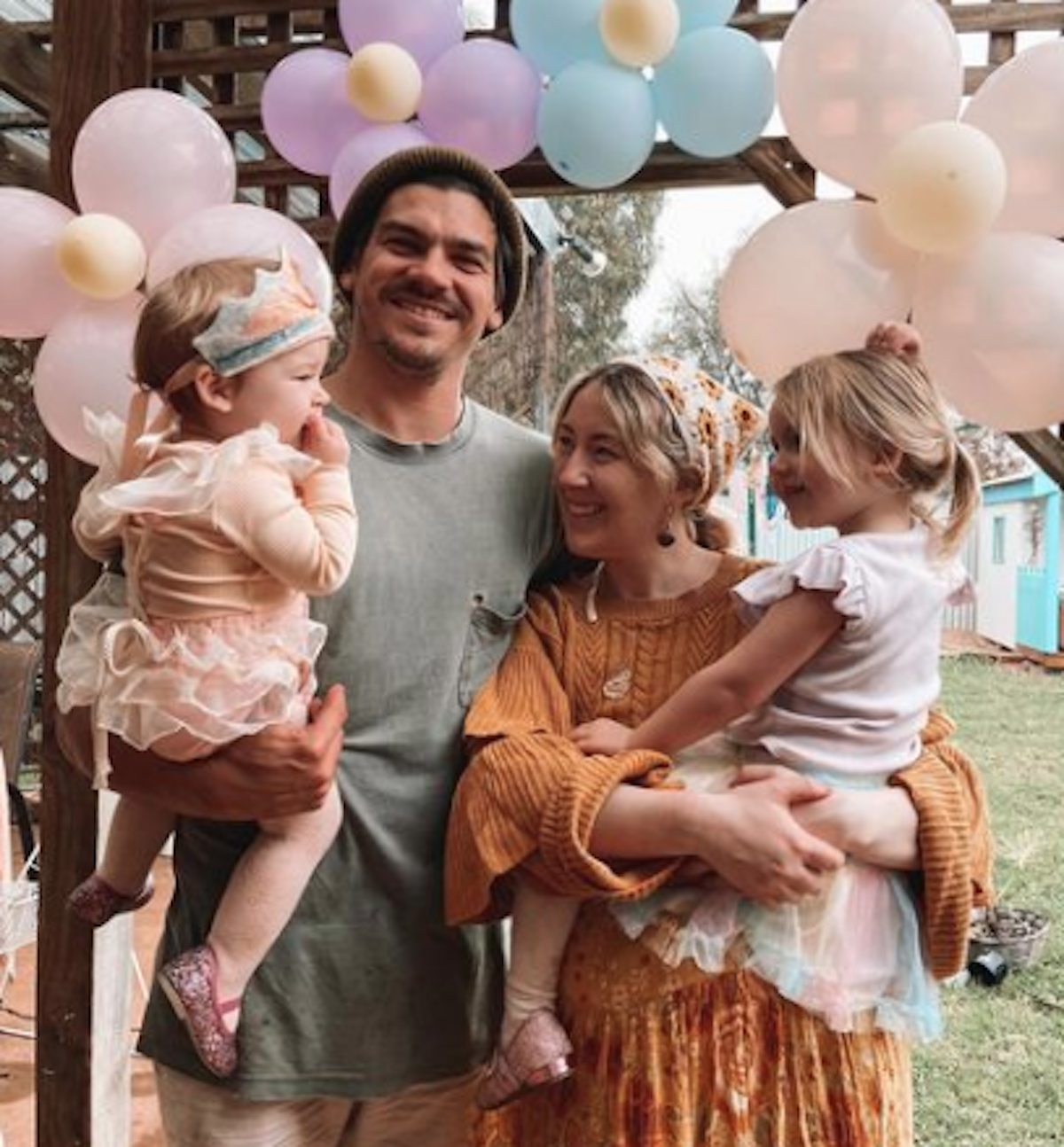 However, she had a gut feeling something was off with her body when her baby didn't want to drink the milk from her right breast.
As her breast had become swollen with milk, Swalue attempted to pump her milk and massage her breast to prevent inflammation of breast tissue that can cause an infection (mastitis).
As she massaged her breast tissue, which she later learned developed an infection, she felt a lump.
She explained, "I felt it, and was like, 'Okay, that's not quite right.' (I) put a warm compress on it and was trying to massage it out thinking, 'Hopefully, this is mastitis.' I could massage a softness around it away, then what was left was this rock-hard little lump."
It was then she told her husband Jake, who was 30 years old at the time, she needed to get checked by a doctor.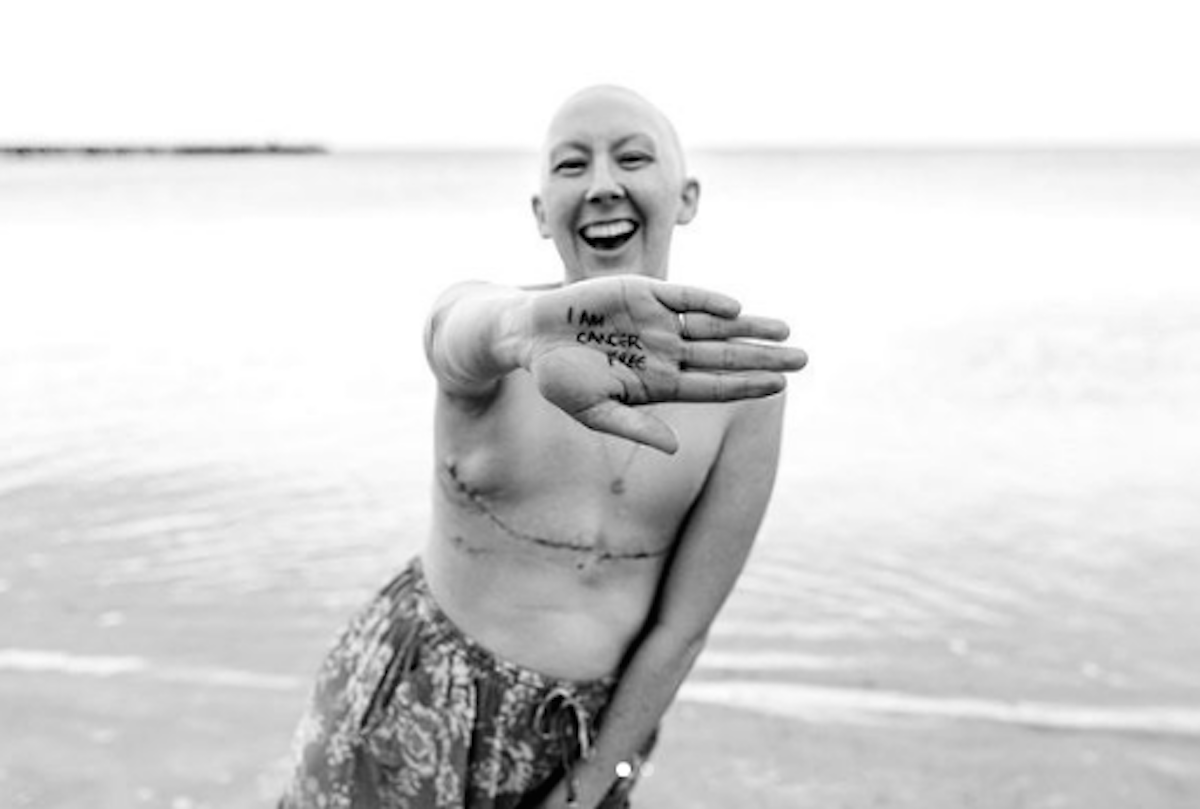 Once her general practitioner felt the lump, she was sent to get an ultrasound, which confirmed she had a 2.5cm mass. She was then sent for a biopsy of the mass and her lymph nodes.
Meanwhile, she also learned around this time that she was BRCA1 positive, meaning that she had a genetic mutation that put her at a higher risk for breast cancer.
A few days later she was misdiagnosed with "lactational breast tissue," however, later that week her biopsy revealed there was cancer in her lymph nodes. The mass in her breast had also quickly grown to 8.5cm.
After an MRI and CT scans to check whether the cancer had spread Swalue was found to have stage 3, grade 3 triple negative breast cancer that had metastasized to her lymph nodes.
"My surgeon said, 'Yes you do have breast cancer', but she followed up quite quickly with, 'You're treatable,'" Swalue, who received her diagnosis on Feb. 21, 2020, recalled.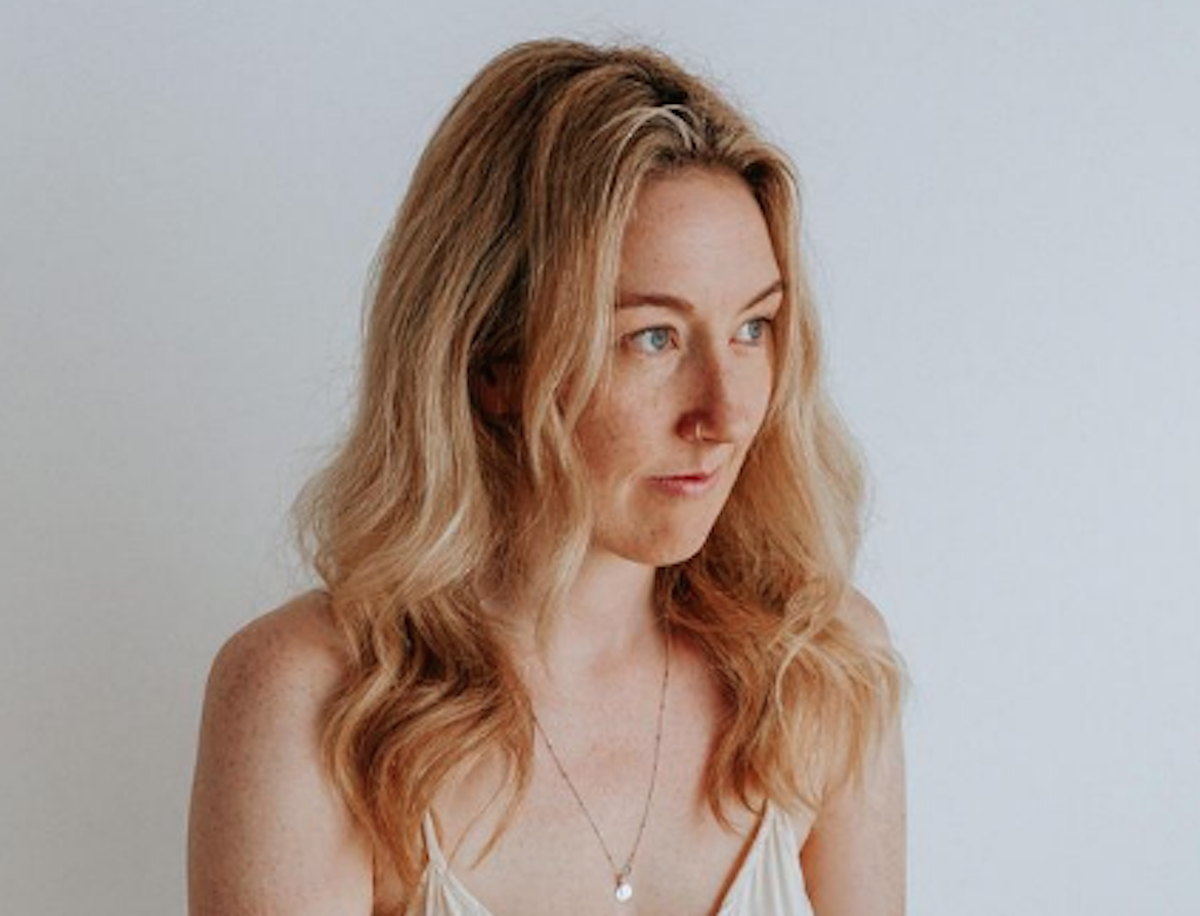 Swalue initially had trouble coping with her breast cancer diagnosis, but eventually decided to push forward with optimism.
"I'm either going to be angry for the rest of my life, or I'm going to just put my big girl pants on and I'm going to fight this and be here for my kid," she told 7News.
Two weeks after she was diagnosed, she began chemotherapy and was told she and her husband would need to undergo fertility treatment due to the "pretty brutal" and "very strong" chemo, which would also put her body into an early menopause.
Swalue and her husband were able to create our embryos before she started her six-month, high-dose chemotherapy treatment. And due to her chemo sessions taking place amid the Covid-19 pandemic, Swalue wasn't able to fly and instead had to take a 14-hour roundtrip drive to undergo treatment.
Following chemotherapy, Swalue underwent a double mastectomy and learned there was no longer cancer in her lymph nodes. But due to the initial size of her tumor and her BRCA1 gene giving the cancer an extremely high chance of recurrence, Swalue needed to undergo three weeks of radiation treatment.
Swalue announced she was cancer-free on Sept. 4, 2020, in an Instagram post, proudly revealing her surgery scars.
She wrote, "Cancer free baby! I first felt my lump on the 30th of December. Then ran into 2020 with this feeling that I would have a fight on my hand, and that I did. On the 21st of February, I received my official diagnosis of triple negative grade 3 breast cancer."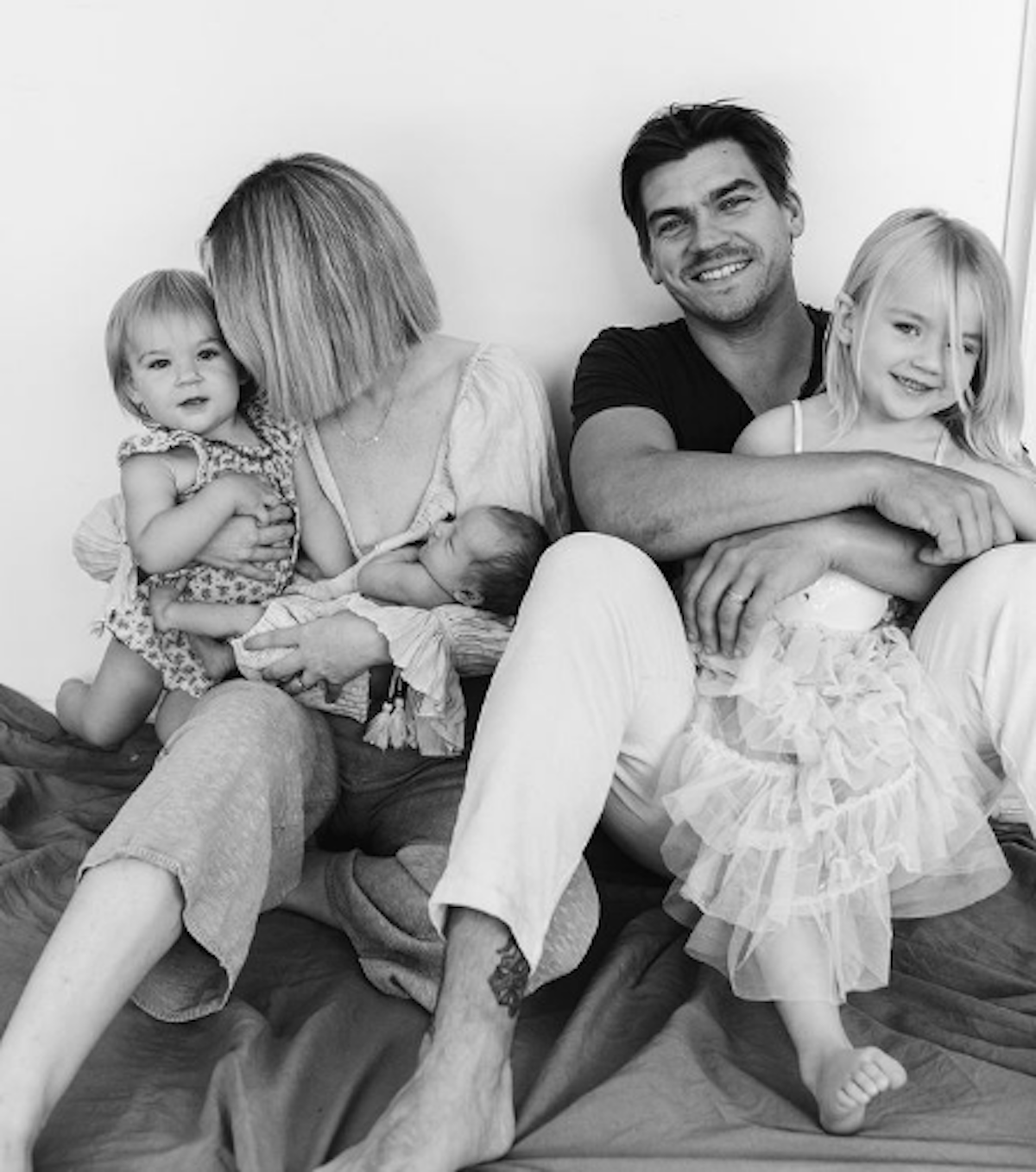 "I have endured many of needles, biopsies, fertility treatments, days spent terrified, days spent so thankful for everything out there saving my life, days where my body has ached so much that I would almost welcome death, and days where I look around at this amazing town and tribe for cocooning me in this unimaginable love! For that I will be forever thankful," she continued. "5 hellish months of chemotherapy, and a major surgery. All so worth it. I now can officially say I beat this. I am cancer free 💪🏻 and I have never been more proud!"
Despite having been through chemo and radiation, Swalue naturally conceived and gave birth to her second daughter about a year after being cancer free in September 2021.
RELATED: How to Treat Triple-Negative Breast Cancer: Keytruda Shows Promising Boost in Survival
Then in December 2022, she and her husband welcomed their third child, a boy they named Sami.
Now feeling proud of what she's overcome, Swalue told 7News, "I fought it and I'm here with three kids. I'm so set on getting to that five-year remission mark – because I have to. I have to be that positive story that I really struggled to find when I was diagnosed."
What Is Triple Negative Breast Cancer?
Once you've been diagnosed with breast cancer, your doctor will go over your pathology report and the results of any imaging tests to better understand the specifics of your tumor. Using a tissue sample from your breast biopsy or using your tumor if you've already undergone surgery, your medical team determines your breast cancer type. This information helps your doctor decide which treatment options are most appropriate for you.
Triple-negative breast cancer is one of the most aggressive forms of the disease and makes up approximately 10-20% of all breast cancers.
This type of cancer is dubbed triple-negative because it does not have any of the main drivers of breast cancer: the estrogen receptor, the progesterone receptor, and the HER2 receptor. This means that hormonal therapy can not be used because the cancer cells lack these receptors and that therapies targeted at HER2 will not be an effective treatment option.
Treatment Sequence for Triple-Negative Breast Cancer
Triple-negative breast cancer is more common in people under the age of 50 and is more likely to be diagnosed in Black women and Hispanic women. The majority of breast cancers diagnosed in people with an inherited BRCA mutation are triple-negative breast.
What to Know About BRCA Genes
To help understand your inherited risk of developing certain cancer, like breast and ovarian, you and your loved ones have the option to undergo genetic testing.
"Genetic testing is an exploding area, and it started out with a very narrow field of women and men who were recommended to have it based on certain risk factors, family history of breast cancer or other cancers and also ethnic backgrounds," Dr. Elisa Port, a surgical oncologist at Mount Sinai, previously told SurvivorNet. "We now feel that casting a wider net with genetic testing is probably very prudent because finding out that one has a cancer predisposition gene can definitely change their course, their risk for cancer and what they might want to do about it."
There are many gene mutations that can raise your risk of breast cancer, including PALB2, ATM, TP53, CHEK2, PTEN, CDH1 and STK11. But the BRCA genetic mutation – as discussed in Swalue's story above– puts people at the highest risk of developing breast cancer.
BRCA, itself, is is actually two genes (BRCA1 and BRCA2). BRCA1 (BReast CAncer gene 1) and BRCA2 (BReast CAncer gene 2) are genes that produce proteins that help repair damaged DNA, according to the National Cancer Institute.
Genetic Testing for Breast Cancer: What is This Type of Test? And What Do My Results Mean?
Everyone is born with two copies of each of these genes  – one copy inherited from each parent. When these tumor suppressor genes have certain changes or mutations, cancer can develop. These mutations raise men and women's risk level for breast cancer as well as several other cancers, most notably ovarian cancer.
"If a woman has one of these mutations the genetic BRCA1 and (BRCA)2 mutations, it puts her at basically the highest quantifiable risk for getting breast cancer," Dr. Port explained. "We typically say between the 60 (percent) and 80 percent range."
If a parent carries a BRCA gene mutation, there's a 50-50 chance the child is carrying it as well.
Redefining Femininity
Whether you're at a higher risk of breast cancer, or battling cancer, just know that should you decide not to reconstruct your breasts after a mastectomy, it's totally okay. More and more women are taking pride in their decision to redefine beauty, just like Paige Swalue who proudly wears the scars on her chest in photos shared on her Instagram.
"A lot of us women are sticking together and helping each other through this journey of being this new look," artist and survivor, Marianne Cuozzo, previously told SurvivorNet. "We're trying to make it so that it's not this stigma."
The Flat Movement—Embracing Your Body After Treatment
Another reason women choose to "go flat" after having their breasts removed is simply to be done with surgeries. Others may want to simply stick to conventional beauty standards. No matter what the reason, there are many people on both sides of the equation. It's your body, you can do what you want with it!
RELATED: For Breast Reconstruction After Mastectomy, Women May Choose 'Now,' 'Later,' or 'Never'
"I've helped a lot of women that I had no idea that I was helping," said Cuozzo. "I do a lot of photo shoots showing my scars, and I didn't realize the reaction. And then all of a sudden, I'm sharing this with other people and they're seeing this and encouraging them to take another step of maybe don't get reconstruction."
"Just remove your breasts," she says, "go flat, feel good about yourself," she added.
Fertility and Cancer Treatment
Infertility can be a side effect of some cancer treatments, but there are options to consider. Fertility preservation, for example, is available to women of childbearing age. Options for women include:
Egg and embryo freezing (the most common practice)
Ovarian tissue freezing
Ovarian suppression to prevent the eggs from maturing so that they cannot be damaged during treatment.
Ovarian transposition, for women getting radiation to the pelvis, to move the ovaries out of the line of treatment.
How Does Chemotherapy Affect Fertility?
No matter what path of action you decide to take, it is important that all women feel comfortable discussing their options prior to cancer treatment.
In a previous talk with SurvivorNet, Dr. Jaime Knopman said time was precious when dealing with fertility preservation for women with cancer. Taking action sooner than later is better when it comes to having these important fertility conversations with your doctor.
"The sooner we start, the sooner that patient can then go on and do their treatment," Dr. Knopman said. "A lot of the success comes down to how old you are at the time you froze and the quality of the lab in which your eggs or embryos are frozen in."
Can I Have A Baby After Breast Cancer?
When it comes to breast cancer patients specifically, there are some unique challenges for women with the disease. Dr. Elizabeth Comen outlined them for us:
Young women who need chemotherapy may have their fertility significantly affected due to most chemotherapy drugs being able to cause damage to a woman's eggs.
If women are on a medication to stop the hormones which feed their specific kind of breast cancer, they may not be able to get pregnant for several years – in some cases 10 years.
Many stage four breast cancers need estrogen to grow. Pregnancy is a very, very high hormonal state, so it's not recommended in these cases.
Contributing: SurvivorNet Staff
Learn more about SurvivorNet's rigorous medical review process.
---