Pilates Guru Finds Gratitude After A Difficult Cancer Journey
Amy Jordan learned she had neuroendocrine carcinoma of the cervix just a few months into lockdown. That is a rare and aggressive form of cancer that can form anywhere in the body. She wrote off her symptoms as being exhaustion and stress from the COVID pandemic.
She beat the disease, and now credits her battle with making her a better leader. Jordan is a pilates guru who in 2013 was awarded a US patent for the WundaFormer. That is a specialized machine that combines the four apparati used in pilates – the reformer, Wunda Chair, ballet bar, and jump board – into one machine.
"Entrepreneurship requires laser beam focus and hard work. Battling cancer requires laser beam focus and hard work," explains Jodran. "Leadership requires grace to fall down, reset and keep going. It also requires optimism, drive and reliance on trusted people around you. Battling cancer requires the same."
A fitness guru and exercise entrepreneur says that cervical cancer made her a better leader.
Amy Jordan, 46, learned she had neuroendocrine carcinoma of the cervix just a few months into lockdown. That is a rare and aggressive form of cancer that can form anywhere in the body.
Read More
She had symptoms of the disease, but all were easily dismissible as stress and exhaustion brought on by the increased demands most working moms faced at the start of the pandemic.
That diagnosis almost leveled Jordan until she realized that if she could not control her situation, she could at least control her response to the growing number of hurdles in her life.
Jordan says things were under control at first, thanks in large part to the fact that her chain of pilates studios had been working on a streaming service for the two years prior.
WundaBar on Demand launched on March 12, 2020 – just days before the COVID pandemic effectively shut down the nation.
View this post on Instagram
Related: Elle Smith Has Been Crowned Miss USA 2021, and Part of Her Platform is Cervical Cancer Awareness, As A Memorial to Her Grandmother
This meant that Jordan did not have to scramble like so many other business owners and even came to enjoy the transition at the start of lockdown.
"We leveraged our streaming library to support our clients with movement while they were locked indoors," she tells Forbes. "We also used this opportunity to connect with clients via our live-streaming classes taught by our amazing educators from both coasts."
She adds: "The best part about teaching live was that it gave me the opportunity to interact with so many clients I wasn't seeing in person regularly and build a new type of community online."
Jordan spent the past decade building a pilates empire, the crown jewel of which is the WundaFormer. That is a specialized machine combining the four apparati used in pilates – the reformer, Wunda Chair, ballet bar, and jump board – into one device.
The same drive she utilized in building her multimillion-dollar fitness empire she now put to work in her fight against cancer.
"Entrepreneurship requires laser beam focus and hard work. Battling cancer requires laser beam focus and hard work," explains Jordan. "Leadership requires grace to fall down, reset, and keep going. It also requires optimism, drive, and reliance on trusted people around you. Battling cancer requires the same."
View this post on Instagram
Jordan says that people now ask her: "How on earth did you survive cancer, homeschooling, and your businesses being shut down at the same time?"
She admits that she does not have an answer for these people but is certain that the "focus, optimism, and grace" that helped her build her business were "critical" to her success.
Jordan then notes that she did not do it alone.
"The tribe around me was essential. And as hideous of a journey as it was, it's given me an incredible gift of perspective," she points out.
"Everything now goes through a filter in my mind – is this worthy of me? of my time? of my energy? Does this help others? heal others? bring joy?"
If it does those things, then she moves forward, and if it does not, Jordan says she is happy to step aside and redirect her energy.
In beating cancer, Jordan seems to be even more optimistic about the future and her time with those closest to her.
"I'm profoundly grateful to be cancer-free and will not squander the gift of life I am enjoying with my beautiful children and this incredible work I get to do," explains Jordan.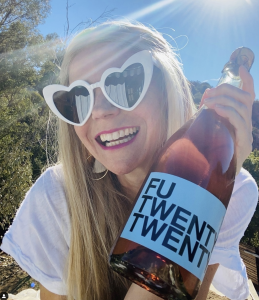 Related: Sportscaster and Cervical Cancer Survivor Erin Andrews, 43, Posts News of Her Five-Year Cancer Checkup: 'Sitting in That Waiting Room Always Puts Life into Perspective'
She expressed this gratitude in a post on Instagram after beating the disease, including photos she took during treatment.
"I had just completed my 90th hour of chemotherapy, was two months post-op, and about to wrap 25 daily radiation sessions," wrote Jordan. "I am sharing these very personal photos with you to normalize illness and the start of a human's journey back to health. I didn't want to forget how hard I fought or how sick I was. I resisted being "sick" pretty sincerely, but I hope this glimpse into the pain that can co-exist with gratitude helps bring more empathy and understanding to the world."
She closed out by noting: "And a moment of gratitude in your own heart – will you add something positive to the year by jotting down what you are thankful for below? Because, my friends, we all have plenty to be grateful for if we're willing to look for it."
Cervical Cancer Symptoms
The symptoms of cervical cancer are similar to other gynecological cancers.
Dr. Beth Karlan of the UCLA Medical Center previously told SurvivorNet that a person experiencing any of the following symptoms should get checked out, particularly if the symptoms are getting worse.
Postmenopausal Vaginal Bleeding
If you are postmenopausal and experience vaginal bleeding, make an appointment to see your doctor.
Abnormal Uterine Bleeding or Vaginal Discharge
For those who have not gone through menopause, abnormal bleeding – like bleeding between periods or spotting – is something to address with your doctor. Additionally, vaginal discharge that is out of the ordinary may signify that something is wrong.
Swelling In the Abdominal Region
Monthly periods often lead to bloating, cramping, and swelling in the abdominal region. For this reason, it's essential to be vigilant in listening to and observing your body. Does something feel off to you? Are you more swollen and bloated than usual during your menstrual cycle? If so, you may want to visit your doctor.
If You Feel Something, Say Something
Pain During Sex
Pain during intercourse can result from many things, including various gynecological health conditions such as endometriosis, vaginitis, pelvic inflammatory disease, and more. But pain during sex can also be a symptom of gynecological cancer. If you don't typically experience pain during sex and start noticing it, this is also something worth bringing up with your doctor.
Pelvic Pain
Pelvic pain may result from intense premenstrual syndrome (PMS), pelvic inflammatory disease, or something more serious. If you have persistent, unexplained pain in your pelvic region, you should consult your physician.
It's important to note that any of the above symptoms – particularly pelvic pain or abdominal swelling – that are getting worse or becoming persistent should lead you to seek medical advice.
Taking Control of Your Ovarian Cancer Risk
Gynecological Cancer Statistics
According to the ACS, in 2020, the U.S. will see the following number of new cases:
21,750 people diagnosed with ovarian cancer
13,800 people diagnosed with cervical cancer
6,120 people diagnosed with vulvar cancer
6,230 people diagnosed with vaginal cancer
3,970 diagnosed with uterine cancer
Cancer Radically Changed My Life: Why Tracy White Considers Her Cancer Journey A Blessing
Learn more about SurvivorNet's rigorous medical review process.
---