RBG & Lessons For Resilience Through Cancer
Two years ago, the nation was shocked and saddened by the news that U.S. Supreme Court Justice Ruth Bader Ginsburg had died at age 87 after a hard-fought battle with metastatic pancreatic cancer.
Since 1999, Ginsburg has fought cancer in her colon, lungs, pancreas and liver.
Her personal trainer Bryant Johnson, who worked with the beloved lawyer on her fitness for 21 years, previously credited Ginsburg's well-managed health to strength training. Johnson paid tribute to all the hard work Ginsburg put in throughout the years by doing pushups next to her casket in the U.S. Capitol during her memorial.
On September 18, 2022, the nation was saddened by the news that U.S. Supreme Court
Ruth Bader Ginsburg
passed away at the age of 87 after battling metastatic pancreatic cancer.
The American lawyer, jurist, and mother of two is the epitome of a survivor as she has battled cancer five times throughout her life—making her health an inspiration to anyone who may be dealing with cancer recurrence.
Read More
The Brooklyn-born Cornell University and Harvard law graduate, who was appointed to the U.S. Court of Appeals for the District of Columbia in 1980, appeared to manage cancer through the years by always staying active.
Related: 6 Giants We Lost to Cancer in 2020 including Chadwick Boseman, Alex Trebek, & Ruth Bader Ginsburg
Her personal trainer Bryant Johnson, who worked with the beloved lawyer on her fitness for 21 years, even paid tribute to all the hard work she's put in throughout the years by doing pushups next to her casket in the U.S. Capitol during her memorial. Ginsburg started working out shortly after her first cancer diagnosis.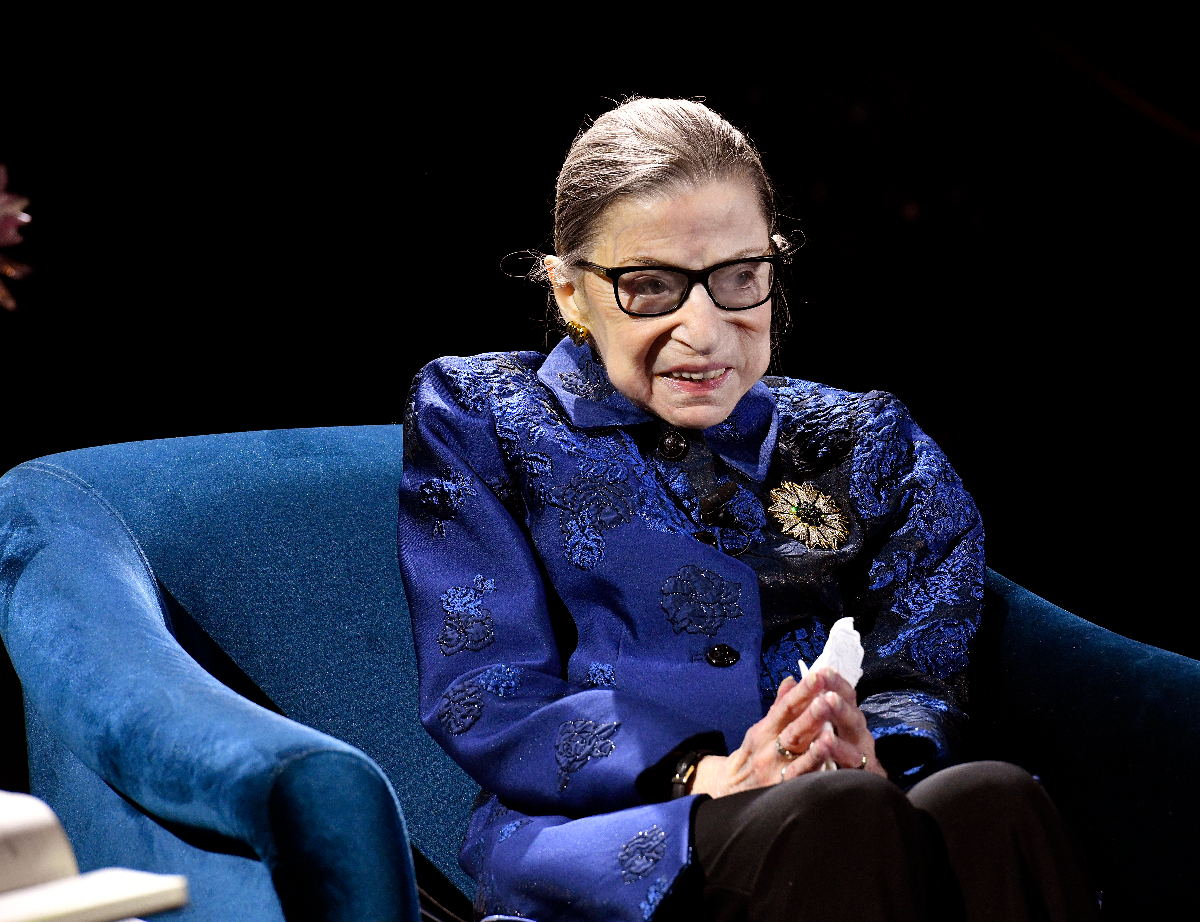 Johnson previously credited Ginsburg's health success to strength training, explaining, "My report card for Justice Ginsburg came back when she visited her doctor in her 70s and her bone density had gone up."
"The doctor said he had never seen that happen to a person of that age. Whatever you're doing, the doctor said, keep it up," he added, according to CNBC.
Related: Mom is Determined to See Her Daughter's Second Birthday Amid a Late-Stage Ovarian Cancer Recurrence: 'I Can't Give Up; I Have Too Much to Live For'
RBG's Exercise Routine
Ginsburg is known for staying active even during cancer, famously continuing to work out through her diagnoses and treatments. Ginsburg told an audience at UC Berkeley in California about two months before she passed that even when she learned she had cancer on her pancreas, she kept up her routine.
Though she didn't complete every workout, she said, she kept doing pushups and planks — "both front and side" — as well as weight-bearing exercises with a personal trainer.
According to Dr. Charu Aggarwal, a physician at the University of Pennsylvania specializing in patients with lung and neck cancer, exercise can be really beneficial in the context of cancer.
"Exercise has been linked to improved outcomes, after all modalities including surgery, chemotherapy or radiation," Dr. Aggarwal previously told SurvivorNet. "I always recommend that patients exercise as much as they physically can during therapy."
Ginsburg was 85 when she was treated for lung cancer, and as per Dr. Aggarwal, "Age alone is not a predictor of outcomes and decisions regarding surgery, radiation and chemotherapy are often based on physiologic rather than chronological age."
Multiple Cancer Battles and Family Connections
Since 1999, Ginsburg has fought cancer in her colon, lungs, pancreas and liver. Six years into her career as a Supreme Court justice, she was diagnosed with colon cancer; she underwent surgery followed by chemotherapy and radiation treatments. During the process, she didn't miss a day on the bench.
Ten years would pass before Ginsburg faced cancer again. She was first diagnosed with cancer in her pancreas in 2009. The cancer was resected (surgically removed), but the recurrence rate is still about 60%, Dr. Diane Simeone, a surgical oncologist and director of the Pancreatic Cancer Center at NYU Langone Health's Perlmutter Cancer Center, tells SurvivorNet.
Detecting Pancreatic Cancer Early is Crucial
It wasn't until about 10 years after the resection that cancer showed up in her lungs, which makes Ginsburg's case an interesting one, Simeone says. This is because a subset of pancreatic cancers, which tend to be more biologically favorable, spread selectively to the lungs. These patients tend to be longer term survivors, despite having metastatic disease, and resection of the lung metastases can provide a durable response.
In November 2018, Ginsburg fell inside her office at the Supreme Court and fractured three ribs. She had a CT scan of her ribs after the fall, which revealed cancerous nodules in her lungs. She had the cancer in her lungs removed as well, but in 2020, cancer again showed up in her pancreas.
In August 2019, the Supreme Court announced that RBG had recently completed three weeks of focused radiation treatments for a tumor found in her pancreas; the pancreatic cancer from 2009 had come back. She was cancer-free by January 2020, but the cancer returned a month later in February. (This news wasn't shared with the public.) In May 2020, she was again receiving treatments for recurring cancer. She died of the disease in September 2020. She was the first woman to lie in state at the U.S. Capitol in Washington, D.C.
"I think it highlights the very difficult nature of pancreatic cancer," Dr. Simeone says of Ginsburg's case.
Ginsburg wasn't the only person in her family to battle cancer. Ginsburg's husband, Marty, was diagnosed with testicular cancer during her second year of law school in 1957. He died at 78 from complications of metastatic cancer on June 27, 2010 — 10 years before his wife. It remains unclear what type of cancer Marty died of.
Her mother, Celia Bader, also struggled with cancer throughout RBG's high school years. Celia died of cervical cancer the day before her daughter's high school graduation.
Living, Learning, and Coping With a Cancer Recurrence
There are so many treatment options for people facing cancer today, it can be hard to know which one to choose. Annie Ellis, an ovarian cancer survivor, says it can be really daunting when you have no medical background and you have to make these life-changing decisions – especially when you have a cancer recurrence like she, or Ginsburg did.
Ellis got her first diagnosis at age 40, she's now in her third remission. She says that connecting with other women who had ovarian cancer, and making a point to share with others what she learned from her own experience with the disease had a big hand in helping her cope.
"People who are living with cancer have more options than ever before," Ellis says. "But we don't always know which person should get which treatment. What was helpful to me, to deal with the anxiety, was to connect with the survivor community."
Finding Your Way When Cancer Returns
Contributing: SurviorNet Staff
Learn more about SurvivorNet's rigorous medical review process.
---