Daltrey's Tragic Loss
Roger Daltrey says that the tragic death of his beloved sister at 32 from breast cancer inspired him and The Who to raise millions for teen cancer over the past decade.
They had planned to raise about $20 million last year until the pandemic prevented them from doing live shows, so now Daltrey has a new podcast for teens battling cancer that he is hosting.
"I remember my teenage years," Daltrey said of his inspiration for supporting teen cancer patients. "I was bullied very early on when I was 12, 13. Some of it's quite painful stuff. And I thought, 'Just imagine what it would have been like if someone had told you I had cancer at that age.'"
Roger Daltrey says that the tragic death of his beloved sister inspired him and The Who to raise millions for teen cancer over the past decade.
He revealed this in an interview with Rolling Stone when asked if his commitment to raising money for teens battling the disease arose due to some personal connection.
Read More
"Sadly, my younger sister Carol, who was 32 at the time, died of breast cancer, so I saw cancer," responds Daltry. "That was in the Eighties. That's life, and it's sad. The horror of it never leaves you, more than the mental anguish."
He specifically came to support the Teenage Cancer Trust in England due to another personal connection.
"It was started by my [doctor], and we supported him from day one," said Daltrey. "It's such a simple thing to understand. I remember my teenage years. I was bullied very early on when I was 12, 13. Some of it's quite painful stuff. And I thought, 'Just imagine what it would have been like if someone had told you I had cancer at that age.'"
He continued: "Young children get cancer but don't know the ramifications of what they've got. Whereas a teenager, unfortunately, knows everything. They know exactly the journey they're going to be on. The mental strain of that must be horrendous."
Those close person connections made it difficult for Daltrey to watch as the COVID pandemic wiped out an estimated $20 million in anticipated donations he expected to bring in just last year.
"The music business is just getting back on its feet, which is great. But the charity side of it, like Teen Cancer America, is extremely difficult. All our fundraising is based on events," notes Daltrey. "So we lost probably $10 to $12 million last year for the Teenage Cancer Trust in the U.K. In America, we lost out on two of the big events I've been staging for the last ten years, partly to support an autism program and mostly for teen cancer. We've lost out probably to the tune of $8 million there."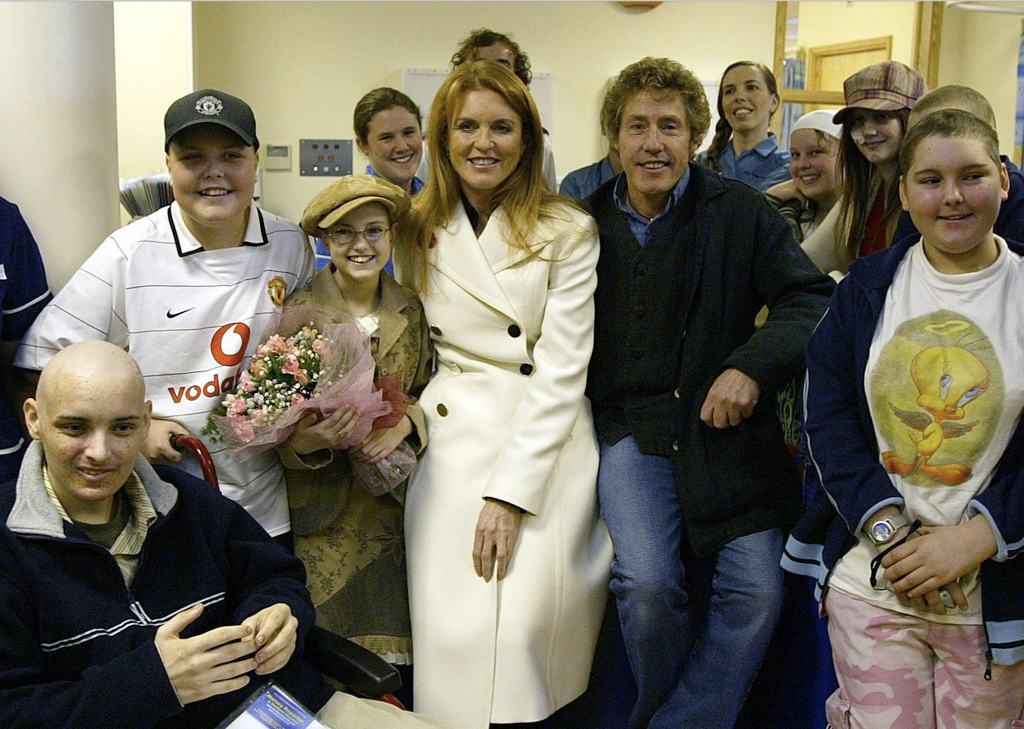 Now, Daltrey is helping the cause in a new way and finding a use for empty studio space. Instead of funds, he is now giving a voice to teenage cancer patients with his new podcast, The Real Me.
"It was an idea our CEO came up with. We have access to musicians and studios, and it's a great way for [the teens] to talk about how they feel going through this," said Daltrey. "Some of this stuff is really interesting to listen to. I was flicking through a few yesterday, some really great singers there. Just to listen to them expressing themselves, you're drawing something out of them, and that's got to be good. If that wasn't coming out in that way, it would be all bottled up inside."
He adds: "Obviously, their words are painful. But their voices are quite extraordinary."
He is looking forward to getting back out on the road to raise funds and play live venues, where he usually attracts a famous act or two to join in the fun.
It would seem not easy to book these acts, especially since they are all guaranteed to get second billing. But Daltrey knows just the way to frame his requests.
"I used to say to the musicians, 'Without the support of this age group, we've got no industry at all,'" he says. "And even today, you've got no life support unless you've got that age group supporting you. This is a great way of giving back to them."
Coping with Loss of a Family Member to Cancer
Roger Daltrey lost his sister at just 32 at a time when women who were diagnosed with breast cancer were often in the latter stages of the disease, robbing many of a chance to say goodbye.
It is a journey that can feel overwhelming for people young and old, but some resources can offer support along the way. Some people find comfort in support groups, while others use therapy to help them process the pain of grief.
Camila Legaspi was in high school when she lost her mother to breast cancer.
Legaspi credits therapy with "saving" her during that emotionally difficult time in her life, something she spoke about in a previous interview with SurvivorNet.
"Therapy saved my life. I was dealing with some really intense anxiety and depression at that point. It just changed my life because I was so drained by all the negativity that was going on," said Legaspi.
"Going to a therapist helped me realize that there was still so much out there for me, that I still had my family, that I still had my siblings," she added. "The reality is, is when you lose someone, it's really, really, really hard. And it's totally OK to talk to someone. And I'm so happy that I talked to my therapist. Keep your chin up, and it's going to be OK."
Grieving After A Family Member's Cancer Death
Understanding Metastatic Breast Cancer
Metastatic breast cancer – also called "stage four" breast cancer – means that the cancer has spread, or metastasized, beyond the breasts to other parts of the body. It most commonly spreads to the bones, liver, and lungs, but it may also affect the brain or other organs.
When Breast Cancer Spreads to the Bones
And while there is technically no cure for metastatic breast cancer, there are a wide variety of treatment options used to battle the disease, including hormone therapy, chemotherapy, targeted drugs, immunotherapy, and a combination of various treatments.
In a previous interview with SurvivorNet, Dr. Elizabeth Comen, an oncologist with Memorial Sloan Kettering Cancer Center, explained how she manages breast cancer when it progresses to a later stage.
"With advanced disease, the goal of treatment is to keep you as stable as possible, slow the tumor growth and improve your quality of life," she said.
Breast cancer is the second leading cause of cancer death in women after lung cancer, but many breast cancer survivors and people living with the disease today. The American Cancer Society reports that more than 3.8 million U.S. women with a history of breast cancer were alive at the start of 2019. Some of the women were cancer-free, and others still had evidence of the disease. Still, they also reported that more than 150,000 breast cancer survivors were living with metastatic disease, three-fourths of whom were initially diagnosed with stage I-III. And with ongoing advancements in treatments and options out there today that can dramatically reduce systems, there are many reasons to be hopeful.
Learn more about SurvivorNet's rigorous medical review process.