Support Through Battling Cancer
Florida First Lady Casey DeSantis has praised her husband for supporting her during "one of the hardest things" she's ever gone through—battling breast cancer.
She announced she was breast cancer free in March and that she was ready to hop back on the campaign trail with her husband.
Breast cancer is a common cancer that has been the subject of much research, so there are many treatment options out there. Mammogram are a standard screening procedure for breast cancer, and self breast exams can save lives.
Having support through cancer, whether it's from support groups or your nearest and dearest loved ones, is critical, and there are many people out there for cancer warriors to be vulnerable with.
First Lady Casey DeSantis made an appearance on Fox News' Sean Hannity's hour-long town hall on Thursday to sit alongside her supportive husband who stood by her side throughout her breast cancer battle.
Before speaking on how grateful she was for her husband Ron DeSantis, who has served as Florida's 46th governor since 2019, a video advertisement created in support of her 44-year-old husband's re-election campaign was played for the audience.
Read More
The 42-year-old mom of three and former TV show host was greeted by Hannity during the
live town hall in Palm Beach County
, Florida after the ad—showing Casey praising Ron's continued support amid her recent fight with breast cancer—concluded.
"When I did [the ad], I asked everyone kindly to leave the room because I wanted to look into the camera and I wanted to tell people exactly who Ron DeSantis is," Casey explained after confirming she is "100% cancer free" and that Hannity's town hall marked the first time since she's seen the ad.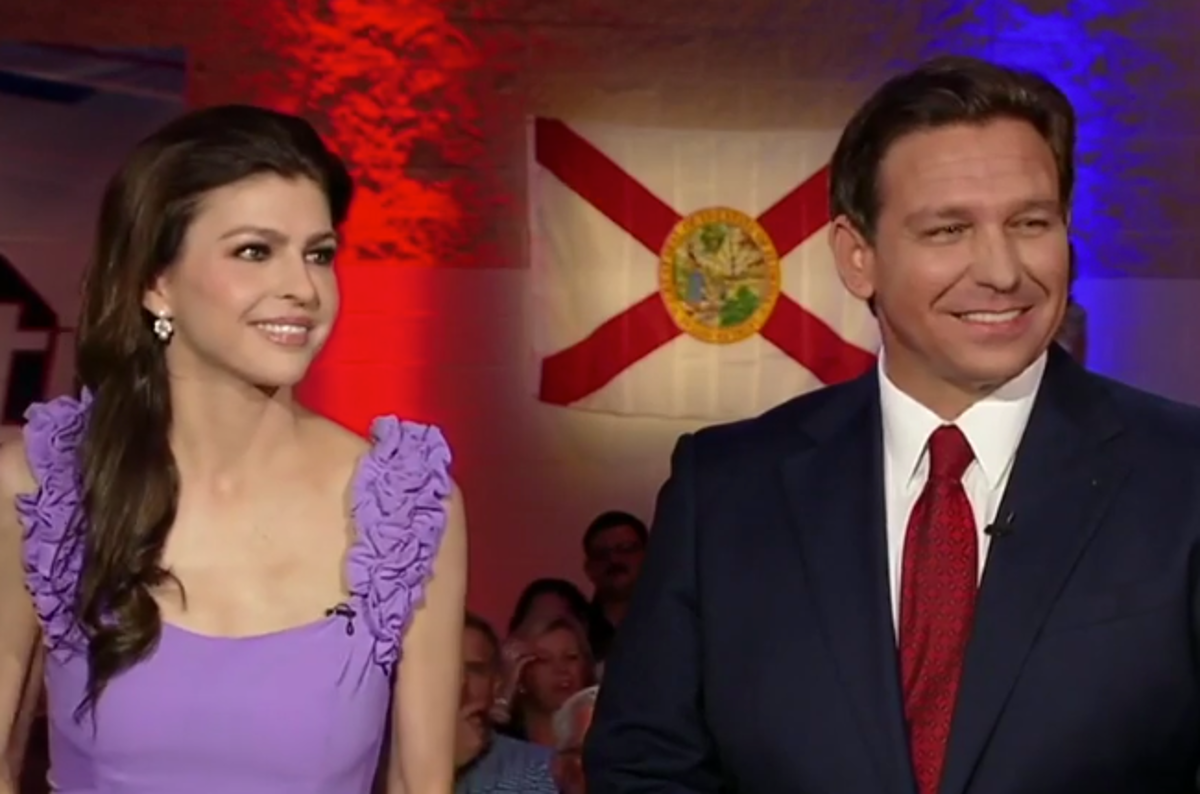 "Because when I went through one of the hardest things I've ever gone through in my life, I had a guy who was with me every step of the way to literally pick me up off of the ground," she continued. "And he wasn't even just there for me. He was there for my kids."
"And imagine as a mom of three little babies, when you can't take care of your kids and put them to bed, but you get somebody like this, helping you out means the world."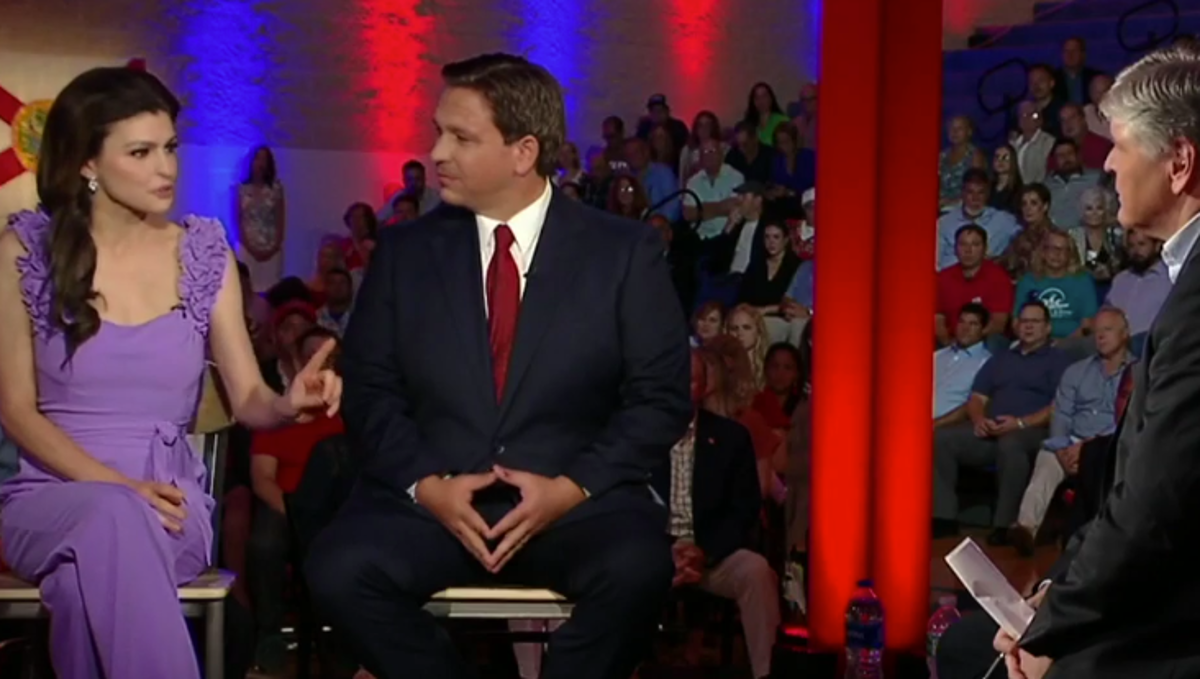 Support Through Casey Desantis' Cancer Journey
Casey's husband previously shared his campaign advertisement on Twitter, writing in a Twitter post, "I love you, Casey."
"I get asked all the time, who is Ron De Santis? He's the kid who grew up right here in Florida working his tail off paying his own way through school and volunteering to serve in the Navy and deploying to Iraq," Casey says in the powerful TV and digital campaign video titled: "That Is Who Ron DeSantis Is."
"He's the man who I fell in love with from the moment we met," she continued. "And he's the dad of three very rambunctious, energetic children: Mamie, our two-year-old little comedian, Madison, our beautiful sweet five-year-old, and Mason, our four-year-old athlete."
She then emotionally went on to explain "who" her husband really is. "But if you want to know who Ron Desantis really is – When I was diagnosed with cancer and I was facing the battle for my life, he was the dad who took care of my children when I couldn't," Casey, who recently launched the Florida Cancer Connect initiative, said.
RELATED: Beloved Florida First Lady Casey DeSantis, Wife Of Governor Ron DeSantis, Launches Digital Cancer Resource Initiative
I love you, Casey. pic.twitter.com/HKID5TolyM

— Ron DeSantis (@RonDeSantisFL) October 10, 2022
"He was there to pick me off of the ground when I literally could not stand. He was there to fight for me when I didn't have the strength to fight for myself," Casey concluded.
As Casey described Ron in the 60-second clip, photos from his childhood were displayed in the video, showing him holding up a fish in his hometown, playing baseball, dressed in his Navy uniform, on his wedding day, and alongside his adorable children.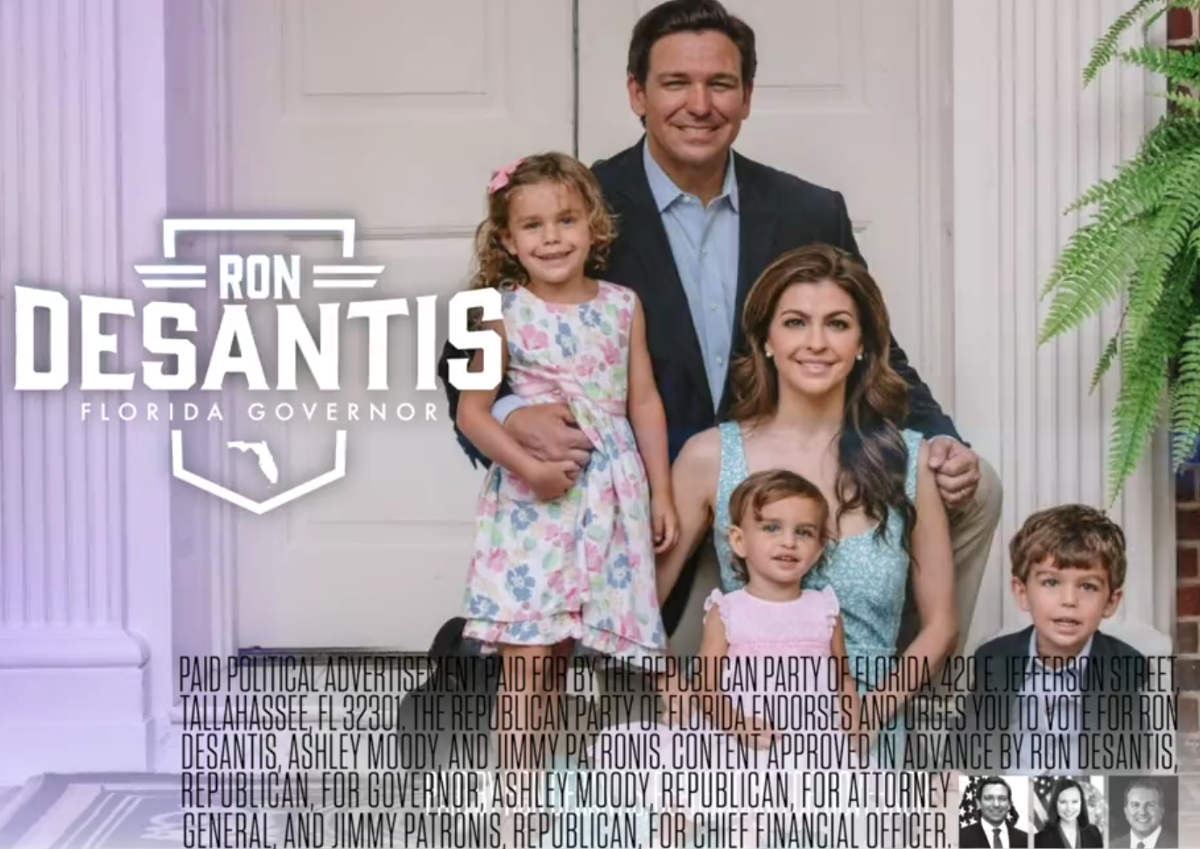 Casey DeSantis' Breast Cancer Battle
Casey first spoke publicly about her diagnosis and shared details about her timeline in December 2021. However, the stage and type of her breast cancer remain unknown to the public.
She told a crowd gathered at the Moffitt Cancer Center in Tampa, Fla., that she did not experience any symptoms initially, but a vague sense of uneasiness drove her to schedule a visit with her OB-GYN.
Her doctor did not see any cause for concern, but Casey still felt like something was off. A month later, she called again to request a mammogram. That's when her concerns were confirmed with a breast cancer diagnosis.
RELATED: Florida's First Lady Casey DeSantis, 41, is Officially Cancer-Free!
Casey DeSantis began chemotherapy treatment shortly after, and the governor and first lady announced in January that Casey had finished her breast cancer treatment. In total, her treatment included six rounds of chemotherapy, a surgery (unspecified as to what type) and six weeks of radiation.
"After going through both treatment and surgery for breast cancer, she is now considered cancer-free," the governor said in March. "For all the women out there who are going through breast cancer right now: you can overcome this.
"I know it's very difficult, but my wife is proof positive. If you wound back six or seven months, this is exactly the type of news that we had hoped for… She still has more to do, but I'm confident she's going to make a full recovery."
Related: Florida First Lady Casey DeSantis Says 'I'm Fit To Fight' And Thanks People Who Prayed For Her During Her Cancer Battle
Understanding Breast Cancer
Breast cancer is a common cancer that has been the subject of much research. Many women develop breast cancer every year, but men can develop this cancer too – though it is more rare, in part, due to the simple fact that they have less breast tissue.
There are many treatment options for people with this disease, but treatment depends greatly on the specifics of each case. Identifying these specifics means looking into whether the cancerous cells have certain receptors. These receptors – the estrogen receptor, the progesterone receptor and the HER2 receptor – can help identify the unique features of the cancer and help personalize treatment.
"These receptors, I like to imagine them like little hands on the outside of the cell, they can grab hold of what we call ligands, and these ligands are essentially the hormones that may be circulating in the bloodstream that can then be pulled into this cancer cell and used as a fertilizer, as growth support for the cells," Dr. Elizabeth Comen, a medical oncologist at Memorial Sloan Kettering Cancer Center, previously told SurvivorNet.
The Unique Features of Breast Cancer: Deciding the Right Course of Treatment
One example of a type of ligand that can stimulate a cancer cell is the hormone estrogen, hence why an estrogen receptor positive breast cancer will grow when stimulated by estrogen. For these cases, your doctor may offer treatment that specifically targets the estrogen receptor. But for HER2 positive breast cancers, therapies that uniquely target the HER2 receptor may be the most beneficial.
Chemotherapy for Breast Cancer
Chemotherapy for breast cancer uses strong drugs to kill cancer all over the body. It is possible that patients get this treatment to shrink a tumor before surgery, afterward to get rid of any remaining cancer cells or on its own if the patient cannot have surgery.
Related: Managing Chemotherapy Side Effects
Whether or not to have chemotherapy can be the patient's choice, depending on their age, the type of cancer they have and its stage.
If the patient's breast cancer is triple-negative, which means the three main types of receptors — estrogen, progesterone and the HER2 protein — do not fuel the cancer, chemotherapy is typically the treatment. This is because the cancer does not respond to certain targeted therapies.
Women who are diagnosed with HER2-positive breast cancer have high levels of the HER2 protein on the outside of their cancer cells. For patients with early-stage disease, meaning they have relatively small tumors and no lymph involvement, a number of HER2-directed therapies have dramatically changed the landscape. These include chemotherapy drug trastuzumab (brand name: Herceptin), as well as pertuzumab (brand name: Perjeta), which is a monoclonal antibody used in combination with chemotherapy.
"Chemotherapy that we give currently is not the chemotherapy from days gone by," says Dr. Matthew Carlson, an oncologist at UT Southwestern Medical Center. Patients are not vomiting and stuck in bed for weeks on end or coming into the hospital."
Related: Genetic Testing For Breast Cancer
However, the drugs today may still result in some nausea. The best way to manage chemotherapy side effects is to prepare for them. Dr. Carlson offers some examples of helpful ways to manage chemo side effects:
For nausea, doctors will usually prescribe effective medications, including Zofran to help.
"We have many, many, many medications that we give before, during, and after chemotherapy that should minimize the nausea that patients experience," Dr. Carlson says, adding that there are also quite a few medications available for constipation and diarrhea, though doctors may recommend dietary modifications first.
For fatigue, while there aren't quite medications the way there are for nausea, Dr. Carlson says that some patients may find it helpful to complement their treatment with alternative medicine supplements such as American Ginseng.
And then there's the chemotherapy side effect that everyone asks about: hair loss.
"When it comes to the hair loss that's associated with chemotherapy, we can't keep you with a full head of hair through your chemotherapy," says Dr. Carlson.
So, yes, hair loss can be expected with the chemo drugs commonly used for ovarian cancer, carboplatin and Taxol. But just like with the other side effects, there are methods available to help.
Wigs, scarves, caps, and cutting your hair short can all help, as can scalp-cooling devices, which can prevent some (though not all) of hair loss. Of course, it's really important to remember that hair loss is only temporary, and that your hair will grow back after the treatment ends.
Finding Support during a Cancer Journey
During a cancer battle, it's important to know that you are not alone. There's a community out there for you to be vulnerable with, if you'd like, and connecting with people as you battle the disease can make a world of difference.
Kate Hervey is another cancer warrior who received support after sharing her cancer journey. A young college girl, she was shocked to be diagnosed with synovial sarcoma, a rare type of cancer that tends to form near large joints in young adults, after seeing her doctor for tenderness and lumps in one of her legs.
Inspiring College Student, 20, Builds Community on TikTok Sharing Her Cancer Journey During COVID-19
Hervey, a nursing student at Michigan State, had to handle her cancer battle during the COVID-19 pandemic and scale back on her social activities as a high-risk patient. That's when she turned to TikTok as a creative outlet, and inspired thousands.
"One thing that was nice about TikTok that I loved and why I started posting more and more videos is how many people I was able to meet through TikTok and social media that are going through the same things," she says. "I still text with this one girl who is 22. If I'm having a hard time, I will text her because she will understand. As much as my family and friends are supportive, it's hard to vent to someone who doesn't know what it's really like."
Hervey is now cancer-free, and says she couldn't have done it without the love and support of her TikTok followers.
"I feel like I've made an impact on other people and they have made an impact on me through TikTok, which is crazy to say. I can help people go through what I've been going through as well." She has graciously agreed to allow SurvivorNet to use her content in order to help our community.
So while sharing your story to a vast TikTok audience might not be your thing, it's important to consider opening up to others during your cancer battle. Even if it's with a smaller group or just one person, you never know how much the support can help you – or help those you share with – unless you try.
Contributing: SurvivorNet Staff
Learn more about SurvivorNet's rigorous medical review process.
---