Moving Forward after Losing a Loved One to Cancer
Tom Hanks and Rita Wilson lost their friend Sooki Raphael to pancreatic cancer earlier this year. But now she's memorialized in author Ann Patchett's latest book, These Precious Days: Essays, which will be released Nov. 23.
Pancreatic cancer is an aggressive disease that is difficult to detect because symptoms – including jaundice and weight loss – typically present at a later stage in the cancer's development.
Coping with the loss of a loved one to cancer is incredibly challenging, but moving forward with the lessons your loved one shared and remembering you don't have to forget them to move forward can be a great place to start.
Tom Hanks's assistant died of pancreatic cancer earlier this year. But artist Sooki Raphael's memory lives on in the recent writings of Ann Patchett – an author whose chance meeting with Raphael at an event with Hanks led to a beautiful friendship that inspired art.
Raphael "passed peacefully" on April 25. But before her passing, she had a long career in the film industry which included her time spent as Hanks' assistant before indulging her passion for painting. And it was working for Hanks that led Raphael to Patchett who would later become an invaluable friend to Raphael during her cancer treatment and artistic journey. Now, their friendship lives on in Patchett's latest book which will be released on Tuesday Nov. 23, 2021, entitled These Precious Days: Essays – a collection of essays that shares another intimate look at the inner workings of her mind.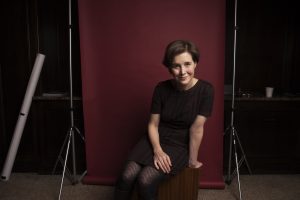 Read More
Raphael first met Patchett backstage at an event with Hanks in 2017.
"Entranced by her velvet coat and kind demeanor," Patchett knew she wanted to be friends with Raphael. Their close friendship began through email, and would eventually lead to Patchett offering her home to Raphael in early 2020 so she could receive cancer treatment in Nashville.
Then as the world was ensnared by a global pandemic, the two friends formed a "pandemic pod." In "These Precious Days," the title piece which was previously published as a solo essay for Harper's Magazine, Patchett told the story of their friendship and spoke of her admiration for the paintings Raphael created at her home.
"The paintings came from a landscape of dreams, pattern on pattern, impossible colors leaning into one another. She painted her granddaughter striding through a field of her own imagination, she painted herself wearing a mask, she painted me walking down our street with such vividness that I realized I had never seen the street before," Patchett wrote. "She brought her paintings upstairs to show us: a person who was too shy to say good night most nights was happy for us to see her work. There was no hesitation on the canvases, no timidity. She had transferred her life into brushwork, impossible colors overlapping, the composition precariously and perfectly balanced. The paintings were bold, confident, at ease. When she gave us the painting she had done of Sparky on the back of the couch, I felt as if Matisse had painted our dog."
To say that Patchett was impressed is an understatement. She even dedicated the front cover of her new book to Raphael's lovely painting of her dog. And who wouldn't be so blown away given the fact that Raphael didn't really emerge as an artist until her pancreatic cancer diagnosis in November 2018.
Three time cancer survivor, Marianna Cuozzo, talks to SurvivorNet about how art helps her express herself
Hanks and his wife, Rita Wilson, also recognized the rare talent that was Raphael. In a heartfelt tribute after she died, Wilson told followers about the lovely artist that was her "dear friend" and shared some of her vibrant paintings.
RELATED: Tom Hanks and Rita Wilson's Friend and Assistant Dies from Pancreatic Cancer; See Their Heartfelt Tribute to the Artist
View this post on Instagram
"Throughout her illness she painted, she saw beauty, she created and she never wavered," Wilson said. "Even in this first picture, a self portrait of her while undergoing chemo during Covid she still painted. Her paintings are full of light and life, as Sooki was."
And despite not having any formal artistic training, Raphael did very well. Most recently, she had a solo exhibition of paintings at ROSEGALLERY called "These Precious Days," just like Patchett's title essay. In the press release for the exhibition, ROSEGALLERY said her works used "her colorful palette as an 'expression of a renewal of spirit and life' as she healed alongside the scorched landscape of the Malibu and Topanga hills."
Pancreatic Cancer Detection
Pancreatic cancer is an aggressive disease that is difficult to detect because symptoms – including jaundice and weight loss – typically present at a later stage in the cancer's development.
In a previous interview with SurvivorNet, Dr. Anirban Maitra, the co-leader of the Pancreatic Cancer Moon Shot at MD Anderson Cancer Center, explains what he typically sees when patients develop this disease.
RELATED: If You're A First Degree Relative of Someone With Pancreatic Cancer, Screening and Surveillance Could Save Your Life; Here's Why
"Because the pancreas is inside the abdomen often doesn't have symptoms that would tell you that something is wrong with your pancreas," he says. "By the time individuals walk into the clinic with symptoms like jaundice, weight loss, back pain or diabetes, it's often very late in the stage of the disease."
RELATED: Increased Thirst and Dark Urine: Researchers Reveal Two New Signs of Pancreatic Cancer As Cases Increase Over Last 18 Years
Detecting Pancreatic Cancer Early Is Crucial
Parents, siblings and children of someone with pancreatic cancer are considered high risk for developing the disease because they are first-degree relatives of the individual. PGVs (pathogenic germline variants) are changes in reproductive cells (sperm or egg) that become part of the DNA in the cells of the offspring. Germline variants are passed from parents to their children, and are associated with increased risks of several cancer types, including pancreatic, ovarian and breast cancers. Germline mutations in ATM, BRCA1, BRCA2, CKDN2A, PALB2, PRSS1, STK11 and TP53 are associated with increased risk of pancreatic cancer.
Jessica Everett, a genetic counselor at Perlmutter Cancer Center's Pancreatic Cancer Center at NYU Langone, encourages people in this category to look into possible screening options.
"If you're concerned about pancreatic cancer in your family, start by talking to a genetic counselor to learn more about your risk and what options you have," Everett said.
Moving Forward after the Loss of a Loved One to Cancer
Coping after the loss of a loved one to cancer is never going to be an easy journey. But remembering all the wonderful ways your loved one enriched your life and moving on from there can be such a powerful way to move forward.
In a previous interview with SurvivorNet, Caleb Farley talked about his mother's battle with breast cancer and how he opted out of his position as a cornerback for the Virginia Tech Hokies due to COVID-19 concerns. Having lost his mom to breast cancer in 2018, he knew he wanted to be extra careful during the pandemic.
Farley announced the news of his opt-out in an Instagram video saying, in part, "I cannot afford to lose another parent or loved one… Though the competitor in me badly wants to play this season, I cannot ignore what's going on in my heart, and I must make the decision that brings me the most peace."
2021 NFL Draft Prospect Caleb Farley Tells SurvivorNet His "Mom Was Like a Superhero" Before She Lost Her Battle with Breast Cancer; Here's What Got Him Through
Farley trained for the NFL draft instead of playing for Virginia Tech, and his efforts paid off. He was selected by the Tennessee Titans as the number 22 overall pick in the first round of the 2021 NFL draft.
Farley's mother fought two battles with cancer. He watched as she went through multiple rounds of chemotherapy while still working and taking care of her family. Although his "superhero" mother will not get to see him play in the NFL, Farley will take many lessons he learned from her and apply them to whatever challenges he faces in life moving forward.
"My mother raised me to be very religious, very God-conscious. That's been everything to me, and my life. That's like the building blocks of my, of my life," Farley told SurvivorNet. "Anything that's happened to me, any adversity, any good times, any bad times, I've always kind of stood on that rock of faith. I can't thank her enough for how she raised me and because it was her who gave me all of that, um, spiritually, she, she just filled my heart with love and joy. I've had a happy life because of her."
Doug Wendt also lost a loved one to cancer. He told SurvivorNet that after losing his wife, Alice, to a two-year battle with ovarian cancer, he'll never really get over losing her, but he does hope to move forward.
"I Don't Want to Move On; I Do Want To Move Forward" Doug Wendt On Being A Caregiver and Tragically Losing His Wife to Ovarian Cancer
"We're never gonna move on, I don't even think I want to move on, but I do want to move forward," Doug said. "That's an important distinction and I encourage anybody who goes through this journey as a caregiver and then has to face loss, to think very carefully about how to move forward."
Learn more about SurvivorNet's rigorous medical review process.
---