Staying Healthy After Kidney Cancer
Cameron Mathison, who starred as Ryan Lavery on the soap opera "All My Children," was diagnosed with kidney cancer back in 2019.
Mathison recently reminisced about the time he competed on "American Ninja Warrior" back in 2017, two years before being diagnosed.
It appears Mathison is still staying on top of his health and physical fitness, according to his social media account.
Kidney cancer develops when cells in the kidneys, a pair of bean-shaped organs each about the size of a fist, begin to grow out of control.
Renal cell carcinoma is the most common type of kidney cancer, and the type Cameron Mathison was diagnosed with. In fact, about 9 out of 10 kidney cancers are RCCs.
People who have cancer may wonder if diet and exercise are still a priority for their health. The short answer is: absolutely.
More than three years after Cameron Mathison, who starred as Ryan Lavery on the soap opera "All My Children," bravely battled kidney cancer, the 53-year-old actor is looking back at the time he attempted the notoriously difficult and physically challenging obstacle course of "American Ninja Warrior."
Mathison competed on "American Ninja Warrior back" in 2017, about two years before he was diagnosed with renal cell carcinoma, a type of kidney cancer. And by the looks of his social media posts, the father of two is still prioritizing his health and physical fitness as much as he was then.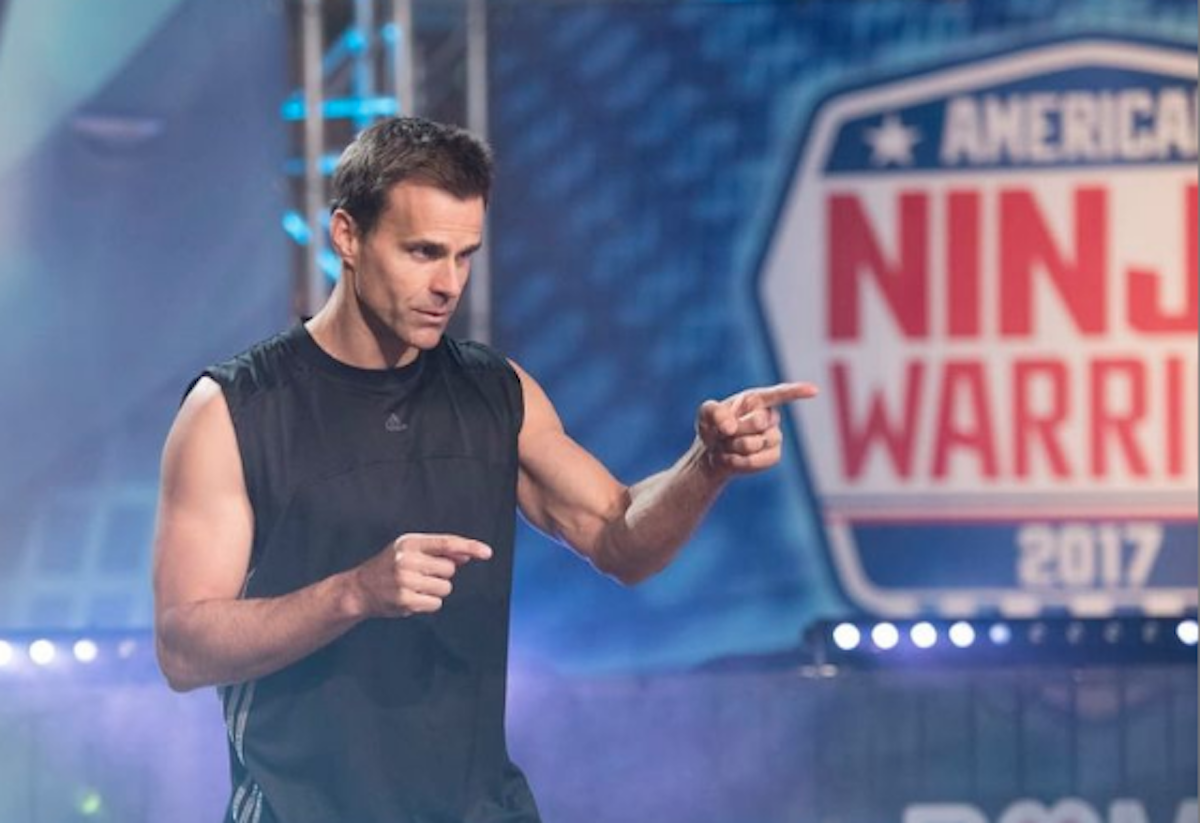 Read More
In his recent Instagram post,
Mathison shared a photo of himself
looking strong and focused on the challenging obstacle course, writing, "That time I was a Ninja Warrior #americanninjawarrior #cancam #ninja #et."
RELATED: Vital, Aging, and Still Sexy: How Jeff Bridges, Robert DeNiro, and Cameron Mathison Beat Cancer and Thrived
It was from 2017 when the "Entertainment Tonight" segment "Can Cam?" kicked off by challenging Mathison to become an American Ninja Warrior.
according to ET
, the American soap opera star trained with stunt woman Jessie Graff and worked out at Arnold Hernandez's Ninja gym in Los Angeles. Now, years later, it appears Mathison's attention to his fitness and health hasn't gone anywhere, even after a cancer battle. In other Instagram posts, Mathison shares how he stays active. It includes walks with his wife and kids, kayaking and plenty of gold.
View this post on Instagram
He also highlights other health regimens he follows, including taking ice baths. He explained in the caption, "I'm still an ice bath rookie but managed to work up to 6 min in 43-degree water (to start I could only so 10 seconds at 50 degrees)."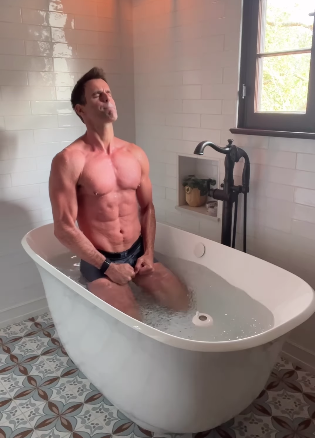 He said these chilling baths help with the inflammation he experiences and improves his mood and recovery. He added that it also helps him improve his resilience to get through stressful environments and relieve sore muscles.
He noted that he has had guidance from a health coach and urged, "Please check with health care professionals before 'jumping in.'"
Mathison's Cancer Battle & Its Impact on Fans
Last year, Cameron Mathison revealed in another post that it's been three years since his kidney cancer surgery and he's "feeling amazing."
"I'm back here at USC Keck for my CT scan, chest X-rays, and bloodwork to make sure I can say … 3 years cancer-free," Mathison wrote in the Instagram post. "Lots of feelings coming up remembering Vanessa and I here early in the morning back in 2019 for my surgery. So so grateful for all the help, support and love we've received on this journey. Love you guys"
In 2019, Mathison was diagnosed with renal cell carcinoma. And he had kidney surgery in October 2019 to get rid of the cancerous tumor growing there. In surgery, part of his right kidney was removed.
Mathison previously said that he's heard from fans who credited him with helping them discover their own cancers or health issues.
When asked on "The Tamron Hall Show" what it means to know he's had that kind of impact, he explained, "It means sort of everything. It's like we've got all these incredible things in life and sometimes our conditions can be quite great, but at the same time if you're not kind of using your life in a way to help others and benefit others it all seems sort of hollow."
"So when you hear [people say 'thank you"]… I've heard people say literally from my own cancer experience. I was my own best advocate for my health. I begged for an MRI, and it was just a fluke that I found my own cancer. And so people have heard that story and literally have saved their life or their spouse's life. It brings so much meaning to my everyday."
Understanding Kidney Cancer
Kidney cancer develops when cells in the kidneys, a pair of bean-shaped organs each about the size of a fist, begin to grow out of control. Renal cell carcinoma, the type Cameron Mathison was diagnosed with, is the most common type of kidney cancer. In fact, about 9 out of 10 kidney cancers are RCCs.
RELATED: New Hope for Kidney Cancer Patients: Immunotherapy Drug Reduces Risk of Recurrence by 32%; Read One Man's Amazing Story
It's estimated that about 81,800 new cases of kidney cancer (52,360 in men and 29,440 in women) will be diagnosed in the United States in 2023, so here are some signs of the disease to look out for:
Blood in the urine (hematuria)
Low back pain on one side (not caused by injury)
A mass (lump) on the side or lower back
Fatigue (tiredness)
Loss of appetite
Weight loss not caused by dieting
Fever that is not caused by an infection and doesn't go away
Anemia (low red blood cell counts)
According to UCLA Health, kidney cancer can metastasize, or spread, to any part of the body through the blood or lymphatic system. When that happens, the first signs of cancer may not be specific to your kidneys.
Young Ballerina Beats Kidney Cancer With Husband By Her Side
Symptoms of metastatic kidney cancer may cause symptoms in the newly affected areas of the body including:
The lungs, causing cough and shortness of breath
The bones, resulting in bone pain or fracture
The brain, presenting as headaches, confusion, or seizures
That being said, all of these signs don't necessarily mean you have cancer. You should always bring up any changes to your health with your doctors.
What to Know About Diet and Exercise If You Have Cancer
People who have cancer may wonder if diet and exercise are still a priority for their health. The short answer is: absolutely. In fact, it may be more important than ever for patients' well-being.
RELATED: 4 Ways to Start Over After a Life-Changing Event
"In terms of cancer, oftentimes patients feel that they don't have any control over any part of their life and that's not true," Dr. Sairah Ahmed, associate professor in the division of cancer medicine at the University of Texas MD Anderson Cancer Center, told SurvivorNet in an earlier interview.
Dig This The Obstacles to Eating Healthy, and What You Can Do About It
On the contrary, she says, "diet, exercise, and stress control are extremely important when going through cancer therapy, as well as once you're done treating your cancer and trying to get back to the rest of your life."
What's the Best Diet for People With Cancer?
Dr. Ahmed informed SurvivorNet that none of the gimmicky diets are useful for cancer-fighting. Instead, the goal is simply to consume nutritious foods.
"I'm asked about keto diets, alkaline diets, no-sugar diets," she said. "Often I will tell patients there is not any one diet that has a better potential to keep their cancer away. There's no data that shows that any of those help to treat cancer any better."
But it's important, she says, for people with cancer to avoid losing weight during chemotherapy. "You want to have a moderate diet where you're including lots of fruits and vegetables but you're still eating fat and protein and you want to maintain physical exercise," she explained.
Fitness and Stress Control for People With Cancer
Dr. Ahmed noted that keeping as fit as possible can help people with cancer as they prepare for treatment.
"The more physically fit you are going through your cancer treatment, the less side effects you'll have and the faster you'll get back to your normal quality of life," she said.
Far from just physical fitness, Dr. Ahmed emphasized the importance of emotional strength — both for patients and their loved ones.
"Stress control is often something that is not talked about and is not given much weight, but there is a lot of stress, both in terms of the patient who's going through cancer, as well as the family who has to support that patient," she added.
Of course, there are health worries. But there are so many more challenging factors to tackle, too. "There's financial stress, there's emotional stress, and being able to deal with that as well as talk to professionals when you need it, is very important," she explained. "Staying on cancer treatment is the one thing that will help to cure your disease, and if you are so sad or so overwhelmed that that doesn't happen, then you're actually going to compromise your cancer treatment."
She recommends preparing for stress — and seeking professional support if needed — as a key piece of preparing for cancer treatment.
Staying Active After a Cancer Diagnosis
A lot of people are tempted to give up when it comes to exercising after a cancer diagnosis. With all the other things going on in your life, it can be hard to find the motivation to stay active.
However, in the case of survivor Heather Maloney, the drive to keep moving came from the fact that she knew exercising regularly would put her in better shape to fight the disease.
"With cancer, you never know," Heather previously told SurvivorNet "But I want to do everything I can to make my chances of a long life better."
Physical Fitness After Receiving a Diagnosis
Survivors tell us about all sorts of activities they've taken up to stay active, and in fighting shape. Heather got into dragon boating – a rowing sport that a lot of cancer survivors are getting into across the U.S. and beyond.
"When we come together, it's about the boat and it's about all the things around the boat," Heather said. "It's about competing, it's about practicing, it's about eating, it's about getting in better shape … people aren't talking about cancer, and if you are, you're talking to the people that you know on the boat if something starts to pop up."
Contributing: SurvivorNet Staff
Learn more about SurvivorNet's rigorous medical review process.
---