Back on the Force After Prostate Cancer
Springfield, Illinois, Police Chief Ken Scarlette, 46, was sidelined from duty for prostate cancer surgery.
He's receiving lots of encouragement and well wishes after returning to the force following successful treatment.
Prostate cancer is the most common cancer in men. In the U.S., most prostate cancer is caught with screening examinations.
Prostate cancer treatment depends on the results of a prostate exam, your PSA numbers, and your Gleason Score, which helps determine how aggressive the cancer is.
Surgery is an option for men with any risk group of prostate cancer that hasn't spread outside of the prostate gland.
Active surveillance is a treatment option for older men or those with a low risk of the disease spreading. It helps people avoid unnecessary treatment and side effects.
Springfield, Illinois, Police Chief Ken Scarlette, 46, is getting lots of encouragement and well wishes as he returns to duty after being sidelined for prostate cancer surgery.
Scarlette is a 25-year veteran of the Springfield Police Department. He followed in the footsteps of his father who served for 30 years with the Illinois State Police. He retired in 1989 and passed in 2004.
Read More
He also shared something else in common with his dad: prostate cancer. Ken Scarlette Sr. was a prostate cancer survivor, and the family history put Ken Scarlette Jr. at higher risk for getting it too.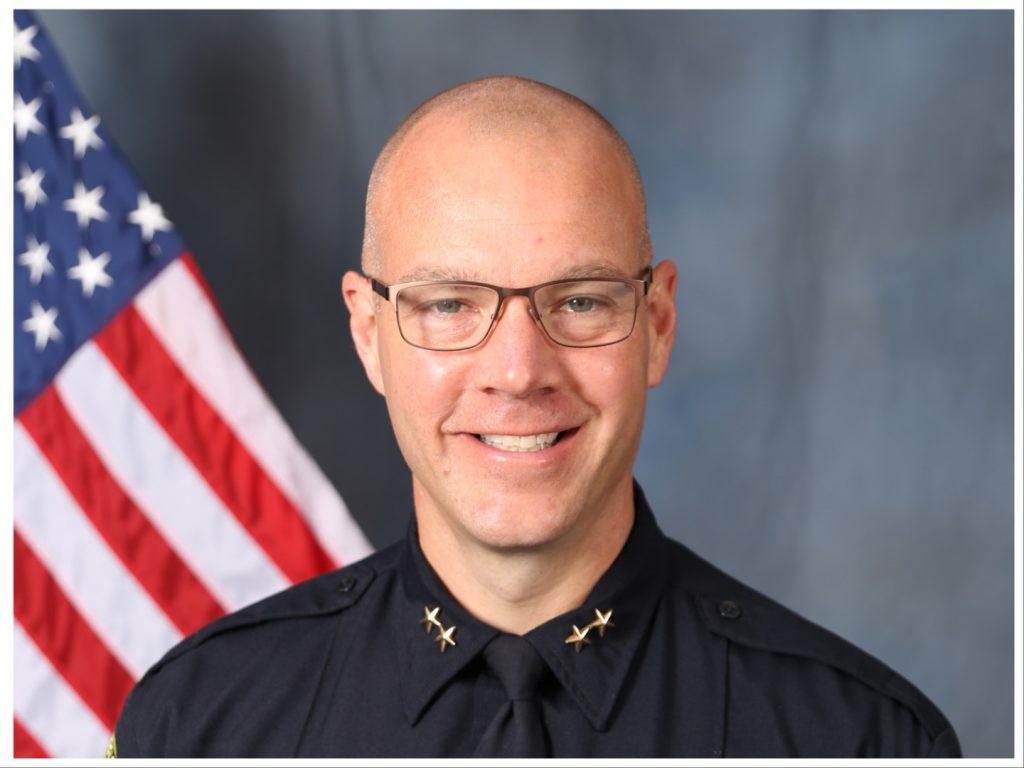 Last October while undergoing a routine wellness check, Scarlette
told
The State Journal-Register, his doctors found his
prostate-specific antigen
(PSA) numbers "higher than usual." PSA is the name of a protein secreted by the prostate gland. Men have a small amount of PSA in their blood all the time, but large amounts may indicate something unusual.
The PSA test is a simple blood test that's used to screen for prostate cancer. It also helps track a patient's response to treatment.
Scarlette's doctors performed a biopsy, which led them to find three tumors. Two of the tumors were in the early stage and one was "more aggressive."
"Sometimes prostate cancer is a difficult subject to talk about, but you definitely have to be proactive. If you can detect something early and ensure that you have a very successful rest of your life, then I would highly encourage that," Scarlette said.
The treatment option Scarlette and his doctors chose was surgery to remove his prostate., and it was a success.
After taking three weeks off to recover, Scarlette is back on the job to the delight of many of his longtime friends and supporters.
The prostate cancer survivor credits his "faith and family" for getting him through his cancer journey.
"As far as I'm concerned, I'm healing up rather well," Scarlette said after the surgery.
He added that his community has rallied behind him during this health challenge.
"There's been a lot of men and women with the Springfield Police Department who reached out to me with thoughts and prayers, so I'm certainly grateful for that support and it shows a lot about the bond and brotherhood and sisterhood in law enforcement," he said.

Surgery Options for Prostate Cancer
Prostate cancer treatment depends on the results of a prostate exam, your PSA numbers, and your Gleason Score, which helps determine how aggressive the cancer is.
Your doctor will determine your risk level which ranges from low, intermediate, and high. Men with low risk and very low risk may bypass surgery. Meanwhile, men at higher risk may receive more intense treatment.
Surgery is an option for men with any risk group of prostate cancer that hasn't spread outside of the prostate gland.
Typically, the type of surgery used is called a radical prostatectomy. The surgeon removes the entire prostate and some tissue around it, including the seminal vesicles that release fluid into the semen.
This procedure can be performed as an open procedure, through one large incision. The surgeon may also make several small incisions, called laparoscopic surgery.
"It's typically done through a robotic technique today, at least in the United States,  but a lot of patients are still getting open surgery," Dr. Stephen Freedland, a urologist at Cedars-Sinai Medical Center, explained to SurvivorNet.
"Depending on the surgeon, it may be two, three, four, five hours — somewhere in that range, usually spend one night in the hospital. You wake up from the surgery with a catheter in your bladder. Once you're home, it's really just recovering, gaining your strength back," Dr. Freedland continued.
WATCH: How do you choose the right surgeon, particularly for robotic surgery? 
Other common treatment options for men with prostate cancer include:
Radiation therapy.
You'll usually get this treatment five days a week for several weeks. Newer techniques including stereotactic body radiotherapy (SBRT), which aims more focused beams of radiation at the tumor, to spare surrounding healthy tissues, and may allow treatment in a shorter time.
Brachytherapy implants small seeds containing radiation directly into your prostate. This type of radiation works best in men with smaller prostates.
If your prostate is very large, your doctor might give you hormone therapy first to shrink it.
Combination radiation therapy with hormonal therapy.
Androgens are male hormones that fuel the growth of prostate cancer. Androgen deprivation therapy (ADT), also known as hormone therapy, reduces levels of these hormones your body makes, to slow the cancer's growth.
"Usually, for men with tumors that spread, hormonal therapy is usually the first line that we do, and more importantly, it's the backbone upon which we build," Dr. Freedland explained to SurvivorNet.
Surgery followed by radiation.
Radiation therapy can be used after surgery, to get rid of any cancer cells that were left behind. Getting radiation along with surgery is called adjuvant therapy.
Sometimes, men who have surgery will need radiation therapy after surgery if the surgeon could not remove all of the prostate, your PSA does not become undetectable, or you have a high-risk genetic profile if the tissue is sent for testing.
Men with high-risk and very high-risk prostate cancer are more likely to require radiation after surgery than men with lower-risk disease.
Are There Side-Effects of Prostate Cancer Surgery?
Prostate cancer warriors need to ask their doctor questions about the side effects of surgery.
Some of the known side effects of prostate cancer surgery include erectile dysfunction (difficulty getting or keeping and erection) and urinary incontinence (leaking urine by accident). The risk for these depends on the type of surgical approach and factors specific to your cancer.
In time, most people regain normal function in these areas, says Dr. Stephen Freedland, Director of the Center for Integrated Research in Cancer and Lifestyle at Cedars-Sinai.
If men do continue to experience erectile dysfunction, they should know there are plenty of solutions.
There are medications currently on the market that can aid in sustaining erections, such as Viagra, Cialis and Levitra. There are also treatments such as penile injections and vacuum erectaid devices (VED), as well as the option of a penile prosthesis.
Dr. Freedland says that when it comes to prothesis there are two main options: an inflatable prosthesis that is placed in the scrotum or a bendable plastic prosthesis.
According to Dr. Freedland, most men who decide to go this route report being extremely happy with the outcome.
Surgery Isn't Always the First Option, Some Choose 'Active Surveillance'
It's common for prostate cancer to grow very slowly. Some men, especially those who are older, and those who have a low risk of the cancer spreading may not need aggressive treatment, making active surveillance a viable option.
WATCH: People With Low-Risk Prostate Cancer Can Rely on Monitoring the Disease
Active surveillance means the doctor watches the cancer carefully for changes, with a PSA blood test every six months and a digital rectal exam about once a year. You may also get prostate biopsies and imaging tests every one to three years.
SurvivorNet experts stress active surveillance is not "watchful waiting." Active surveillance is a treatment and as the name implies, it is active. This path requires coordination between the patient and their health care team.
"[It's] not just kind of check in once a year – hey, how you doing – but actively have a physician check a PSA, do a rectal examination," Dr. Edwin Posadas, director of Translational Oncology Program at Cedars-Sinai Medical Center, told SurvivorNet.
"We can actually see some of the metabolic information within the cells through our next-generation imaging and find high-risk areas that are or are not changing in a patient to let us know, yeah, that cancer's still sleeping. Let's not bother– let's not put that young man through the risk of losing his sexual quality of life or his urinary quality of life," Dr. Posadas added.
Half of men who choose this approach will avoid unnecessary treatment and potential side effects.
But the other half of men do end up having treatment, whether as a personal decision to remove the cancer or to treat the disease as it progresses. Your doctor will determine if this is necessary based on the results of your ongoing tests.
Learn more about SurvivorNet's rigorous medical review process.
---