After "Veep" star Julia Louis-Dreyfus, 58, stole our hearts by confidently flaunting her figure at the Emmy's just months after having a double mastectomy and reconstruction for breast cancer, Julia Louis-Dreyfus is showing just how much she loves her post-cancer body as she publicly reflects on her evening at the awards.
Louis-Dreyfus made the call to have her breasts removed, and less than a year later seemed totally confident in her golden gown at the Emmys. The dress's neckline, far from covering up her new breasts, showed a lot of pride in her post-operation body.
Read More
RELATED: Amazing Breast Cancer Survivor Julia Louis-Dreyfus Goes From Double Mastectomy To Red Carpet Cleavage
The decision whether to undergo a double mastectomy in order to stop or prevent breast cancer can be extremely difficult. But women weighing their options may find comfort and inspiration in Julia Louis-Dreyfus, who hasn't stopped posting photos of herself, radiant and smiling in a deep plunging v-necked dress, since the awards.
In a post on Instagram, Louis Dreyfus wrote "Who wore it better?" alongside two photos, the first a portrait photo of herself walking in a hallway at the Emmys, wearing her stunning gold dress, dangling earrings, and gold clutch, and the second the same exact photo but in black and white.
The pair of photos seemed to scream that Louis-Dreyfus loved the way she looked at the Emmys, and was totally confident in her body and her dress — a huge accomplishment for such a short time after surgery.
View this post on Instagram
Supporters were quick to comment their agreement that she looked stunning, writing "Gurl, you SLAYED in that dress."
Another fan who loved her look wrote, "I don't think it's normal to look this good EVEN with a team behind it. Sweet, fancy, Moses."
Louis Dreyfus also posted a photo of herself with Veep producer David Mandel, writing simply "#Veep." In the photo, she seems totally comfortable with her breasts, but her fun and loving personality steal the show as she laughs along with her co-worker.
View this post on Instagram
And, in keeping with her absolutely unfaltering positive attitude, Louis-Dreyfus posted a photo of herself with the Veep cast writing, "Well, we didn't win last night but we also kinda did. ❤️#Veep."
RELATED: Circle of Sisters: The Hollywood Stars Who've Made The Brave Decision To Undergo Double Mastectomies Due to Breast Cancer
Louis-Dreyfus was nominated for "Outstanding Lead Actress in a Comedy Series" for her performance playing Selina Meyer on the HBO series, "Veep." This was Louis-Dreyfus' seventh consecutive Emmy Nomination for "Veep," and if she had won, she would have broken a record for the most Emmy Awards for a single role. This nomination was particularly inspiring because it honored her performance in the seventh and final season of "Veep," which she filmed directly after a year of intense treatment for breast cancer chemotherapy as well as her breast removal surgery.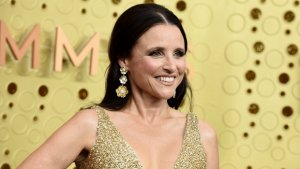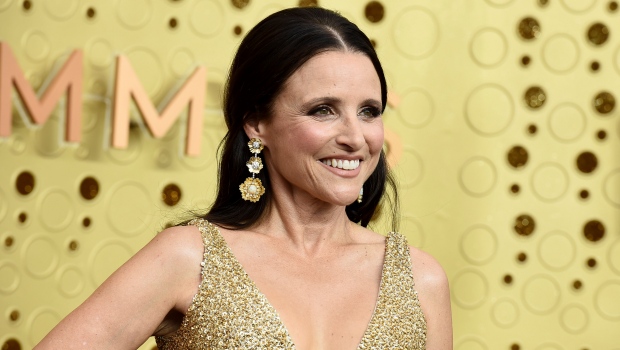 RELATED: The Cancer Survivors Club Up For an Emmy: Julia Louis-Dreyfus, Michael Douglas, Robert De Niro, Wanda Sykes, & Christina Applegate
Louis-Dreyfus' supporters, who have followed her throughout her cancer battle, were proud of her radiance and confidence so shortly after her recovery. "I still don't know what to do. It breaks me so much that she beat the cancer in less than 6 months to just Film this season which turned out to be the best season of @veephbo ever!" one supporter wrote in an Instagram post alongside photos of Louis-Dreyfus in her gown at the Emmys.
Other supporters wrote on social media about her Emmys look, and how incredible a recovery she has made after cancer, "She certainly looks great, having overcome breast cancer…she's inspiring."
Louis-Dreyfus spoke to E! on the red carpet, saying that she was a little bit jittery, and that she loved the opportunity to reunite with the rest of the Veep cast at the Emmys, "I'm nervous. I don't know why. I think I might be having a nervous breakdown. I'm kidding. But I am a little bit nervous, but excited. It's an opportunity to be together with our whole cast again and we all really, truly love each other, even though the characters on the show don't. So it's a lovely thing to think about reuniting with everyone tonight."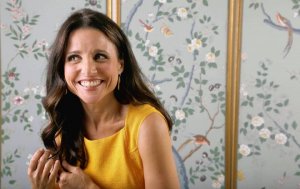 About her numerous awards for her role in Veep, she said it can sometimes make her feel too lucky, "It's sort of an embarrassment of riches."
And that she's just grateful for the Emmys she does have, "I can't believe this has happened. But it hasn't happened yet. I'm so happy to have won so many times in the past that I'm delighted with that.
"If it happens, great. If it doesn't, my mind will be blown," she joked. "Somebody else deserving will get one. I'm cool with either scenario."
Louis-Dreyfus also posted a photo on Instagram the day before the Emmys, to show how much fun she was having getting dressed up, putting on jewels, and making-up her face. "I'm out of my mind for these earrings @ireneneuwirth and my hairdo @matthewmonzon and my makeup on my face @karenkawahara and the lighting in my bathroom," she wrote.
RELATED: Could Julia Louis-Dreyfus Be the Funniest, Most Inspiring Breast Cancer Survivor of All Time?
Julia Louis-Dreyfus's cancer journey
A lot of people know about Louis-Dreyfus' cancer journey; she did, after all, announce her diagnosis to the world over Twitter, and she kept her fans updated on her social media accounts as she went through treatment. But what a lot of people find surprising — and completely inspiring — is that the Emmy award she is up for this Sunday is for a season of "Veep" she filmed directly after going through six rounds of chemotherapy and her double mastectomy.
Just when you thought… pic.twitter.com/SbtYChwiEj

— Julia Louis-Dreyfus (@OfficialJLD) September 28, 2017
The actress and comedian has since opened up about how returning to work filming "Veep" kept her motivated and focused throughout her difficult treatment — and gave her something to look forward to.
The attitude that Louis-Dreyfus maintained throughout her cancer journey has inspired so many, including fans of hers who are going through difficult cancer journeys themselves. She recently retweeted, for instance, a letter from a 17-year-old fan named Rosa-Gallica who shared that she, too was going through a tough course of treatment for her melanoma, and when she learned her favorite actress, Julia Louis-Dreyfus, had been diagnosed with cancer as well, she immediately felt less alone.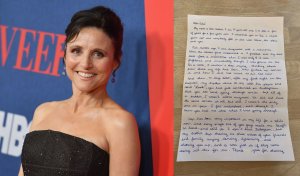 RELATED: 17-Year-Old Cancer Survivor Says "Veep" and Actress Julia Louis-Dreyfus Saved Her Life — "All of a Sudden I Wasn't Alone Anymore"
"We did not have the same cancer at all," Rosa-Gallica wrote in her letter. "But still. I wasn't the only one in pain. I felt understood, even though I knew you had no idea what I was going through."
Information about deciding to have a mastectomy
Mastectomy is the removal of the entire breast during surgery, and it is a very common treatment for breast cancer. There are a number of factors to weigh when considering a mastectomy, chief among them is whether breast-conserving surgery (or lumpectomy) is possible. Your doctor will look at the size and features of your tumor as well as your family history in order to make a recommendation.
Dr. Anne Partridge and Dr. Elizabeth Comen on when to think about a mastectomy
A lot of women also decide to have mastectomies in order to prevent cancer, if they have a high risk of developing the illness. "Depending on the size and other features, such as family history, a patient may opt for more aggressive surgery," says Dr. Elizabeth Comen, Medical Oncologist at Memorial Sloan Kettering Cancer Center. "And so even for early stage one breast cancer, a woman may elect a mastectomy to remove her whole breast."
Learn more about SurvivorNet's rigorous medical review process.