Dealing With a Rare Diagnosis
Lauren Wagner was 26 years old when she learned the severe back pain she was experiencing was actually stemming from a large mass on her spine called a giant cell tumor.
A giant cell tumor is a rare, aggressive non-cancerous tumor, which is often seen in young adults between the ages of 20 and 40 when skeletal bone growth is complete, according to Johns Hopkins Medicine.
Handling a rare disease can be very overwhelming, but SurvivorNet's experts have guidance on how to seek out specialized treatment providers.
More common diseases might not require the same degree of specialized attention, but finding doctors with specific expertise may be necessary for rare ones. In that case, the most effective place to find a specialist is often at academic centers and comprehensive care centers.
The SurvivorNet Clinical Trial Finder and websites called Clinicaltrials.gov and PubMed are great resources to use if you're considering experimental treatment for your rare disease. These databases can also help you find doctors who specialize in your disease.
Lauren Wagner initially thought she was experiencing severe back pain after transitioning to working from home during the COVID-19 pandemic, but the cause of the pain was actually stemming from a large mass on her spine – and it left her with a peculiar symptom.
The young Canadian woman, who was 26 at the time of her diagnosis, discovered she had a tumor when she was "just weeks away from becoming permanently paralyzed."
Read More
Now, three years and six spinal surgeries later, Wagner is living life with a permanent hand disability — which makes her middle finger always stick straight up —and is sharing her story to encourage others to listen to their bodies.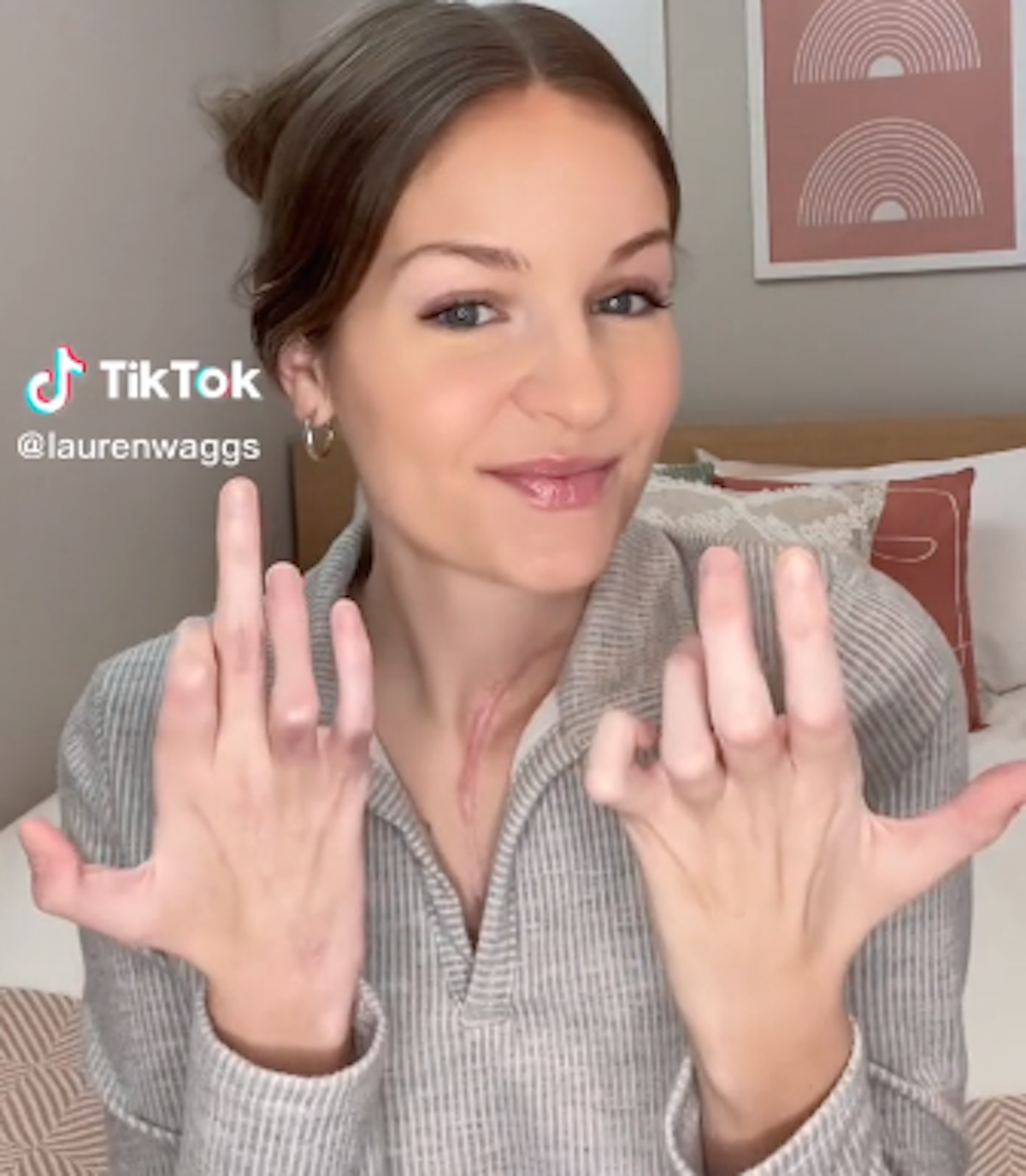 "'Your diagnosis is giant cell tumor' is a sentence I'll never forget. This rare, aggressive bone tumor only affects one in a million people, and rarely the upper spine where mine was located. (Basically, I won the lottery, but not exactly the kind I wanted to win!)," Wagner captioned an
Instagram post
last month, celebrating Rare Disease Day.
Giant cell tumors
are rare, aggressive tumors that are benign (non-cancerous). The exact cause of them is unknown, according to Johns Hopkins Medicine.
"I am fortunate to have received this rare diagnosis because it was an answer as to what was causing my excruciating back pain. Luckily, one of the only orthopedic spine surgeons in Canada that would take my case on, is based out of Toronto," she wrote. "This has been a life-changing journey, and I am left with a hand disability from all my spine surgeries and the severity of my nerve damage. But, I am tumor-free and that is what's most important."
When Wagner first started having back pain back in March 2020, she likened it to how she was sitting and working on her computer at home. But by June the pain had gotten "quite serious."
"I would have loved to just believe my back pain was because my workstation wasn't ergonomically friendly but it was actually one of the worst-case scenarios for me," Wagner, known as @laurenwaggs on TikTok, said in one of her videos explaining her experience.
"What I thought was just back pain changed my life forever," she wrote in overlay text on the video.
After seeing three doctors, each of who dismissed her back pain as nothing major, Wagner visited a chiropractor who informed her the symptoms she was enduring was "worse than people who had been involved in severe car accidents."
In August 2020, after getting an MRI, doctors revealed she had a large mass on her spine, known as a Giant Cell Tumor, a rare, aggressive non-cancerous tumor that often is found in young adults.
Wagner admits the "scariest part" of her diagnosis was learning that she was "just weeks away from becoming permanently paralyzed."
"My tumor was growing very quickly and it was growing right into my spinal cord. So it was good when they found it when they did," she explained further. "However, I wish it was found even earlier because it was growing so quickly it was damaging a lot of my nerves, and that in conjunction with the fact that I had six spine surgeries to remove it, and because of complications has now left me with permanent hand disability."
Wagner initially thought she wouldn't only be in the hospital for three weeks when she started her tumor-fighting journey, but it took a total of eight months.
"What I thought was going to be 1 complex surgery, turned out to be 6. I lost my ability to swallow, talk, and use my arms and hands. I fought many infections that affected my lungs, stomach, and spine," she wrote on Instagram. "My surgeries have left me with nerve damage and weakness in my hands which makes some tasks impossible. I was originally told that by one year, I would be recovered, but that didn't happen. If anything, I have learned that recovery is not linear and you can't put a timeline on it."
Wagner underwent a total of 27 hours of surgery, 50 days in the ICU, 113 days in the hospital—all due to one rare spine tumor. Despite her struggles, she is incredibly grateful for having another chance at life and hopes others will learn from her story and seek medical advice when something seems off.
What Is A Giant Cell Tumor?
A giant cell tumor of bone is a rare, aggressive non-cancerous tumor, which is often seen in young adults between the ages of 20 and 40 when skeletal bone growth is complete, according to Johns Hopkins Medicine.
The tumor usually develops close to a joint at the end of the bone. This type of tumor is often found in the knee, however, it can also incorporate the bones of the arms, legs, or flat bones, like the breastbone or pelvis. In Wagner's case, her tumor was located on the upper spine—making it rarer.
The reason why these types of tumors develop is unknown, but some cases link to a chronic bone disorder called Paget, where bones become larger or change shape.
Giant cell tumors are often diagnosed by checking medical history, a physical exam, and/or undergoing biopsies (extracting of sample cells or tissues to check for a disease), radionuclide bone scans (a nuclear imaging test), and X-rays (a diagnostic test).
Giant Cell Tumor Symptoms
Signs of a giant cell tumor may vary from person to person and the most common symptoms may include:
A visible mass
Bone fracture
Fluid buildup in the joint nearest the affected bone
Limited movement in the nearest joint
Swelling
Pain at the nearest joint
Treating a Giant Cell Tumor
Treating a giant cell tumor involves removing the tumor and preventing bone damage. Treatment may consist of:
Amputation, in severe cases
Bone grafting
Bone reconstruction
Physical therapy to regain strength and mobility
Surgery to remove the tumor and any damaged bone
In the case a tumor cannot be removed surgically, it can sometimes be destroyed through radiation therapy.
And although the tumor gets removed, it is possible for it to return. So, follow-ups with your doctor are highly recommended even if surgery has removed the mass completely.
Resources for People Facing Rare Diseases
A rare diagnosis can bring up all sorts of feelings, like anxiety, fear and loneliness. However, it's important to know you're not alone. Below are some useful resources for the anyone affected by lesser-known or less-researched diseases.
Academic Centers and Comprehensive Care Centers
For some rare disease warriors, community centers provide great treatment options. But for people with rare conditions – cancer or otherwise – more specialized care may be required. In that case, the most effective place to find a specialist is often at academic centers and comprehensive care centers.
In an earlier interview with SurvivorNet, Dr. Kenneth Miller, director of outpatient oncology at the University of Maryland's comprehensive cancer center, explained what differentiates a "comprehensive cancer center" from other treatment providers.
Seeking Care at a Comprehensive Cancer Center
"Pretty much automatically, there's going to be a team approach [to your care]," Dr. Miller said. "Surgical oncology, medical oncology, radiation oncology, and all the support services—and also wonderful pathology and radiology."
Dr. Miller noted that at a comprehensive cancer center, different specialists work together as a team to help you find the best course of treatment for your specific type of cancer.
"We call it a tumor board—a group to go through all the details of your case… so you get a group of very smart people coming up with a plan together that is hopefully optimal and gives you the best chance of doing well," he said.
Clinicaltrials.gov and the SurvivorNet Clinical Trial Finder
If you've been diagnosed with a rare disease and you're considering experimental treatment or trying to find specialists is clinicaltrials.gov – a database maintained by the U.S. government that compiles privately and publicly funded clinical trials conducted around the world. Clinical trials themselves are research studies that compare the most effective known treatment for a specific type or stage of a disease with a new approach.
Clinical Trials Can be Life-Saving for Some
Clinicaltrials.gov can assist you in discovering possible treatment options by looking at trials that are actively recruiting. The site also provides information of some of the most specialized doctors since they often end up leading clinical trials that advance our understanding of diseases.
By searching for your disease on Clinicaltrials.gov, you will usually come across a list of many studies. The lead researcher will be listed under the heading, "Investigators." Lead researchers in studies on rare diseases are typically doctors who have specialized in the study of that condition.
And if you'd prefer to search for clinical trials on a more user-friendly site, try SurvivorNet's new A.I. driven tool built on top of clinicaltrials.gov: the SurvivorNet Clinical Trial Finder. This tool is updated daily and gives users access to more than 100,000+ individual clinical trials to help them find treatment options.
To use the SurvivorNet Clinical Trial Finder, simply answer some basic questions using our custom-designed chat feature and we'll send customized clinical trial options within your region right to your email. In simplifying the search, we hope to offer multiple opportunities for clinical trial sponsors and clinical research organizations to engage with patients.
"Clinical trials are critical to the development of new therapies, and as we live through this extraordinary revolution in genomics, immunotherapy and targeted therapy, it's clear that one of the most pressing needs for patients, clinical trials sponsors, and researchers is simply a better way to find patients," SurvivorNet CEO Steve Alperin previously said. "Even one percent more people successfully enrolled in clinical trials can change the world."
Dr. Beth Karlan, a gynecologic oncologist with UCLA Health, told SurvivorNet in an earlier interview that clinical trials can play an important role in some patients' treatment, but they also serve a greater purpose.
"Clinical trials hopefully can benefit you, but is also providing very, very vital information to the whole scientific community about the effectiveness of these treatments," Dr. Karlan said. "We need everyone to be partners with us if we're ever going to truly cure cancer or prevent people from having to die from cancer."
That being said, it's important to remember that clinical trials aren't for everybody. And going into a study does not necessarily mean you'll receive better care than the standard treatment. You should always talk with your doctor(s) before getting involved in one. Some risks to consider are:
The risk of harm and/or side effects due to experimental treatments
Researchers may be unaware of some potential side effects for experimental treatments
The treatment may not work for you, even if it has worked for others
PubMed
Similar to clinicaltrials.gov, PubMed is another place to get help if you're looking to research your rare disease. This website includes more than 33 million citations for biomedical literature from MEDLINE, life science journals and online books.
If you type in your disease, you'll see a list of studies and articles about the condition. You can even add a filter to only look at clinical trial information. By looking at the doctors associated with the published clinical trial results and other articles, you may be able to find doctors that specialize in research for your disease.
Newly-Developed Drugs
For those who've been recently diagnosed with a rare disease, we also want to highlight reasons for hope since there is something of a revolution going on in the development of drugs for rare diseases. The sequencing of the human genome has enabled doctors to take different approaches to treat some of these uncommon conditions.
One step you may take after being diagnosed with a rare disease is looking into the drug companies developing drugs to treat your condition.
Compassionate Use and Off-Label Use
Drug companies may be able to help patients enroll in clinical trials, and in some rare cases, they may even be able to offer "compassionate use." Compassionate drug use makes a new drug that has not been fully approved available to a patient facing a serious illness. This only often occurs when a patient has exhausted all other treatment options, but it is an important option to understand.
Similarly, researching drug companies may be a path to "off-label" drug use. Off-label drug use involves taking a drug that has been approved for treating one condition in the hopes that it may treat another condition that it has not yet been approved for.
The "Right to Try" Controversy: When Should People be Given Experimental Drugs?
Contributing: SurvivorNet Staff
Learn more about SurvivorNet's rigorous medical review process.
---