Facing the Fear of a Diagnosis
Oncology nurse Lindsay Norris noticed gastrointestinal symptoms after giving birth to her second child.
They turned out to be symptoms of stage 3 colorectal cancer, which begins in the colon or rectum.
​​Symptoms of colon cancer include a change in bowel habits, blood in the stool, unexplained weight loss, fatigue, and persistent abdominal pain.
Her open letter to her former patients, titled "Dear Every Cancer Patient I Ever Took Care Of, I'm Sorry. I Didn't Get It," went viral.
Norris faced fear and other emotions when she was diagnosed, which our experts say is completely normal. To help, you can find support through family and friends, keep a journal, and talk to a therapist.
When young mom Lindsay Norris began experiencing some gastrointestinal symptoms, she initially thought they were because of her recent pregnancy. She never expected that they were signs of stage 3
colorectal cancer
. For the oncology nurse, her professional life has suddenly merged with her personal life.
At 33, Norris had been an oncology nurse for years. She was called into this specialty early in her career, because she felt that she could help patients who were experiencing the scariest moments of their lives.
Read More
Her own life was full and busy, and very happy – she was the mother of two young children, Harrison and Evelyn. It was after Evelyn was born in 2016, however, that things changed.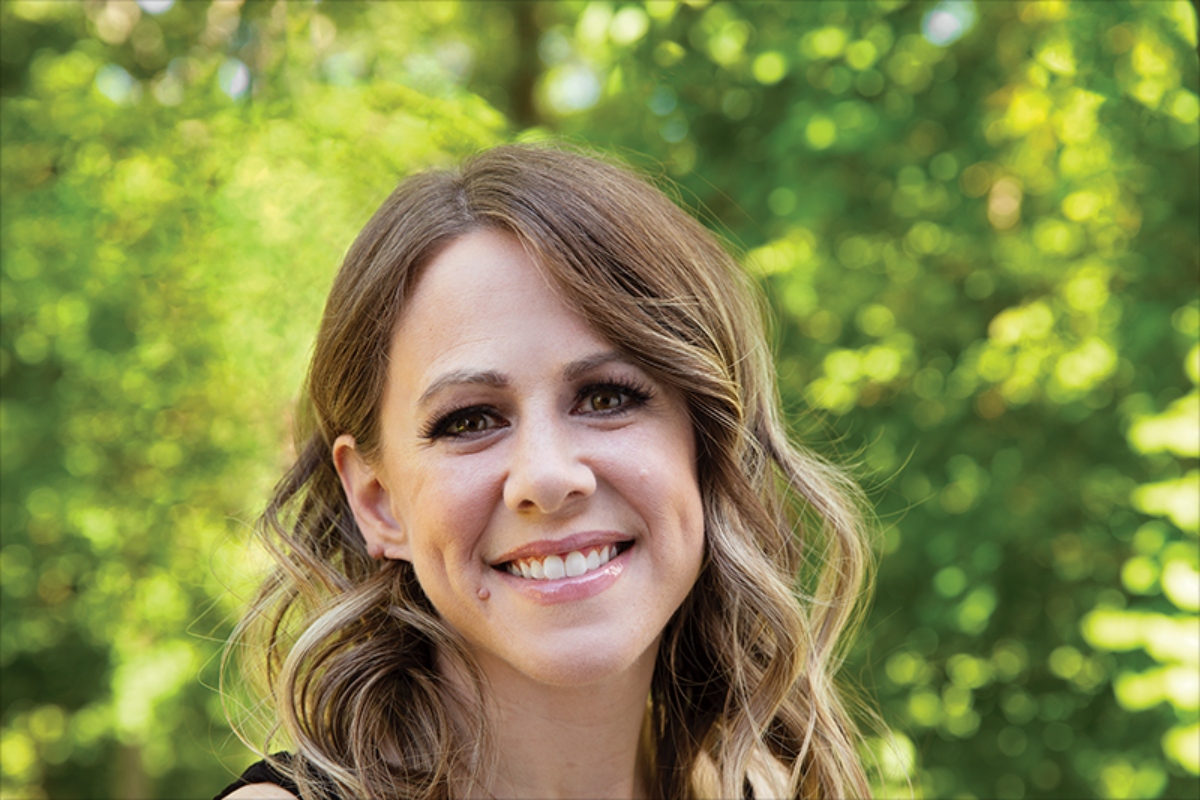 Many women experience gastro-intestinal symptoms as a result of pregnancy and giving birth. According to a study in the
Annals of Gastroenterology
, "Pregnancy is characterized by numerous physiological changes that may lead to a diversity of symptoms and frequently to gastrointestinal complaints, such as heartburn, nausea and vomiting, or constipation." Lindsay mentioned her own symptoms to people at her job, who advised her to get them checked out. She initially put off a suggested visit to a colorectal surgeon in the hospital in which she worked. However, when she finally went in for an exam, the news was alarming.
He felt something in her abdomen and said she needed a proctoscopy, an examination in which a proctoscope is used to inspect the insides of the rectum and anus. She was moved immediately to the procedure room.
In an interview with the Colon Club, Lindsay said, "I found myself alone- staring at a large rigid proctoscope, panic texting my husband because I didn't have cell service in the middle of the building (I had no idea how the conversation after the exam would go), and then one of my work friends was coming in to give me an enema. In an instant, my work and personal life merged."
The diagnosis was stage 3 colorectal cancer, which affects the colon (large intestine) and/or the rectum.
WATCH: What to Know About Colon Cancer Screening
Colorectal Cancer Rising in People Under 50
Even though Lindsay was young, it is a fact that the rates of colorectal cancer in people under 50 years old are increasing. Dr. Heather Yeo, a colorectal surgeon at Weill Cornell Medicine and NewYork-Presbyterian, previously told SurvivorNet that the cancers found in people under 50 were different than other colorectal cancers: "The colon cancers that are in the younger age group are more likely to be on the left side. They're more likely to be rectal cancers. They are more likely to be kind of aggressive tumor types."
It's another reason why early screening is so important.
If you're at average risk, meaning you don't have risk factors like smoking or a family history, the American Cancer Society advises getting regular colonoscopies once you turn 45. Colonoscopy is a test that uses a long, thin tube attached to a camera, which lets your doctor check for polyps throughout your whole colon and rectum. You'll get one colonoscopy that will serve as a baseline, and, if your doctor doesn't find any polyps, you'll have another one in 10 years.
Lindsay's treatment included chemo-radiation, a combination of chemicals to kill fast-growing cells as well as radiation. She also endured a permanent colostomy, a surgical procedure in which an opening is made in the abdominal wall, and the colon is redirected to this opening so that waste emoties into a bag rather than continues through the rectum.
Dr. Daniel Labow, the chief of the Surgical Oncology Division at Mount Sinai, previously told SurvivorNet, "Once you get over sort of the psychosocial effects, you can lead a totally normal life. It's not painful. It's just getting used to a different way."
Finding Purpose in Sharing Your Story
Lindsay was stunned – as a nurse, she thought she understood the fear and uncertainty that a cancer diagnosis triggered. What she realized was that it was more terrifying than she'd ever imagined.
She put her feelings and fears into words. One day, she sat down and wrote a letter to her former patients, and when it was posted online, it went viral.
She told those patients, simply and powerfully, "I'm sorry. I didn't get it."
"I didn't get what it felt like to actually hear the words," she wrote. "I've been in on countless diagnoses conversations and even had to give the news myself on plenty of occasions, but being the person the doctor is talking about is surreal."
Norris reflected on the role she had played in her patients' lives: "I didn't get how much you hung on to every word I said to you. You replayed it in your mind a hundred times. Did I really mean this or that… you wondered if you understood. You called me again to make sure." She reassures cancer patients that oncology nurses are always happy to take those calls and to talk through any of their concerns.
Lindsay has been cancer-free for six years, and she is back at her job. She uses her own experiences to connect even more fully to her patients and to provide them the support they need. When she talks to them, she understands what it's like to be on the other side better than anyone.
Managing the Fear After a Diagnosis
Norris is not alone in the fear she felt after receiving her diagnosis. We have heard from so many survivors who say they were overwhelmed by their emotions at the start of their cancer journey.
Anxiety and fear are totally normal reactions to the news that you have cancer. Beyond normal. Acknowledging these emotions can be therapeutic and important to the healing process.
So how do you confront your fears without letting them take over entirely? Here are some simple tips from Dr. Elizabeth Comen, a medical oncologist at Memorial Sloan Kettering Cancer Center.
1. Let your family and close friends know – and let them help. So many cancer survivors tell us they want and need support but are often too preoccupied to make specific requests. Urge those close to you to jump in with whatever practical help they can offer.
2. Keep a journal. It can be extremely cathartic to let those feelings loose on paper. Grab a pen and a nice journal and chronical your different thoughts throughout the day.
3. Join a cancer support group. There are groups in nearly every community offering opportunities to connect with others going through a similar journey. You'll learn incredibly helpful insight from others who can tell you about what to expect and how to stay strong on tough days.
4. Consider seeing a therapist. Ask your doctor to refer you to a therapist so you can discuss your fears and concerns in a safe space. Often, vocalizing your thoughts and feelings rather than internalizing them can provide relief.
Above all, just know that there are countless resources and support here for you to turn to at any time. We're fortunate to be in a time where we can rely on so many entities to help us through life's hurdles.
Learn more about SurvivorNet's rigorous medical review process.