A $1 Million Surprise
 Dr. Feranmi Okanlami, known as "Dr. O," is an example of an inspirational story we at SurvivorNet love to bring to light.
ABC's Robin Roberts, 61, presented Dr. O with a $1 million gift to build out the adaptive sports and fitness program at the University of Michigan.
Dr. O was in a pool accident that paralyzed him; he has slowly learned to walk again thanks to extensive outpatient rehabilitation.
Caring for a sick loved one is not an east feat. A caregiver can be a partner, parent, child, friend, or neighbor and should be someone who is willing to put in the time and effort to understand the diagnosis, and follow the medical team's recommendations
There is no doubt
Good Morning America
host and breast cancer survivor Robin Roberts, 61, made the day of
Dr. Feranmi Okanlami
, known as "Dr. O," after
presenting him
with a $1 million gift to build out the adaptive sports and fitness program at the University of Michigan.
In 2013, Dr. O sustained a spinal cord injury at a Fourth of July pool party that left him with a broken neck and paralyzed from the neck down, according to an interview with Michigan Health. Dr. O was a graduate of The University of Michigan Medical School and in his third year of residency at Yale New Haven Hospital in Connecticut when the incident occurred.
Read More
However, defying all odds, he fought his way back and has learned to walk again. While he was in extensive outpatient rehabilitation, Dr. O earned a master's degree in engineering, science and technology entrepreneurship at the University of Notre Dame and later joined the Family Medicine and Physical Medicine and Rehabilitation faculty at Michigan Medicine in 2018.
'Good Morning America' celebrates deserving hero with $1 million surprise
"Dr. O was a high performance athlete, but it wasn't until he acquired a disability that he then learned about adaptive sport," Erik Robeznieks, the assistant director of adaptive sports at University of Michigan tells GMA. "He attributes access to sport as one of the key reasons that he was then able to find his new passions."
Dr. O's Journey
Dr. O has been featured on Roberts GMA series "Thriver Thursday" and has been an inspirational figure for many other disabled people.
Roberts presented Dr. O, surrounded by many members of the adaptive sports and fitness program at the University of Michigan, with a $1 million gift from The Craig H Neilsen Foundation to expand and build the program.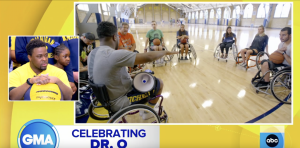 "No words," said Dr. O after Roberts revealed the surprise. "No words."
The Craig H Neilsen Foundation funds research on spinal cord injuries as well as education, injury research and clinical training, according to its website.
Roberts asked Dr. O to explain the phrase he trademarked, "Disabusing Disability."
"'Disabusing Disability' was a trademark I coined a couple of years ago to try to demonstrate disability doesn't mean inability," said Dr. O. "And it's something that over the years of meeting this entire community, and truly it's something I told people until I started to live life on the other side of the stethoscope with my spinal cord injury, I did not realize how ableist our world was, how inaccessible the world was, and how I was unintentionally complicit to this world of ableism."
According to a biography on University of Michigan's website, Dr. O was born in Nigeria before immigrating to the US at a young age. He attended high school at Deerfield Academy and college at Stanford University where he also ran track and field, serving as captain his last two seasons and achieving Academic All American recognition.
Stories like ones of Dr. O are truly an inspiration and an example of SurvivorNet's goal to put a spotlight on amazing people doing amazing work.
Similarly, in SurvivorNetTV's A Grand Journey short documentary film we get an intimate look into Kira's unique but incredibly relatable journey as she attempts to take on a seemingly impossible feat: climbing the iconic Grand Teton with a prosthetic leg.
Kira was born with a rare birth defect and had her lower leg amputated as a child. Since she learned to walk, she has used a prosthetic leg. While some might see this as a major setback, Kira's fiery passion and athleticism drives her to achieve her goals and amaze those around her with her achievements.
Born and raised in Jackson, Wyo., Kira has always had a deep love for the outdoors. Her lifestyle involves hiking, skiing, biking and pursuing her career as a yoga instructor.
"I've been looking at the Tetons my entire life, leaving my house on my drive to school in the morning, I would see the Grand," Kira shares, describing the magic of growing up in her surroundings.
Being A Caregiver
No matter if it's cancer or disease or an injury, being a caregiver is an important role. Dr. O for instance said he moved home to South Bend, Indiana, to live with his parents following months of inpatient rehabilitation.
"A caregiver can be a partner, parent, child, friend, or neighbor. But it should be someone who is willing to put in the time and effort to understand the diagnosis, and follow the medical team's recommendations," Dr. Jayanthi Lea, gynecologic oncologist at UT Southwestern Medical Center, tells SurvivorNet in a previous interview.
"I encourage caregivers to come in to visits with my patients, because in that way, the caregiver is also listening to the recommendations — what should be done in between these visits, any changes in treatment plans, any toxicities [side effects] that we need to look out for, changes in dietary habits, exercise, etc.," Dr. Lea says. "The work is extremely hard."
Caregivers Can't Provide Optimal Care for Their Loved Ones with Cancer If They Don't Care for Themselves
The caregiver should be willing to be open with the doctor by sharing what they've learned while caring for their loved one on a daily basis. They also need to be willing to take a backseat sometimes.
"Step back a little bit and let the patient speak for themselves. Let them express what they are feeling," Dr. Lea tells SurvivorNet. "That is so important for the patient's overall quality of life and wellbeing."
Roberts Cancer Battle
Roberts received her breast cancer diagnosis in 2007. She was diagnosed after discovering a lump in her breast as she was preparing for a news segment on performing self-checks. Thankfully, she was able to treat her cancer with surgery. Breast cancer can also be treated with chemotherapy and radiation.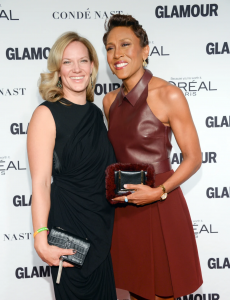 Back in February, Robin revealed that her partner Amber Laign, 47, now has to face breast cancer as well. And despite Laign experiencing complications with chemotherapy, she was able to complete chemotherapy and radiation in July.
Related: Robin Roberts, 61, Says She And Partner 'Sweet Amber' Laign, 47, Are Back From Their 'Happy Place' Where They Celebrated Amber Finishing Radiation
It is currently unknown what additional treatment Amber will require, but many patients, depending on what type of breast cancer they have, will have to take a pill for a number of years. It is also unknown whether Amber already had surgery or not.
With assistance from Danielle Cinone and Marisa Sullivan
Learn more about SurvivorNet's rigorous medical review process.
---