Learning About Lymphoma
Owen Wilson, 54, will star in the upcoming comedy Paint as Carl Nargle – a character bearing an extreme likeness to that of the beloved painter Bob Ross. The movie is set to hit theaters on April 28, 2023.
Ross died of lymphoma in 1995 at age 52 – just one year after his iconic show "The Joy of Painting" ended its 11 year run.
Lymphoma is a type of blood cancer. Early symptoms of the disease can be tricky to notice as they may include swollen lymph nodes, fatigue or unexplained weight loss.
Lymphoma treatment, in general, depends greatly on the nature of your specific diagnosis. And one of our experts says "unlike other cancers, where advanced stage is a death sentence, that's certainly not the case for lymphoma."
There have been many advances made in the world of lymphoma treatment. One such advancement was the April 2022 FDA  approval of Yescarta (axicabtagene ciloleucel) CAR T-cell therapy as a treatment for certain patients with large B-cell lymphoma that has returned. CAR T-cell therapy takes T-cells from a patient's immune system and genetically modifies them to recognize and kill cancer cells.
The world lost one of its favorite painters when Bob Ross died of lymphoma in 1995. But thanks to Owen Wilson and IFC Films, it looks like we may have more "happy trees" coming our way next year.
Owen Wilson Channels Bob Ross
Owen Wilson, 54, will star in the comedy Paint as Carl Nargle – Vermont's top public television painter. In the film, his character is convinced he has it all until a younger, better artist steals the show.
Read More
According to IFC Films, the movie is set to hit theaters on April 28, 2023.
RELATED: Remembering The Ever Calm & Quirky Painter Bob Ross, Who Died 26 Years Ago From Lymphoma: His Legacy Is Even More Influential Today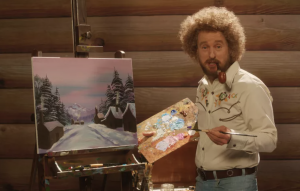 "We're thrilled to finally work with the boundless and versatile talent of Owen Wilson, as he effortlessly brings Carl Nargle's character to life from a savvy script and direction by Brit McAdams," Arianna Bocco, President of IFC Films, said. "Paint has all the makings of a quotable comedic masterpiece, and we hope audiences of all ages are ready for a lot of laughs and a lot of heart."
We don't have too much more information about the film as of yet, but Wilson's character seems to be based off of, or at least share an uncanny likeness with, Bob Ross – the iconic painter known for his permed hair, soft voice and calm demeanor.
Ross starred in the beloved PBS television series "The Joy of Painting" for 11 years before his death from lymphoma. He kept his cancer battle private from the public, so it's unclear when he was diagnosed and whether he chose to go through treatment. Ross died on July 4, 1995, at age 52 just one year after "The Joy of Painting" stopped airing.
"The message of having self-confidence, of trying new things –  that doesn't get old," Jessica Jenkins, the curator of the "Bob Ross Experience," at Muncie, Indiana's Minnetrista museum told CBS Sunday Morning. "And because of that, I think that it just continues to resonate for generation after generation."
Understanding Bob Ross' Cancer: Lymphoma
Lymphoma is a type of blood cancer. Blood cancers can affect the bone marrow, blood cells, lymph nodes and other parts of the lymphatic system. The Leukemia & Lymphoma Society reports that every 3 minutes, one person in the U.S. is diagnosed with a blood cancer.
More specifically, lymphoma is a cancer of the immune system that begins in the white blood cells called lymphocytes. Lymphoma begins when lymphocytes develop a genetic mutation that makes them multiply much faster than normal. This mutation also forces older cells that would normally die to stay alive. From there, the quickly multiplying lymphocytes collect and build up in your lymph nodes, the small glands in your neck, armpits, and other parts of your body.
What Kind of Lymphoma Do You Have? Why Your Type Matters
We don't know the specific type of lymphoma that Bob Ross had, but it's important to note there are more than 40 different types of the disease. Hodgkin lymphoma and non-Hodgkin lymphoma are the main two sub-categories with the latter being more common. Diffuse large B-cell lymphoma (DLBCL) is the most common form of lymphoma.
The type of white blood cells linked to the disease determines the distinction between Hodgkin lymphoma and non-Hodgkin lymphoma. If doctors are unable to detect the Reed-Sternberg cell – a giant cell derived from B lymphocytes – then the cancer is categorized as non-Hodgkin lymphoma.
You might be at a higher risk for lymphoma if you:
Have been infected with the HIV or Epstein-Barr virus
Had an organ transplant
Have a family history of lymphoma
Have been treated with radiation or chemotherapy drugs for cancer in the past
Have an autoimmune disease
Signs of Lymphoma
One thing to note about lymphomas is this type of cancer often creeps in quietly, without symptoms. And even when symptoms do show up, they don't necessarily point directly to cancer. In a previous interview with SurvivorNet, Dr. Elise Chong, a medical oncologist at Penn Medicine, explained that lymphoma symptoms could be difficult to detect.
Sneaky Lymphoma Symptoms Often Lead to a Late Diagnosis
"The symptoms of lymphoma, especially if you have a low-grade lymphoma, often are no symptoms," Dr. Chong explained. "People say, but I feel completely fine, and that's very normal."
People with lymphoma do not always have symptoms, but common ones are:
Swollen glands in your neck, armpit or groin
Fever
Chills
Night sweats
Unexplained weight loss
Feeling tired
Swelling in your stomach
No matter what, it's important to communicate anything unusual happening to your body with your doctor. Even if there's nothing to worry about, it's good to rule out the possibility of more serious issues.
Treatment Options
Lymphoma treatment, in general, depends greatly on the nature of your specific diagnosis. For non-Hodgkin lymphoma patients, their cancer is more likely to spread in a random fashion and be found in different groups of lymph nodes in the body. Hodgkin lymphoma cancers, on the other hand, are more likely to grow in a uniform way from one group of lymph nodes directly to another.
And even if you're not diagnosed until a later stage, Dr. Chong assured SurvivorNet that "unlike other cancers, where advanced stage is a death sentence, that's certainly not the case for lymphoma."
"We have many treatments with which people can either be cured with advanced stage lymphoma or have very good remissions," Dr. Chong said. "So it doesn't change how treatable someone is, even when they do have advanced stage lymphoma."
Some lymphomas, called indolent lymphomas, might not even need to be treated right away because they're slow-growing. In this case, careful monitoring – including imaging scans such as PET/CT – is used to track the progress of the cancer and gauge whether it needs treatment yet.
"Where I use PET/CT in my practice quite a bit is if I'm observing a patient … and there is some new symptom or situation which makes me concerned that the patient may be changing from an indolent lymphoma to a more aggressive lymphoma," Dr. Jakub Svoboda, a medical oncologist at Penn Medicine, previously told SurvivorNet. "We refer to it as transformation."
Advances in Lymphoma Treatment
And thankfully, advancements in lymphoma treatment are being made. The National Cancer Institute states that most research on treatment for non-Hodgkin lymphoma is now focused on targeted therapy and immunotherapy, and researchers are also trying to identify gene changes in different types of lymphoma that might be targets for new drug development.
One exciting development from earlier this year was the U.S. Food and Drug Administration approval of Yescarta (axicabtagene ciloleucel) CAR T-cell therapy as a treatment for certain adult patients with large B-cell lymphoma (LBCL) that comes back.
RELATED: 'This Is Really Practice-Changing': New Therapy Provides Hope for More Patients With Large B-Cell Lymphoma
CAR T-cell therapy stands for chimeric antigen receptor T-cell therapy, and it is a type of immunotherapy that uses your own immune cells to fight cancer.
Yescarta was already approved for LBCL patients who've had their second relapse, but the April 2022 approval meant that patients who experienced their first relapse within a year or didn't respond to treatment at all could use the drug. More specifically, the drug was approved for adult patients with large B-cell lymphoma that is refractory (stopped responding) to first-line chemo-immunotherapy or relapsed (came back) within 12 months of first-line chemo-immunotherapy. First-line therapy is the first treatment given for a disease.
Dr. Alison Sehgal, a study investigator for the landmark clinical trial that the approval was based on, spoke with SurvivorNet about what the expanding availability of this drug could do for patients.
"(The current standard of care) doesn't work very well in that population, and that population is a pretty big group of people, unfortunately," Dr. Alison Sehgal, a hematologist and medical oncologist at UPMC Hillman Cancer Center in Pittsburgh, Penn., told SurvivorNet. "This is really practice-changing for a big portion of people with large B-cell lymphoma."
The ibrutinib is also currently being used and tested for lymphoma patients in a number of ways. This drug was developed to shut down the B-cell receptor signaling pathway that drives many types of non-Hodgkin lymphoma.
RELATED: Study Finds The Drug Ibrutinib Can Improve Outcomes In Some Newly Diagnosed Patients With Mantle Cell Lymphoma
During the annual conference of the American Society of Clinical Oncology, an important new study found that ibrutinib shows some effectiveness in fighting a type of non-Hodgkin lymphoma called mantle cell lymphoma (MCL) – though it doesn't increase the overall survival rate for patients with this disease as of yet.
According to data from the randomized, phase 3 SHINE trial, using ibrutinib in combination with the standard of care regimen can improve progression-free survival, or PFS, by 2.3 years among newly diagnosed patients with MCL. PFS is the length of time from random assignment to disease progression or death. In addition, there was also higher toxicity noted with the three drug regimen that included ibrutinib.
"It is still too soon to say if this regimen will lead to a new standard of care for older patients with mantle cell lymphoma," Dr. Bijal Shah, a medical oncologist in Moffitt Cancer Center's Malignant Hematology Department, told SurvivorNet. "I think a major challenge with the data presented relates to the need and benefit versus the toxicity of adding bendamustine.
"Notably, overall survival was not improved, and it suggests that a safe alternative is to deliver ibrutinib-based therapy at the time of relapse. It is hoped with future BTKi trials, we will learn more about the importance, or lack thereof, of the bendamustine component."
According to the National Cancer Institute, the drug has been approved for the treatment of small lymphocytic lymphoma and Waldenstrom macroglobulinemia, both indolent non-Hodgkin lymphomas, in the last several years. It has also received approval for mantle cell lymphoma (which can be aggressive or indolent) and marginal zone lymphoma (indolent).
There are also plenty of other improvements being made and drugs being studied at this time. If you've been diagnosed with lymphoma, make sure to discuss all your treatment options with your doctor. And don't be afraid to seek out multiple opinions on what treatment path is best for you.
Contributing: Laura Gesualdi-Gilmore, Dr. Sufana Shikdar
Learn more about SurvivorNet's rigorous medical review process.