Life After Colon Cancer
Sharon Osbourne, 70,  fought a battle against stage three colon cancer diagnosis in 2002 at age 49. After surgery to remove a foot of large intestine and some surrounding lymph nodes followed by chemotherapy, she was deemed cancer-free.
The term colorectal cancer is used to describe cancers that begin in the colon or the rectum – so some people just use the term colon cancer if that's where the disease began.
One of our experts says colon cancers can be prevented when polyps are found early. And with colorectal cancer cases in younger people on the rise, the recommended age for beginning screening has been moved from 50 to 45.
When it comes to treatment for colon cancer at stages one, two and three, there is the potential for a curative effect with surgical resection. One of our experts says all patients with stage one to three colon cancers undergo surgery "if they're healthy enough to tolerate it."
Life goes on after a cancer battle. And it's nice to see colon cancer survivor Sharon Osbourne, 70, thriving as a grandmother after all she's been through.
Over the weekend, the British-American television personality and wife of rocker Ozzy Osbourne took the time to meet up with her son Jack Osbourne, 37, his fiancée Aree Gearhart, 31, and their daughter in Los Angeles. Jack and Aree welcomed Maple, their first baby together, in July of this year.
Read More
Sharon looking glowing as ever for the rendezvous, but the meeting comes just eight months after she opened up about a "horrendous" facelift she had last year. "I'm telling you, it was horrendous. [To the surgeon] I'm, like, "You've got to be f***** joking. One eye was different to the other. I looked like a f***** Cyclops. I'm, like, "All I need is a hunchback,"'
she said
. "I had a full facelift done in October and I looked like one of those f***** mummies that they wrap [with bandages]. "It hurt like hell. You have no idea."
She's since had the procedure "redone," and seems to be happy with her look. But all of the cosmetic operations pale in comparison to the life-saving surgery she underwent in 2002.
Sharon Osbourne's Cancer Battle
Sharon received her colon cancer diagnosis in 2002 at age 49. She had no family history of the disease.
For treatment, she underwent surgery to remove a foot of large intestine and some surrounding lymph nodes on July 3, 2002. This surgery revealed that one of her lymph nodes was cancerous, meaning the disease had spread beyond her colon.
Her cancer was eventually deemed to be stage three, and she needed chemotherapy to kill any cancerous cells left behind. Thankfully, she had the support of her family along the way.
Ozzy even called up Robin Williams hoping the comedian would visit and help cheer up his wife when she was struggling both physically and emotionally during chemo.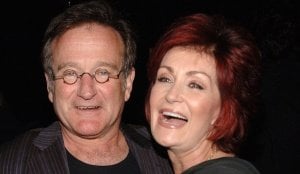 RELATED: Robin Williams Brought Much-Needed Laughter to Sharon Osbourne During Dark Moment in Her Colon Cancer Battle
"I just remember sitting at the bottom of the stairs and we went from crying, not knowing what to do, to just peeing ourselves laughing because we could hear Mom upstairs in her room laughing with Robin," one of Osbourne daughters, Kelly, said of the visit. "And, the next day it changed everything and Mom went back to chemo."
Sharon's chemotherapy treatments lasted for three months. Thankfully, they were successful, and the television personality is still cancer-free today.
Sharon Osbourne's Preventative Mastectomy
But that doesn't mean Sharon Osbourne's cancer concerns were over after her colon cancer battle. She later revealed she underwent a preventative double mastectomy after discovering she had a genetic mutation that raised her chances of developing breast cancer. A prophylactic, or preventative, mastectomy is a procedure where breast tissue is removed to prevent cancer from developing in the future.
Is a Preventative Mastectomy Right for Me?
"As soon as I found out I had the breast cancer gene, I thought: 'The odds are not in my favour'," Sharon said in 2012. "I've had cancer before and I didn't want to live under that cloud: I decided to just take everything off, and had a double mastectomy."
The operation took 13 hours, but Sharon was happy with her decision.
"For me, it wasn't a big decision, it was a no-brainer," she said. "I didn't want to live the rest of my life with that shadow hanging over me. I want to be around for a long time and be a grandmother to Pearl… I didn't even think of my breasts in a nostalgic way, I just wanted to be able to live my life without that fear all the time.
"It's not 'pity me', it's a decision I made that's got rid of this weight that I was carrying around."
Osbourne did not share details about the genetic findings, but a mutation in the BRCA1 or BRCA2 gene is known to increase a woman's risk of developing both breast and ovarian cancer.
"Risk reducing mastectomies are an operation where we take women at, usually, very high-risk for getting breast cancer … for genetic mutation carriers, who are the ones at the highest risk, there's unfortunately only one way to actually prevent breast cancer," Dr. Elisa Port, Chief of Breast Surgery at Mount Sinai Health System, previously told SurvivorNet.
If you, like Sharon, discover you have a mutation, it's important to talk to your doctor about options.
"Women who are found to test positive for a genetic mutation really have two options," Dr. Port said. "One is what's called high-risk surveillance, which means we check them every six months or so — mammograms, MRIs — with the hope that if, God forbid, they develop breast cancer, we pick it up early. But that's not prevention, that's early detection.
"Early detection is a goal, it's not a guarantee. For the woman who wants to be more proactive about actually preventing breast cancer, or as we say reducing her risk, unfortunately, the only way to do that is to remove the actual tissue at risk and that is the breast tissue."
Understanding Colorectal Cancer
The term colorectal cancer is used to describe cancers that begin in the colon or the rectum – so some people just use the term colon cancer if that's where the disease began. The cancer develops when abnormal lumps called polyps grow in the colon or rectum. It takes up to 10 years for a colon polyp to actually become cancer, according to SurvivorNet experts.
RELATED: How Is Rectal Cancer Treated Differently Than Colon Cancer?
Colorectal cancer, like all cancers, presents its own unique challenges for patients on the road to recovery. But Dr. Heather Yeo, a surgical oncologist and colorectal surgeon at New York Presbyterian Weill Cornell Medical Center, wants to remind people how far the treatment of this disease has come.
"One of the most exciting things about my job is that we've made a lot of progress on treatment options," Dr. Yeo says in a previous interview with SurvivorNet. "However, patients are still — while they're living longer, they are still living with colon cancer, and so I think it's really important that we talk about how some of the things in your life affect you."
Screening
Dr. Yeo also emphasizes the importance of colorectal cancer screenings such as colonoscopies because most colorectal cancers can be prevented early with screening.
"You Shouldn't Die From Embarrassment": Colon Cancer Can Be Prevented
"In the United States, on a national level, colorectal cancer has been decreasing for the last 20 years," Dr. Yeo says. "And much of that is thought to be directly due to screening for colon cancer."
RELATED: All Americans Should Begin Colorectal Cancer Screening at Age 45, According to New Guidelines; Previous Age Was 50
Even still, colorectal cancer cases are rising among younger people. And in the United States alone, rates have increased every year from 2011 to 2016 by 2 percent among people younger than 50. Because of this increase, the United States Preventive Services Task Force has recently updated its colorectal cancer screening recommendations to begin at age 45 instead of 50.
RELATED: New Research Shows More and More Young People Ages 20-39 Are Getting Late-Stage Colorectal Cancer; What's Going On?
"We know that colon cancers can be prevented when polyps are found early," Dr. Yeo said. "Lowering the screening age helps somewhat with this. But access to care is a real problem."
RELATED: Why Do So Few Black Men Get Colon Cancer Screenings?
And increasing access is crucial to making sure that we don't see racial disparities within the world of colorectal cancer. Whites and Asians are significantly more likely to be up to date with their colonoscopies than African Americans, Latinos and Native Americans.
Research suggests that tailoring colon cancer screenings to each person's individual risk may be beneficial. If you are not yet 45 but have concerns about your risk, talk to your doctor. Ask about your individual risk based on your lifestyle and family history and find out when screenings would be right for you.
Symptoms of Colon Cancer
Colon cancer might not immediately cause symptoms, but there are signs to look out for.
Below are possible symptoms:
A change in bowel habits, such as diarrhea, constipation or narrowing of the stool that lasts for more than a few days
A feeling that you need to have a bowel movement that's not relieved by having one
Rectal bleeding with bright red blood
Blood in the stool, which might make the stool look dark brown or black
Cramping or abdominal (belly) pain
Weakness and fatigue
Unintended weight loss
It is important to note, however, that displaying some of these symptoms does not mean you have colorectal cancer. You could also have colon cancer and not display any of these symptoms. Regardless, it is important to bring up any symptoms to your doctor should they arise.
Treating Colon Cancer at Stages One, Two and Three
When it comes to treatment for colon cancer at stages one, two and three, there is the potential for a curative effect with surgical resection.
Colon Cancer Stages One, Two and Three
"As long as it hasn't spread outside of the local area, it's still considered a curable colon cancer," Dr. Yeo told SurvivorNet.
According to Dr. Yeo, all patients with stage one to three colon cancers undergo surgery "if they're healthy enough to tolerate it." But there's more nuance to the possibility of additional treatment for stages two and three.
"Stage 2 a little bit more in between," she said. "It really depends on kind of the depth of the tumor into the colon wall and the risk that it has to spread.
If a stage two colon cancer has "bad features" identified by a pathology report, chemotherapy might be the right move.
"For example, if when they look at the pathology slides under the microscope, if they see that it's involving some of the vessels nearby, then that is a higher risk factor," she explained. "And then, those patients might be more likely to benefit from chemotherapy."
Stage three colon cancers have spread to the lymph nodes. So, these patients "at least need a conversation of chemotherapy," according to Dr. Yeo.
"For our patients with 3 or higher, they all need chemotherapy," Dr. Yeo said.
Learn more about SurvivorNet's rigorous medical review process.