Nick Butter, a 30-year-old from the U.K. moved by a friend's cancer journey, set out almost two years ago with an ambitious goal: To run a marathon (that's 26.2 miles) in every country in the world to raise money for prostate cancer. The trip itinerary had Butter running well over 5,000 miles.
The amazing athlete not only achieved his dream — and set several records, according to Runner's World — but he had a blast while doing it.
Read More
"I underestimated more or less everything about this expedition," Butter posted earlier this month on Instagram, a day after he finished his final run. "But one thing stands out. I had no idea how much this challenge would change my life, and my perspective of the world around me. Wow – the world is amazing."
Butter, who spent as little as one night in some countries, raised more than £116,000 (approximately $150,000) for Prostate Cancer UK, an organization that funds research on the disease.
Lacing Up in Canada
The journey began in January 2018, when he laced up for the first time in Canada. Along the way, Butter, who chronicled his journey for his 50k Instagram fans, usually found time to take in the sights and soak up the different cultures. People often joined in his runs — 1,000 school children in El Salvador came along for a short distance, for instance, as did the president of Luxembourg.
He ran his last marathon this month in Athens, Greece.
He's only gone and done it! ????????

A record-breaking marathon in every country on earth for the amazing @nickbutterrun! ????

Here's the incredible moment Nick crossed the line in Athens alongside the man who inspired it all, @thekevinwebber ???????????? pic.twitter.com/FCZnj4S5Vd

— Prostate Cancer UK (@ProstateUK) November 10, 2019
"Please consider a change in your life. It's very often for the best," he posted. "The world is unfathomably special and we are living in an extraordinary time. … Please value today. You'll feel reborn I promise."
Fellow Marathoner Was Inspiration
A particularly inspirational friend and fellow runner named Kevin Webber was behind Butter's decision to raise funds for prostate cancer, he told Runner's World. The two met at a marathon in 2015, a year after Webber was diagnosed with the disease. Webber is still an avid runner who regularly competes in ultra-marathons (anything longer than a traditional marathon).
"Kevin and I got on talking during the race, and he told me about this realization of his that because he was dying from prostate cancer, he now understood the value of life," Butter told Runner's World. "He just showed me the power of doing what you love, and not waiting for a diagnosis to do it."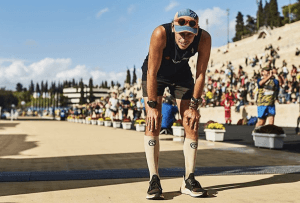 Spreading Prostate Cancer Awareness
Estimates from the National Institute of Health (NIH) suggest that over 1,000,000 new cases of prostate cancer were diagnosed globally in 2018. Statistics also suggest that more than 350,000 men across the globe died from the disease last year.
Butter's message of living life to the fullest is certainly an important takeaway from this story, but so is being aware of your health and prostate cancer screening recommendations. American Cancer Society guidelines recommend that men begin getting screened for prostate cancer at age 50. However, for men who are considered high risk either because they have a family history of the disease or because of their race (African-American and Latino men are at a higher risk of getting the disease) doctors may recommend screening begin at age 45, or even 40.
Learn more about SurvivorNet's rigorous medical review process.