Protecting Yourself During Bad Air Quality
Wildfires in Canada have sent smoke into the northern U.S., leaving many wondering about the health risks.
Breathing in wildfire smoke in the air can cause coughing, trouble breathing normally, stinging eyes and other symptoms.
In more serious cases, it can worsen heart and lung disease.
Those at most risk of negative effects include people with other health conditions (like asthma or heart and lung disease), those who are older, and young children.
The connection between wildfire smoke and cancer is less clear, but the California Air Resources Board says that wildfire smoke produces pollutants that include "known cancer-causing substances."
It's important to know that people are exposed to carcinogens every day and that many people will never develop cancer.
People can protect themselves by staying indoors or wearing respirator masks with the words "NIOSH," "N95" or "P100."
Hundreds of
wildfires burning in Canada
have sent smoke into the U.S., filling the air of northern areas like Chicago and New York City, where the sky turned an orange hue and a haze fell over the skyline. It's leaving the millions of people living in these areas wondering, is bad air quality dangerous and how can I protect my health?
Here's what to know.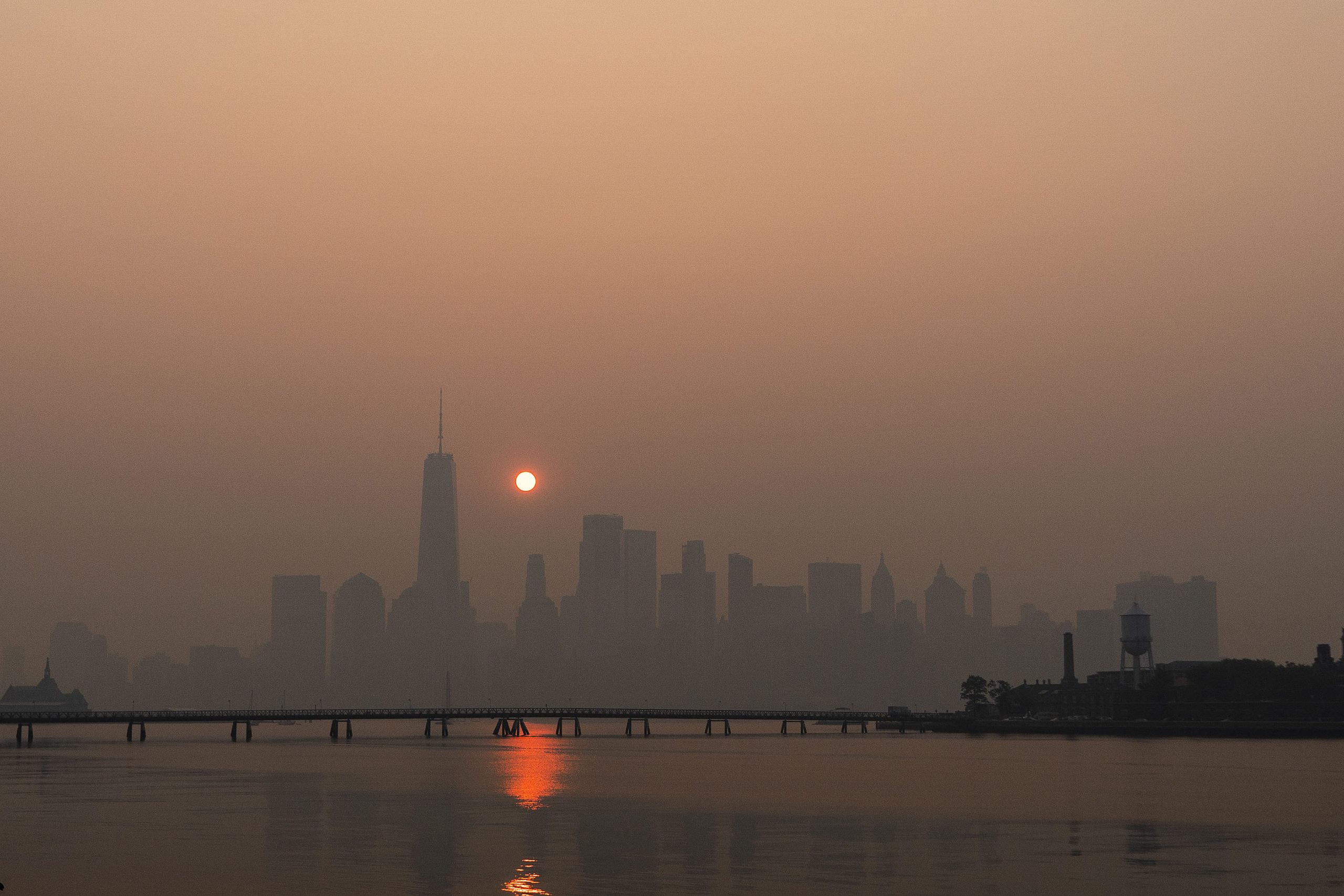 What Is Bad Air Quality?
Read More
When weathermen report bad air quality, it can mean that there is dangerous pollution in the air. The
Air Quality Index
tracks this pollution and the associated health concern. The AQI assess how much particle pollution, among others, is in the air. That could include tiny matter from ash, power plants and factories, vehicle exhaust, soil dust or pollen, according to the
American Lung Association
. Wildfire smoke could be made up of "gases and fine particles from burning vegetation, building materials, and other materials," according to the
Centers for Disease Control and Prevention
.
The AQI is reporting the air in New York on the morning of June 8 as "Unhealthy," meaning, "Some members of the general public may experience health effects; members of sensitive groups may experience more serious health effects."
However, the air quality in Harrisburg, Pennsylvania, for example, was labeled "Hazardous," the most dangerous level. The AQI says that's a "health warning of emergency conditions: everyone is more likely to be affected."
On June 28, when the smoke made its way to Chicago, the air quality in that city was labeled "Unhealth," while areas just outside the city center were labeled "Very Unhealthy."
WATCH: 9/11-Linked Cancer – 'I Didn't Know That 16 Years Later I'd Be Diagnosed'
What Are the Health Risks of Wildfire Smoke and Bad Air Quality?
"Wildfire smoke can make anyone sick," says the CDC.
Jooyeon Hwang, PhD, an associate professor of epidemiology, human genetics and environmental sciences at UTHealth Houston School of Public Health, spoke to SurvivorNet about the effects of breathing in wildfire smoke.
"Inhalation of the smoke particles and chemicals in the air can result in irritation and inflammation in both the upper respiratory tract (e.g., nose and throat) and the lower respiratory tract (e.g., lungs)," she said.
This can lead to mild symptoms such as coughing, wheezing, and shortness of breath.
In more severe cases, Hwang said, it can lead to issues like asthma, bronchitis (inflammation of the bronchial tubes in the lungs), and chronic obstructive pulmonary disease (COPD, a condition that makes it hard to breathe), "particularly for individuals with pre-existing respiratory conditions or heightened sensitivity in their respiratory systems."
The CDC indicates that breathing in wildfire smoke can also cause:
Stinging eyes
A scratchy throat
Runny nose
Irritated sinuses
Chest pain
Headaches
An asthma attack
Tiredness
Fast heartbeat
Does Wildfire Smoke Cause Cancer?
Breathing in wildfire smoke for long periods of time may have a link to cancer, but this is difficult to study and more data is needed.
The California Air Resources Board, in a state that sees a lot of wildfires each year, says that wildfire smoke produces pollutants that include "known cancer-causing substances."
A study published in the American Journal of Epidemiology in 2017 found that long-term exposure to fine particulate matter was associated with an increased risk of death from lung cancer.
And researchers from the University of California, Davis announced last year they began two studies to understand the connection between wildfire smoke and cancer.
"It's often difficult to study environmental causes of cancer,"  Dr. Heather Yeo, a surgical oncologist at Weill Cornell and medical advisor, previously told SurvivorNet.
Hwang explained wildfire smoke has the potential to play a role in the long-term development of lung cancer. However "there is still a knowledge gap regarding the specific causal relationship between wildfire smoke and cancer among the general public that requires further investigation."
She said she and her colleagues are currently studying the topic.
When it comes to "cancer-causing substances," they are known as carcinogens. It's important to note that our experts say we are exposed to carcinogens every day and that many people will never develop the disease.
Dr. Robert Wright, chair of the Department of Environmental Medicine and Public Health at Mount Sinai, previously spoke to SurvivorNet about carcinogens.
"We create carcinogens all the time in our foods when we cook them, and very few of us get cancer because our bodies can handle them," he said.
"But some people have susceptibilities to these environmental carcinogens, which might be genetic or might be caused by combinations of carcinogens."
Dr. Wright also said no one trigger is usually going to cause cancer, but cancer could be the result of a combination of environmental triggers.
"Cancer isn't caused by one event, typically, it's usually a series or combination of events," he explained.
"So, it may be that you ate a lot of charred food, it may be that you're also a smoker, it may be that you've inherited a genetic susceptibility to be a little bit more sensitive to those chemicals."
WATCH: Cancer Risk – Meat Is Not the Enemy
Who Is at Risk With Wildfire Smoke?
People at most risk when breathing in wildfire smoke include those who have certain health conditions, are older, or are children, according to the CDC and the American Lung Association.
Those at risk:
People with lung diseases like asthma and COPD (a disease that makes it hard to breathe)
People with heart disease or diabetes
Older adults, who have an increased risk of heart and lung diseases
Young children, such as pre-schoolers, whose airways may still be developing
Expecting moms
For people with cancer, such as lung cancer, Hwang said breathing in the smoke can pose a significant risk.
"Individuals with lung cancer may experience significant impacts due to these mixed smoke particles and harmful substances in the air, which can exacerbate their respiratory symptoms and compromise lung function. This is particularly concerning because the pollutants present in fire smoke have the ability to deeply penetrate the lungs," she said.
How to Protect Yourself From Wildfire Smoke
The CDC and the EPA say there are steps people can take to protect themselves if the air quality is poor, particularly from wildfire smoke.
Check Local Air Quality Reports
Watch or read your local news, or check the Air Quality Index map, to see what your local air quality is.
Stay Indoors
The best way to protect yourself from wildfire smoke is to stay indoors and limit time outside.
Keep Indoor Air Clean
Use High Efficiency Particulate Air (HEPA) filters indoors to help keep your indoor air as clean as possible. You can run the air conditioner, but keep the fresh-air intake closed and the filter clean.
Wear a Respirator
If you do have to go outside, a respirator mask with the words "NIOSH," "N95" or "P100" can help protect you.
Remember that a dust mask, such as those found at hardware stores, do not protect from fine particle matter.
Listen to Your Doctor
Talk with your doctor about your individual risks and what specific steps they recommend you take based on your conditions. If you are experiencing symptoms, call them for advice.
"It is important for individuals with respiratory conditions to follow the guidance of their healthcare providers and have a plan in place to manage their symptoms during such events," Hwang said.
Consider Temporary Relocation
If necessary, consider staying with a family member or friend in an area with better air quality until the air quality in your community improves.
Learn more about SurvivorNet's rigorous medical review process.
---