Mark Hoppus Says He's Himself 'Cancer-Free' After His Scans Came Back 'Clean'
"Blink-182" singer Mark Hoppus, 50, has declared himself "cancer-free" after posting on Instagram that his scan came back clean.
Hoppus was diagnosed with stage four diffuse large B-cell lymphoma in April 2021.
Lymphoma, in general, is a cancer of the immune system that begins in the white blood cells called lymphocytes.
According to the Leukemia & Lymphoma Society, about 90,390 people in the United States are expected to be diagnosed with lymphoma in 2021.
An ecstatic "Blink-182" singer Mark Hoppus, 50, is celebrating a major development in his battle against lymphoma.
Hoppus posted a very positive health update in an Instagram story that has since disappeared.
Read More
"'Very grateful today. My scan came back clean and I'm cancer-free," Hoppus declared. "Thankful for every day I get to be here. Love you all."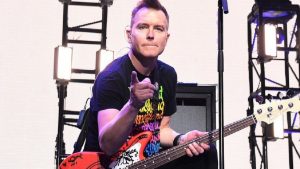 The performer of the hit song, "What's My Age Again?" paired his happy social media message with a picture of his arm as a medical professional drew blood.
Hoppus was diagnosed with lymphoma in April 2021, and spoke with 'PEOPLE' magazine last month about his health journey.
He told the outlet he was "doing good" and "in a much better place." He said in the interview he first contacted his doctor after noticing a "weird lump" on his shoulder.
Doctors discovered multiple tumors in his body and diagnosed Hoppus with stage four diffuse large B-cell lymphoma.
In general, lymphoma is a cancer of your immune system. It starts in the lymphatic system, a network of vessels, ducts, and nodes that runs throughout your body. This system drains excess fluid and waste from your tissues and drains them into your bloodstream. It also produces disease-fighting white blood cells called lymphocytes that defend your body against infections, according to Dr. Elise Chong, medical oncologist at Penn Medicine, who spoke with SurvivorNet in a previous interview.
Lymphoma starts when lymphocytes develop a genetic mutation that makes them multiply much faster than usual. The mutation also makes older cells that would normally die stay alive. The quickly multiplying lymphocytes start to collect and build up in your lymph nodes, the small glands in your neck, armpits, and other parts of your body.
From there, the disease is divided into a number of different categories, Dr. Chong said.
The first distinction is whether you have Hodgkin or non-Hodgkin lymphoma. Hoppus was diagnosed with non-Hodgkin lymphoma—the more common of the two.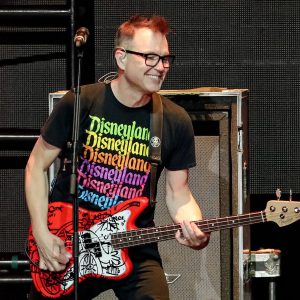 Hoppus has a son Jack, 20, and is married to his wife Skye Everly, 50, and has been busy working on a new book, his record company Verswire and his Apple Music radio show.
But he said immediately after his cancer diagnosis, he reached out to his mother Kerry Wernz, who successfully underwent treatment herself for cancer in 2019.
"She knew exactly what I was feeling," Hoppus said, adding that he "leaned on her so much."
After going public on social media with his cancer battle, Hoppus received tons of supportive messages, especially after accidentally posting a picture of himself on Instagram while undergoing chemotherapy.
He said the picture was intended to be sent via direct message to someone.
"I thought that once people found out, it would just be like, 'Haha, [expletive] you. You're going to die. Just the [expletive] side of the Internet," he said. "Instead, everyone was like, 'You're going to get through this."'
Hoppus told the outlet that "chemotherapy was brutal" and that he "had the worst brain fog" and "ended up being on the couch just trying to get through the day."
RELATED: Exercise and 'Chemo Brain': Can Physical Activity Save Breast Cancer Patients from Brain Fog During Chemotherapy?
He said his simply had no energy and was very forgetful.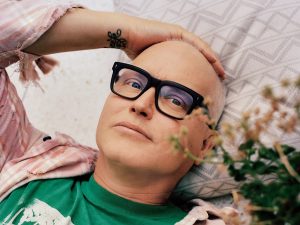 "We were sitting at dinner with friends that we've known for years, and I'm looking at the husband across the table, thinking to myself, 'I can't remember your first name'" he recalled.
"And it was like that all the time. I still feel it once every couple days – I'll forget a word – but it's much better."
Hoppus says ever since he initially declared cancer-free in September of 2021, there's been an "outpouring of support from strangers" who have given him strength and hope.
"I feel like I have a second shot at life."
Understanding Lymphoma
Lymphoma, in general, is a cancer of the immune system that begins in the white blood cells called lymphocytes.
There are more than 40 different types of the disease, but Hodgkin lymphoma  and non-Hodgkin lymphoma are the main two sub-categories, with the latter being more common.
According to the Leukemia & Lymphoma Society, about 90,390 people in the United States are expected to be diagnosed with lymphoma in 2021 – 8,830 cases of Hodgkin lymphoma and 81,560 cases of Non-Hodgkin lymphoma.
The type of white blood cells linked to the disease determines the distinction.
If doctors are unable to detect the Reed-Sternberg cell – a giant cell derived from B lymphocytes – then it is categorized as Non-Hodgkin lymphoma. Hodgkin lymphoma is most often seen in younger adults.
Dr. Chong further explained that lymphoma symptoms can be difficult to detect.
RELATED: Preventing Hair Loss During Chemotherapy: Scalp-Cooling Devices
"The symptoms of lymphoma, especially if you have a low-grade lymphoma, often are no symptoms," Dr. Chong explained. "People say, but I feel completely fine, and that's very normal."
What Kind of Lymphoma Do You Have? Why Your Type Matters
Side Effects of Chemotherapy on the Brain
Chemotherapy is a possible treatment option for many cancers, including non-Hodgkin lymphoma.
Experts tell SurvivorNet there are often side effects, but they say total amnesia or memory loss for any significant amount of time is unlikely.
Still, "chemo brain" – a sense of mental cloudiness experienced by patients being treated with chemotherapy – is a fairly common side effect of the treatments.
Patients who experience "chemo brain" can have trouble finishing tasks, completing sentences, remembering things, focusing and even performing other kinds of cognitive activities that would not have been difficult prior to treatment.
"The dysfunction is usually temporary and clears within a year of starting treatment," Dr. Douglas Blarney, a medical oncologist at Stanford Health Care, previously told SurvivorNet. "For some people, its effects are more long lasting, and may never completely resolve."
Unfortunately, there aren't really any medication or diet interventions that have been shown to help, according to Dr. Blarney, but there is one thing survivors can do to try to help the condition.
"The most robust finding thus far is that regular exercise can help with prevention and with recovery," he said. "Exercise, of both the body and the brain, are the best proven treatments."
RELATED: Exercise and 'Chemo Brain': Can Physical Activity Save Breast Cancer Patients from Brain Fog During Chemotherapy?
Certain Chemotherapy Treatments Are Linked to Higher Risk of Heart Problems
Other Side Effects of Chemotherapy
Chemotherapy treatments affect everyone differently. But there are some  common side effects that can affect patients during and after treatments.
"From chemotherapy, high doses of anthracyclines, in particular, have been the prototype of cancer therapies that lead to cardiotoxicity," Dr. Emanuel Finet, a transplant cardiologist at Cleveland Clinic Cancer Center, previously told SurvivorNet.
Cancer patients can often be at a high-risk for heart problems, whether they be older or younger, or medically obese, smokers or dealing with pre-existing cardiovascular disease.
Chemotherapy drugs can also damage all three types of blood-forming cells: red blood cells, platelets and white blood cells.
This in turn can lead to various issues like anemia (low red blood cell count), thrombocytopenia (low blood platelet account) or neutropenia (low number of a type of white blood cell called neutrophil).
"One of the things that's changed in the coronavirus days is that now we're giving everybody this drug called Neupogen or Neulasta, and it helps boost your white [blood cell] count," Dr. Ulm said as a way to help your body fight infections.
Related: Did You Know California Governor Jerry Brown Endured Three Cancer Diagnoses and Two Courses of Radiation During His Final Tenure in Office?
Fatigue is another possible symptom that has the potential to worsen as chemo cycles add up. If chemotherapy left you with anemia, you can try treating that ease exhaustion. But rest breaks, frequent exercise, and getting plenty of sleep at night can also help fight fatigue.
In an earlier interview, Dr. Zachary Reese, a Medical Oncologist at Intermountain Healthcare, spoke with SurvivorNet about what chemotherapy-related fatigue is like.
"What I typically tell patients is that [chemotherapy] is a bit of a roller coaster ride," he said. "You're going to feel tired about a week into treatment, and that's when you'll hit bottom. And then you'll start to come back up again just in time to do it all over… You'll feel a little more tired the second time around than you did the first, and it will last a day longer."
Nerve damage, or neuropathy, can leave a patient with symptoms like 'pins-and-needles,' pain, burning, numbness, weakness or trouble detecting heat and cold.
These symptoms might worsen as your chemo treatments progress, but there are ways to combat them.
Steroids, numbing patches or cream, antidepressant medicine, anti-seizure medication physical therapy, relaxation techniques, acupuncture or dosage adjustments may help with these symptoms.
And while the symptoms of nerve damage might go away once you finish treatment, there can be lasting effects that require ongoing treatments.
It's important to note that we've come a long with the management of these side effects, but they can still have a great impact on people throughout their cancer journeys.
Learn more about SurvivorNet's rigorous medical review process.
---