Not Letting MS Hold You Back
At the 2023 SAG Awards, Christina Applegate walked the red carpet with a cane that read "FU MS," sending a clear message to the disease that she's not letting hold her back.
The actress was diagnosed with multiple sclerosis (MS) in 2021. She has said this SAG Awards would likely be her last as an actress because of the disease.
Multiple sclerosis is a potentially disabling disease of the brain and spinal cord (central nervous system), according to the Mayo Clinic. Symptoms may include fatigue, numbness or weakness in one or more limbs, electric-shock sensations that occur with certain neck movements, tremor, and lack of coordination or unsteady gait.
As another source of inspiration and encouragement for MS survivors, SurvivorNetTV has new inspiring films that highlight other people living with MS and who aren't letting the disease slow them down.
Christina Applegate isn't one to shy away from attention — especially during her battle with multiple sclerosis. At Sunday's Screen Actors Guild Awards, likely her last as an actress, she sent a clear message to the disease that she's not letting hold her back.
The 51-year-old actress attended the award show as a nominee for outstanding performance by a female actor in a comedy series for her starring role in Netflix's acclaimed series "Dead To Me." But, just as she has before, she used the media moment to spread awareness for the disease that she was diagnosed with in 2021.
Read More
As she graced the red carpet with her daughter, Sadie Grace LeNoble, 12, Applegate walked with a cane for assistance that was covered with stickers reading "FU MS."
RELATED: Christina Applegate, 51, Says 'Dead To Me' Co-Star Linda Cardellini, 47, Took Care Of Her After Her MS Diagnosis: 'She Literally Pulled Me Under Her Wing And Protected Me'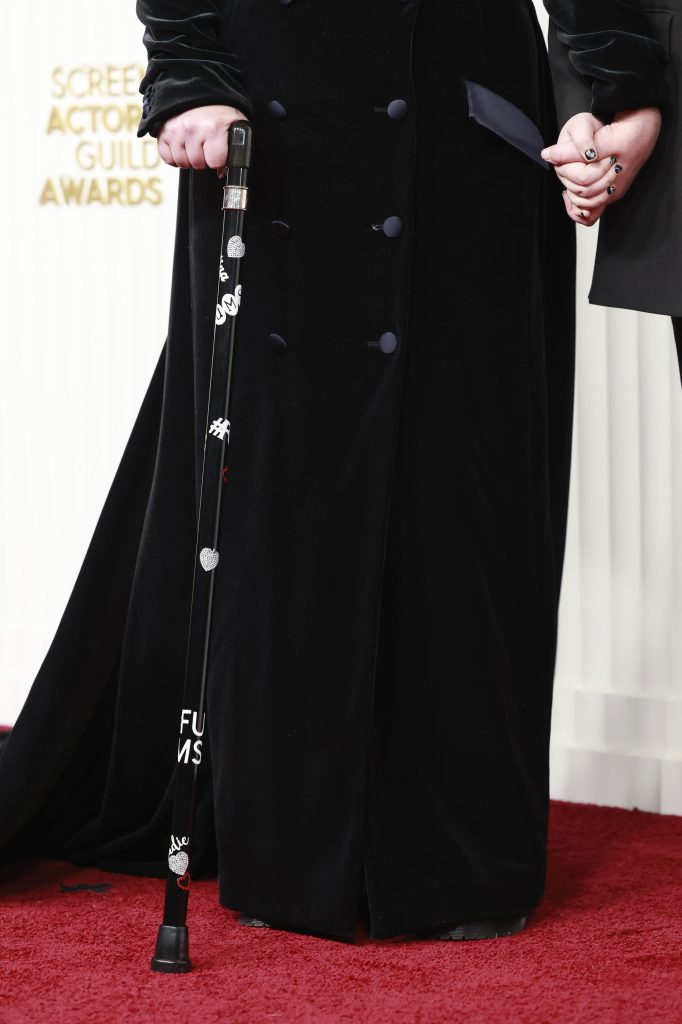 Applegate was in the middle of filming the last season of "Dead To Me" when she received her diagnosis of multiple sclerosis, which is an autoimmune disease that affects the central nervous system. In a previous
conversation with The New York Times
, Applegate said finishing the series after the life-altering news was the hardest thing she'd ever done given her emotional struggles and physical limitations. But her hard work paid off with her SAG Award nomination (Actress Jean Smart won the category.).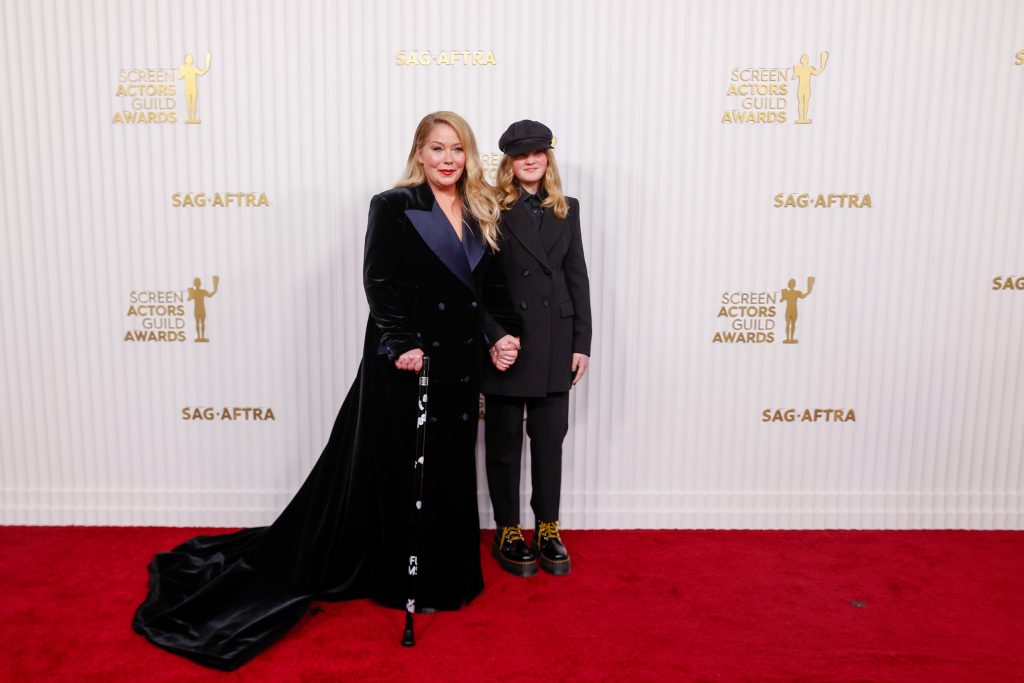 "It's my last awards show as an actor probably, so it's kind of a big deal," she said in a recent interview with the Los Angeles Times. "Right now, I couldn't imagine getting up at 5 a.m. and spending 12 to 14 hours on a set; I don't have that in me at this moment."
Christina Applegate's MS Journey
Christina Applegate, who is also a breast cancer survivor, began experiencing symptoms of the condition long before she had answers. In fact, she said she felt off balance during a dance sequence that occurred way back in season one of her dark comedy. She later noticed her aptitude for tennis start to fail.
"I wish I had paid attention," she told The New York Times. "But who was I to know?"
It took several years of worsening tingling and numbness in her extremities before her diagnosis arrived while on set. This life-altering realization wouldn't stop Applegate from finishing her portrayal of Jen Harding, but she did need a break. Production of the final season ceased for about five months as she began treatment.
You Just Have To Let It Out: Survivor Evelyn Reyes-Beato On Healing Emotionally After A Life-Changing Diagnosis
"There was the sense of, 'Well, let's get her some medicine so she can get better,'" Applegate said. "And there is no better. But it was good for me. I needed to process my loss of my life, my loss of that part of me. So I needed that time."
Applegate admits she'll never fully "accept" her condition, but she did learn how to work with it. And she's previously talked about how the show was a cathartic outlet and safe space.
"I had an obligation to Liz [Feldman] and to Linda [Cardellini], to our story," she said of the show's writer and co-star respectively. "The powers that be were like, 'Let's just stop. We don't need to finish it. Let's put a few episodes together.' I said, 'No. We're going to do it, but we're going to do it on my terms.'"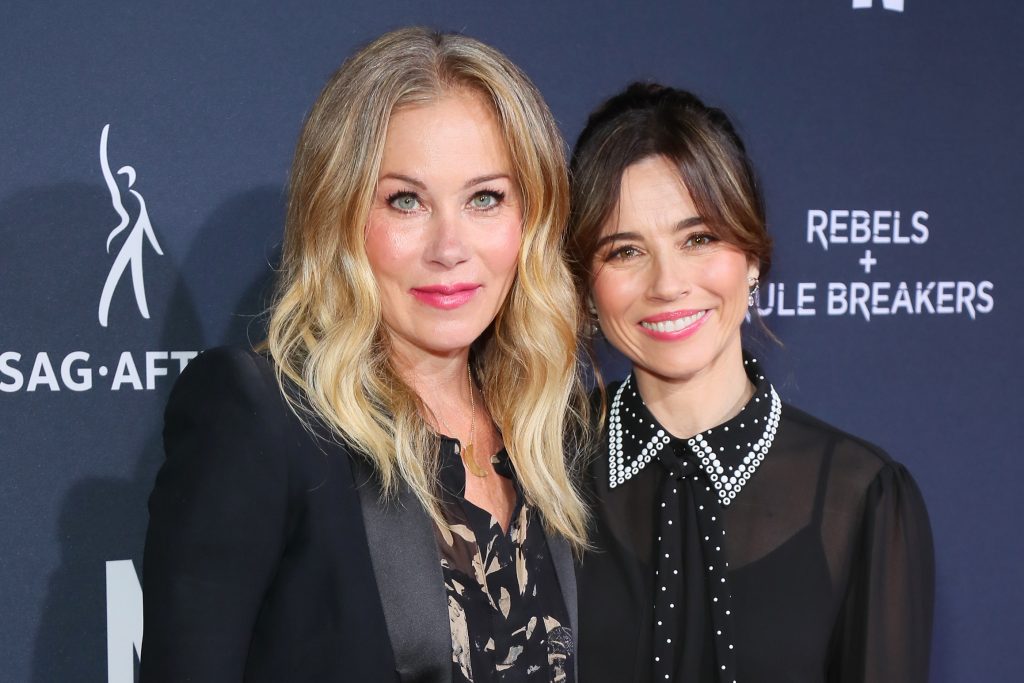 Applegate wasn't able to work as hard or as long or in heat without her body giving out, but she found pride in her self-sufficiency. And with the help of some adjustments in blocking, she powered through. Nicole Vassell, a writer for the The Independent, says other programs should learn from the way Applegate's "physical changes [were] seamlessly incorporated into the show."
"This is the first time anyone's going to see me the way I am," Applegate said. "I put on 40 pounds; I can't walk without a cane. I want people to know that I am very aware of all of that."
Understanding Multiple Sclerosis
Multiple sclerosis is a potentially disabling disease of the brain and spinal cord (central nervous system), according to the Mayo Clinic.
It causes the immune system to attack the protective sheath (myelin) that covers nerve fibers, which leads to communication problems between your brain and the rest of your body. Eventually, MS can cause permanent damage or deterioration of the nerves.
Signs and symptoms of MS can vary widely but may include:
Numbness or weakness in one or more limbs that typically occurs on one side of your body at a time, or your legs and trunk
Electric-shock sensations that occur with certain neck movements, especially bending the neck forward (Lhermitte sign)
Tremor, lack of coordination or unsteady gait
Partial or complete loss of vision, usually in one eye at a time, often with pain during eye movement
Prolonged double vision
Blurry vision
Slurred speech
Fatigue
Dizziness
Tingling or pain in parts of your body
Problems with sexual, bowel and bladder function
Most people with MS go through periods of new symptoms or relapses followed by quiet periods of disease remission. These relapses can develop over days or weeks, and the remission periods can last for months or even years.
More Inspiration for MS Survivors
Christina Applegate has been shined an important light on life with MS — helping out survivors feel seen. Many people have posted on social media sharing their own stories of MS, thanking Applegate for her candor and vulnerability. As another source of inspiration and encouragement, here is SurvivorNetTV's programming on MS. It is our hope that these films inspire the nearly 1 million people living with MS in the United States.
RELATED: Check Out SurvivorNetTV's Multiple Sclerosis Programming
SurvivorNetTV's film "Defying All Odds," for example, follows the story of Dr. Terry Wahls – a world-renowned doctor and scientist determined to continue practicing medicine even after being diagnosed with a severe form of multiple sclerosis (MS).
SurvivorNetTV Presents: Defying All Odds — A World-Renowned Doctor's Incredible Journey Through MS
Another film, "Don't Stop Me Now," takes a look at MS survivor Louise Carr's inspiring battle against the disease that causes her daily pain, fatigue, memory loss and restricted movement.
"I might have MS, but it doesn't have me," she tells SurvivorNet.
'Don't Stop Me Now' Is Inspiration for Anybody With Multiple Sclerosis
To help with her symptoms, Carr tried switching to a vegan diet, taking on yoga and Zumba classes as well as riding a recumbent bike.
"To my absolute astonishment within a week of becoming vegan my energy levels absolutely shot up," she said. "It's changed my life."
Learn more about SurvivorNet's rigorous medical review process.