A Show Jumper Shifts Directions as He Battles Brain Cancer
Three-time Olympic medalist Eric Lamaze has battled brain cancer since 2017, but he announced on Thursday that he is retiring from show jumping competition. Even still, he's found a new fulfilling way to be a part of the sport with his role as technical advisor of jumping for Equestrian Canada.
There are many different types of brain cancers and signs of the disease can vary. But symptoms of brain tumors are often caused by increased pressure in the skull and can include headache, nausea, vomiting, blurred vision, balance problems, personality or behavior changes, drowsiness or even coma and seizures.
A cancer diagnosis will change your life. But as we've seen in the case of Lamaze, you can still thrive even when life doesn't go as planned.
Life changes after a cancer diagnosis. And while Eric Lamaze is adjusting to life with brain cancer, he's still finding ways to do things he's passionate about.
Lamaze, a 53-year-old three-time Olympic medalist, has been a staple for Canadian show jumping for quite a while. He initially joined the national team in 1992, but two positive drug tests delayed his Olympic debut until Beijing 2008. There, he won individual gold and team silver. Then, at the 2016 Olympic Games in Rio de Janeiro, he won individual bronze. Practical Horseman Magazine calls him "Canada's most decorated equestrian athlete."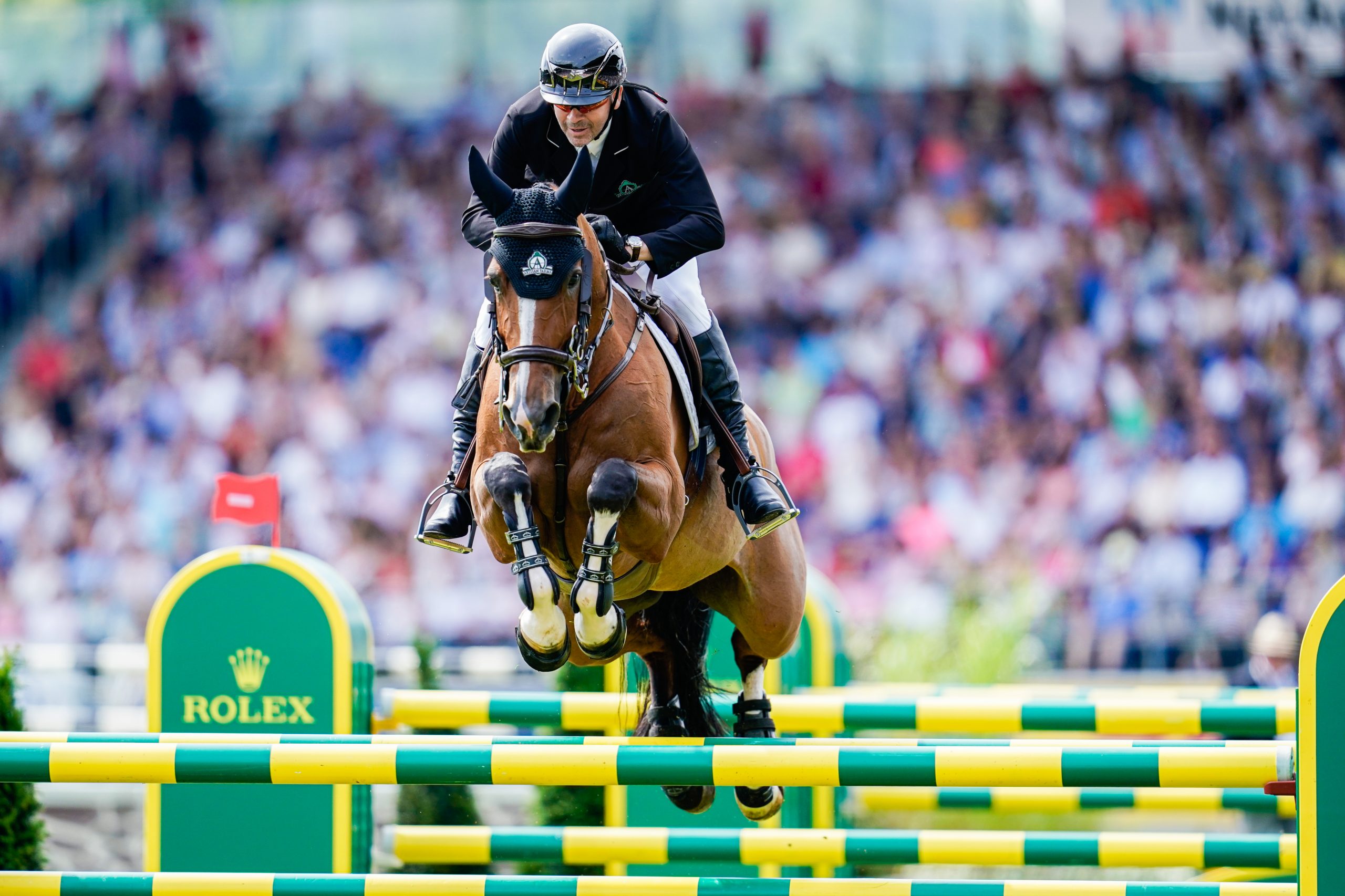 Read More
To say that show jumping has been a huge part of Lamaze's life is quite an understatement. But his world was turned upside down when he was diagnosed with brain cancer in 2017.
"It took me a very long time to be able to discuss it with the people around me," Lamaze told RMC Sport's Kamel Boudra in French. "The last thing I wanted was to scare them, I did not know how to tell them. I retired a little socially, from a lot of people already, I was going to bed very early."
From then on, he had to reevaluate what the rest of his career would look like. He continued competing until September 2021, but he just announced his official retirement as an athlete on Thursday.
"It's with great sadness that I am making this decision," Lamaze said. "There's a part of me that feels really upset that I've been battling cancer with the hope of riding again and I'm crushed that that won't be the case."
He goes on to say that he's always wanted to "retire under [his] own terms when the time is right," but that time has, admittedly, come sooner than expected.
"The situation with my health has forced me to make the decision earlier than I had envisioned, but the silver lining is that I still have the will to win and can contribute to the Canadian team and the sport I love through my new role as chef d'equipe."
In Lamaze's new leadership role, which he has already started, he'll be able to continue making a difference for the Canadian team and within the sport he loves.
"Now I have to turn my focus to giving my knowledge back to my fellow riders," Lamaze said. "I've always loved teaching and preparing horses and riders for major championships. I will give these riders every opportunity I ever had myself and I have great ideas for the future. I want every Canadian rider to know that their dreams are my dreams, too. When they win, I win."
Though the new position has been "much more time consuming" than he anticipated, Lamaze is happy to give it everything he's got. And his riders have only made him more confident that he's made the right decision by retiring from competition.
"The excitement among the Canadian riders and the support they've given me has helped to make my decision much easier," he said. "What I'm giving up personally by not competing I'm gaining ten times over by leading other Canadians on their journey to success. Yes, it's bittersweet, but knowing that I can still make huge contributions to the sport in another role leaves me at peace with my decision."
Understanding Brain Cancer
According to the American Society of Clinical Oncology (ASCO), brain tumors account for 85 to 90 percent of all primary central nervous system (CNS) tumors. The central nervous system consists of the brain and spinal cord and acts as the main "processing center" for the entirety of the nervous system, according to the American Cancer Society. Normal function of the brain and spinal cord can become difficult if there's a tumor present that puts pressure on or spreads into nearby normal tissue.
Can Cell Phones & 5G Cause Cancer? A Leading Brain Cancer Doctor Says "No"
There are many different types of brain cancer. Some types of brain and spinal cord tumors are more likely to spread into nearby parts of the brain or spinal cord than others. Slow-growing tumors may be considered benign, but even these tumors can cause serious problems.
Brain Tumor Symptoms
Symptoms of brain tumors are often caused by increased pressure in the skull. This pressure can be caused by tumor growth, swelling in the brain or blockage of cerebrospinal fluid (CSF).
It is important to note that brain tumor symptoms are not exclusive to brain tumors, but you should still contact your doctor if anything seems off. General symptoms may include the following:
Headache
Nausea
Vomiting
Blurred vision
Balance problems
Personality or behavior changes
Seizures
Drowsiness or even coma
Embracing the Changes that Come during a Cancer Journey
A cancer diagnosis will change your life. But as we've seen in the case of Lamaze, you can still thrive even when life doesn't go as planned.
Take Marecya Burton, for example. She was diagnosed with ovarian cancer at just 20 years old. Burton was a college student-athlete looking forward to graduation at the time, but all that had to change when she was forced to move home to start treatment.
Former College Cheerleader Reinvents Herself After Surviving Ovarian Cancer
"That was definitely challenging for me," Burton said in a previous interview with SurvivorNet. "I was looking forward to graduating."
She also had planned on pursuing a law degree after graduation – another dream she had to give up.
"I really had to, in a sense, put my life on hold," she said. "Sometimes I look at where I am, and I can't help but wonder, would I be further had I not had my diagnosis?"
But instead of law school, Burton found a new passion: teaching. She became a high school teacher in Baltimore, Maryland, and she's since made peace with her new direction in life.
"I wouldn't change my career for the world," she says. "It's so fulfilling."
Learn more about SurvivorNet's rigorous medical review process.