Lessons From Breast Cancer
Breast cancer survivor Fernanda Savino says that along with many emotions, cancer brought her clarity.
Once a workaholic lawyer, the diagnosis allowed her to slow down and take note of what was really important in her life.
She began exercising more, which has been shown to help with recovery from breast cancer treatment.
Cancer survivors often tell us that while the diagnosis can come with a slew of emotions — like
fear, sadness, and even anger
— it can also bring clarity. That's how it was for
breast cancer
survivor Fernanda Savino, who tells
SurvivorNet
 that being faced with cancer allowed her to slow down and realize that there's more to life than working and trying to get ahead.
"I'm a lawyer, and I used to be such a workaholic," Fernanda says. "I would work for long hours, and I would never make room for doctor appointments or anything like that."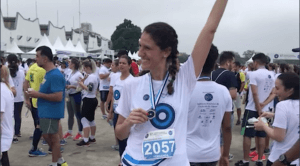 Read More
One thing that she learned after being diagnosed at age 38, she says, is to be more respectful of her body — so she slowed her life down and started treating it a little better.
"I started to take care of my health," she says, "And be more respectful to my body, to me. I started to exercise more."
Like so many survivors, Fernanda says the importance of support from loved ones was also put into perspective when she was diagnosed. She explains that she started training for runs with her sisters, and is so thankful she had family and friends to turn to during the tough times.
"I had all the support … my family, my friends, even the ones that weren't so close, they always were present," she said.
"I don't know how I would have gotten through all of this without them," she added
RELATED VIDEO: Can Exercise Help With Breast Cancer Recovery?
Medical oncologist Dr. Elizabeth Comen explains that exercise can reduce your breast cancer risk & can help during treatment if you already have cancer.
Learn more about SurvivorNet's rigorous medical review process.