Carla Suárez Navarro Withdrew From the U.S. Open to Get Treatment
Spanish tennis star Carla Suárez Navarro was diagnosed with Hodgkin lymphoma in the summer of 2020, after mistaking her symptoms for COVID-19.
She withdrew from the U.S. Open and underwent chemotherapy.
On January 25th, Suárez Navarro announced that she'd completed her final chemo treatment, and was looking ahead to the Tokyo Olympics.
On February 2nd, 32-year-old professional tennis player, Carla Suárez Navarro, 
revealed
that she'd finished her last chemotherapy session for Hodgkin lymphoma last month. When the once sixth-ranked Spanish pro first came down with symptoms last summer, she thought she'd caught
COVID-19
.
"I kept feeling tired whilst I was training and I went on to feel more and more nauseous over consecutive days," she told the European sports network, Eurosport. "So I had a PCR test to check if I had COVID-19, which came back negative."
Subtle Symptoms
Read More
It was only when Suárez Navarro continued to have symptoms that her doctors discussed the possibility of lymphoma. "I was having tests and biopsies done all over my body until they finally gave me the bad news," she said.
Finding lymphoma early: Do you know the symptoms and risks?
On September 1, Suárez Navarro took to social media to share the news of her diagnosis. "Hi everyone, just wanted to let you know that a few days ago I have been diagnosed with lymphoma. It's a Hodgkin lymphoma," she wrote on her Instagram page. "I'm fine and calm at the moment, willing to face whatever comes. See you soon!"
View this post on Instagram
The symptoms of Hodgkin lymphoma — swollen lymph nodes, fatigue, nausea, and belly pain —  are just vague enough to be mistaken for more common illnesses, including COVID-19. Often this cancer isn't picked up until someone has an imaging test for an unrelated condition.
Related: 7 Sneaky Symptoms of Hodgkin Lymphoma: Doctor Told One Teen Her Itchy Rash – Later Diagnosed at Stage 4 – Was 'Nothing to Worry About.' 
"We don't have a good test to detect lymphoma across the board early," Dr. Elise Chong, medical oncologist at Penn Medicine, told SurvivorNet in a previous interview. The subtle symptoms, plus the lack of a screening test, are why many people with lymphoma are diagnosed at a late stage.
"Courage and Hope"
When faced with a cancer diagnosis, "I didn't even ask questions about what the disease was, why I had it, or what was going on," Suárez Navarro told Eurosport. "I just wanted to know what I needed to do to recover."
She withdrew from the U.S. Open and focused her efforts on getting well. On September 21, she posted a photo of herself receiving chemotherapy, which is the main treatment for most people with Hodgkin lymphoma.
"Ready to start the months of treatment," she wrote. "With courage and hope for what is to come."
Related: Soap Star Linsey Godfrey, 32, Details Hodgkin Lymphoma Battle at 18 & Encourages Others: 'We Celebrate the Warriors Who Continue Their Fight!'
Chemotherapy can cause some pretty rough side effects, including hair loss, nausea, and mouth sores. But throughout her treatment, Suárez Navarro remained positive and optimistic. "I didn't know how my body would react to a new and unprecedented situation like this one, so there have been days which I have found physically very hard but mentally, I've handled it very well," she told Eurosport.
She posted a video of herself lifting weights and a photo riding an exercise bike. Exercise is an important component to cancer treatment that can help patients feel much better through the rigors of chemotherapy.
View this post on Instagram
"The more physically fit you are going through your cancer treatment, the less side effects you'll have and the faster you'll get back to your normal quality of life," Dr. Sairah Ahmed, associate professor in the Division of Cancer Medicine at the University of Texas MD Anderson Cancer Center told SurvivorNet in an earlier interview.
What to know about diet and exercise if you have cancer 
Looking Forward
On January 25, Suárez Navarro completed her last chemotherapy treatment. She says she still has some radiation therapy sessions ahead, but she is now looking forward to the future.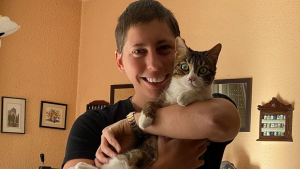 Photo credit: https://www.instagram.com/p/CKJJtZSFiuY/
Her plan is to end her career on a high note by playing in the Tokyo Olympics next summer. "Before my diagnosis, I made the decision to retire from professional tennis in 2020, but it's important for me to say goodbye on a tennis court. I wouldn't want people to remember me saying goodbye in hospital. So in my mind, if it all goes well, I am hoping I can say goodbye the way I want to," she said.
Learn more about SurvivorNet's rigorous medical review process.