A Post-Cancer and Break-Up Bod
TODAY's "Top Shelf" host Sandra Lee, 55, just made her first red carpet appearance since breaking up with New York governor Andrew Cuomo, whom she dated for 14 years, and made headlines with her healthy, radiant appearance.
The TV chef said she ditched the alcohol and red meat to lose the 25 lbs, and also made it a goal to load up on veggies.
Experts say that the stronger and fitter the patient is going into cancer treatment, the stronger and fitter you're gonna come out on the back end.
Survivor Summer
!

TODAY's "Top Shelf" host Sandra Lee, 55, just made her first red carpet appearance since breaking up with controversial New York Governor Andrew Cuomo, whom she dated for 14 years, and made headlines with her healthy, radiant appearance.
Read More
Related: TV Chef and Breast Cancer Survivor Sandra Lee Says She is Shedding Some Weight: 'Being Healthy is Number One'
The chef, who is a breast cancer survivor and recently shed 25 lbs, told PEOPLE that she is "having the best summer of my life" while at the LUISAVIAROMA and UNICEF Gala in Capri, Italy, on Saturday.
Related: So Many TV News Anchors Diagnosed With Breast Cancer — The Enormous Outpouring of Support & Impact on Awareness
Lee wore a Matičevski gown, blingy Miu Miu stilettos, an Amanda Pearl clutch, and a vintage 30-carat ruby cocktail ring. The activist is currently celebrating her 25th anniversary as a founding board member of UNICEF Los Angeles chapter. UNICEF is the United Nations Children's Emergency Fund, a United Nations agency that provides humanitarian and developmental aid to children worldwide.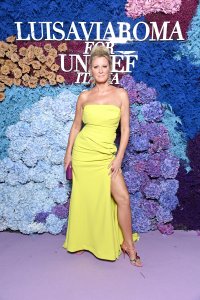 Lee's Breast Cancer Diagnosis and Mastectomy
When Lee was diagnosed with breast cancer in 2015, Cuomo, was the first person she called, along with her mother. Luckily it was early stage DCIS (ductal carcinoma in situ), which is noninvasive, which means it hasn't spread outside the milk duct of the breast.
Related: Check Your Breasts Today, and Once Every Month; Survivor Giuliana Rancic Stresses Its Importance
The TV personality chose to have a bilateral mastectomy to remove the breast tissue in both breasts. Lee's grandmother had stomach cancer, and she witnessed her recurrence and didn't want to face the same fate or be plagued with worry. Plus, with the mastectomy she didn't have to do radiation or chemotherapy. (It is important to note that the cookbook author also tested negative for BRCA1 and BRCA2 genetic mutations that increase your risk of breast cancer.)
"The doctor who did the biopsy said I had medium-aggressive DCIS. 'The concern with yours is that it's in 3 different places. It's at 10 o'clock, it's at noon, and it's at 2, and none of them are connected, so we're going to keep an eye on you, but you're going to have to make a decision as to what we should do,'" Lee said. So she chose to remove her breasts.
Related: 'GMA' Anchor Amy Robach Celebrates Positive Scans as a 'Humbling Reset': 'All We Have is Right Now'
She has also explained the emotional "betrayal" of her own body.
"It takes away a form of innocence that you didn't even know you had," she told Good Morning America. "That innocence, when it's gone, is really startling, and that is what still brings the tears after the fact. For the most part I'm really resilient, but there are times even now that I get really overwhelmed with what happened."
Lee had complications with her surgery and unfortunately had an infection. She finally finished her breast reconstruction in 2020 and has been able to get back to health. Lee also survived a bout of COVID, which she announced in March.
"Wanted to meet my goal weight before I turned 55 which is tomorrow but I'm pretty happy with where I am-I feel great!!!" Lee recently shared with fans on her Instagram. "Healthy thoughtful weight loss goals are not easy but worth it. Sending you all love today and every single day."
View this post on Instagram
In January, Lee said she was making her health a priority after a "not-so-great 2020," along with the rest of the world.
"Personally over the last year I gained 30 pounds and weighed in at 170 two days before Christmas," she wrote. "None of my clothes fit and worse I feel terrible."
The TV personality ditched the alcohol and red meat, also making it a goal to load up on veggies.
Cancer and Diet
One common question that doctors get consistently from patients is the role of diet and exercise in cancer risk and prevention.
We spoke to Dr. Robert Wright, chair of the Department of Environmental Medicine and Public Health at Mount Sinai, about diet and cancer risk.
When it comes to dietary advice that applies to everyone, Dr. Wright's was pretty straightforward — eat more vegetables and stay active.
"What we haven't figured out for cancer is, what is the combination of risk factors that end up leading to a particular person getting cancer," Dr. Wright said. "The goal [in the future] is to identify those people who are more susceptible to cancer and to give them counseling and foods that they can eat and other habits like exercise that can reduce their risk. Right now, we're not really good at predicting that."
While some cancers do develop from inherited genes, most don't, so researchers are working on ways to understand how lifestyle factors like diet, exercise, and chemical exposures put people at risk. With that in mind, Dr. Wright stressed that eating well and staying active are still important — for all of us.
"In the end, prevention is actually kind of simple," he said. "It's what we always know. It's exercise and eat well. That means eating more vegetables and less meats, particularly red meats."
Related: What to Know About Diet and Exercise if You Have Cancer
The Role of Diet and Exercise in Cancer Risk
Major Reduction in Cancer Risk by Following Old Standbys Diet and Exercise
Learn more about SurvivorNet's rigorous medical review process.