A Heartbreaking Story of a Family Faced with Ovarian Cancer
Tennis legend Chris Evert recently revealed she is undergoing treatment for stage 1C ovarian cancer.
Less than two years ago, Evert was delivering the eulogy at her younger sister's funeral after she, too, was faced with ovarian cancer. Jeanne Evert Dubin bravely fought a two-and-a-half-year battle with the disease.
Evert's diagnosis came after she underwent what she thought would be a preventative hysterectomy to reduce her ovarian cancer risk. She had the surgery because further research revealed it was Dubin's BRCA1 genetic mutation that caused her cancer, and Evert found out that she also had the genetic mutation.
Ovarian cancer is called the cancer that whispers because its symptoms can be very vague. People should remain vigilant and aware of any new or unusual symptoms and report to their physicians for appropriate evaluation.
Athletic ability can run in the family, but, unfortunately, we know that cancer can too. And tennis legend Chris Evert, 67, knows this all too well as she faces her own battle with ovarian cancer – the same disease that took her sister's life in February 2020 at the age of 62.
Jeanne Evert Dubin, Evert's younger sister, was also a former professional tennis player. The two sisters, along with their three other siblings, grew up learning the sport together from their father – the legendary teaching professional Jimmy Evert. Dubin and her sister went on to become world-class tennis players, but Evert admired her sister for much more than just her skill on the court.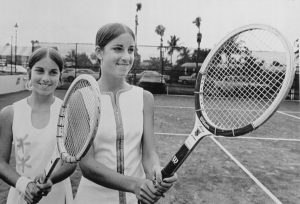 Read More
"Jeanne was selfless, caring and kind," 
Evert said for her sister's obituary
. "As a sister, I admired her stellar character and unwavering devotion to her loved ones. She fought a brave battle, and now Heaven is lucky to have her."
Dubin bravely endured a two-and-half-year battle with late-stage ovarian cancer before she died. All the while, ESPN analyst Evert watched as her sister went through grueling treatment.
"The last 2 1/2 years in Jeanne's life have been, for lack of a better word, brutal," Evert wrote for the eulogy she delivered at her sister's funeral. "She dealt with numerous chemo's, experimental treatments, surgeries, procedures, portals, needles and insidious pain. She fought and fought till the bitter end. For those of us who were on this journey with her, it was heartbreaking to watch.
"The skills and strengths she needed to fight for her life were the same qualities that made her such a fierce competitor on the tennis court. She was gritty and persistent. She never missed a ball, she never gave an inch and that was her approach to cancer."
Her speech was poignant and sincere. But at the time, Evert did not know she'd need to draw strength from her sister's battle for a devastating diagnosis of her own just around the corner.
Evert recently shared she was diagnosed with stage 1C ovarian cancer in a conversation with ESPN. And though the word 'cancer' is never something you want to hear, she is thankful it arrived when it did after a change in the interpretation of Dubin's genetic report lead to the early diagnosis of her own.
Later research revealed it was Dubin's BRCA1 genetic mutation that caused her cancer. So, when the phone call came in the last week of October 2021 to deliver the news of this revelation, Evert knew she wanted to get her blood tested.
Genetic Testing Can Offer Valuable Information about Ovarian Cancer Risk
The test showed that she, too, had "a pathogenic variant of the BRCA1 gene," and after consulting her doctor about preventative options, she decided to have a hysterectomy in early December.
"We thought we were being proactive," Evert said. "Since Jeanne had ovarian cancer, that was the priority. A breast decision is down the road."
But a proactive measure turned out to be a necessary step in her own cancer journey after pathology following surgery revealed malignant cells and a tumor originating in her left fallopian tube.
"I heard all the terms for two years with Jeanne," Evert explained. "It was like déjà vu going back in time. Back to the space that was horrific."
She had another surgery on Dec. 13, but then came the waiting game.
"The longest three days of my life. Stage 1 or stage 3," she said. "If I'm clear of cancer, I'm a different statistic. I was in a daze. I just couldn't believe it. I had been working out, doing CrossFit, playing tennis. I didn't feel anything different."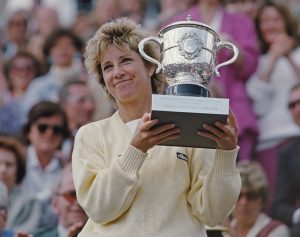 Thankfully, doctors caught her cancer when they did because further pathology results came back negative meaning that her cancer had not spread and all of it had been removed during the hysterectomy. Now, she faces six rounds of chemotherapy.
"As someone who has always had control over my life, I have no idea how I'll respond to chemotherapy," Evert said. "I have to give in to something higher… But, I have comfort in knowing the chemotherapy is to ensure that cancer does not come back."
Evert just began her chemotherapy treatments last week, but she is – understandably so – nervous for the journey ahead. Still, she knows she has someone to look to for the will to give it everything she has.
"When I go into chemo, she is my inspiration," Evert said of her sister. "I'll be thinking of her. And she'll get me through it."
Understanding Ovarian Cancer
Ovarian cancer is when the ovaries – which produce the sex hormone, estrogen, as well as eggs – become cancerous. Women have two ovaries, one on either side of the uterus.
The fallopian tube, which brings the egg from the ovary to the uterus for fertilization, is actually where many ovarian cancers begin. First, a few cancerous cells develop on the fallopian tubes, then these cells stick to the ovaries as the fallopian tubes brush over the ovary. From there, the cancerous cells grow to form a tumor.
Your risk for ovarian cancer may be increased if you have gone through menopause, have a gene mutation like BRCA1 or BRCA2, are obese or overweight, had your first pregnancy after age 35 or never carried a pregnancy to full-term, have a family history of cancer or used hormone replacement therapy. You should talk with your doctor about your potential risk for the disease.
Symptoms of Ovarian Cancer
Ovarian cancer is known as the cancer that whispers because symptoms are vague and sometimes similar to regular menstrual cycle fluctuations. Dr. Beth Karlan, a gynecologic oncologist with UCLA Health, says that ovarian cancer can be difficult to recognize with its subtle symptoms.
Ovarian Cancer: The Cancer That Whispers
"Ovarian cancer does not have any specific symptoms," Karlan said in an earlier interview with SurvivorNet. "It's often referred to as the cancer that whispers in that it has symptoms that are really very vague… and nothing that may bring your attention directly to the ovaries."
But Dr. Karlan still wants women to keep an eye out for a variety of possible symptoms.
"The symptoms include things like feeling full earlier than you usually would when your appetite is strong… Feeling bloated," she added. "Some changes in your bowel habits. Some pain in the pelvis. These are symptoms women may have every month. These are not very specific. But what we've found from multiple studies, it's this constellation of symptoms."
RELATED: Annual Ovarian Cancer Screenings Do Not Save Lives, Study Suggests; Women Should Listen for Signs of the 'Cancer that Whispers'
Dr. Stephanie Wethington, director of the gynecologic oncology survivorship program at Johns Hopkins Medicine, previously told SurvivorNet that prevention for ovarian cancer is an important area of focus.
"We must remember that prevention is key and advocate for all women to discuss their family history and individual risk factors with their doctors and ask whether there are risk-reducing options available to them," Dr. Wethington wrote.
Our advice to readers: See your doctor if you feel like something is off. Given that ovarian cancer can have no symptoms or a myriad of symptoms that you might easily brush off as nothing, it's important to always seek medical attention when your gut is telling you something might be wrong. That doesn't mean we should assume the worst every time we feel bloated or have a change in appetite, but it does mean that we should always try to listen to the signs our body is giving us.
Learn more about SurvivorNet's rigorous medical review process.