Comedian and breast cancer survivor Tig Notaro has had more than her share of life-threatening health challenges, yet the hilarious — and incredibly brave — performer, who seems to be doing better than ever, is about to head out on a national tour for her latest show.
Tig Notaro's Cancer Journey
Diagnosed with Stage 2 breast cancer in 2012, Notaro, then 41, says she found herself in disbelief. "I really thought because my breasts were so small," she wrote in a 2016 essay published on LitHub, "[that] my likelihood of getting breast cancer was the same as a man's: very slim."
Read More
RELATED: Hopeful News for Breast Cancer: A New Drug Combination to Extend Survival Time
(Notaro goes for the humor, but the facts are this: Regardless of breast size, it's estimated that more than 250,000 women are diagnosed with breast cancer in the U.S. every year; about 2,550 men will be diagnosed with breast cancer and 480 men will die from it.)
Dr. Elizabeth Comen, a medical oncologist at Memorial Sloan Kettering Cancer Center and a medical advisor to SurvivorNet, on risk factors for breast cancer.
"I went in for my mammogram feeling I was being quite thorough in my preventive care," she wrote. "When the doctor said she'd call with the results, I didn't feel as though I was waiting to hear if I had cancer. I felt as if I was waiting to hear I didn't have cancer."
She underwent a successful double mastectomy, opting out of reconstructive surgery. "I can relate to two scars more than two fake breasts," she told Vanity Fair.
Life-Changing Stand-Up Show
Notaro did not let her illness keep her down — in fact, she turned it into comedy gold in a 2012 show in Los Angeles that went viral.
"Is everybody having a good time?" she began, "I have cancer!"
When she woke up the next day, she had messages from literary agents and well-wishers alike, according to Fast Company. "I was like, 'What the hell happened?'" she said.
The following year, Notaro topped this at the New York Comedy Festival by ripping off her shirt on stage and performing a set wearing only jeans.
"She showed the audience her scars and then, through the force of her showmanship, made you forget that they were there," observed The New York Times. It was a powerful, even inspiring, statement about survival and recovery, and yet, it had the larky feel of a dare."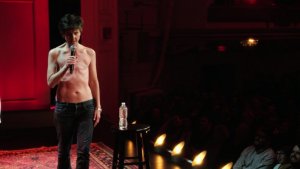 In the months prior to her breast cancer diagnosis, Notaro had been hit with a series of devastating setbacks. In February 2012, she'd contracted pneumonia, followed by an intestinal disease caused by the bacterium C. diff. The illness left her so sick, she was losing a half-pound per day. A month later, in what seemed like a cruel joke, her mother died from an accidental fall.
"I found myself in Texas, in my mom's closet, picking out clothes for her to wear in her casket," she says, at a time when she wasn't sure she'd live through her own illness. Next, her partner ended their relationship. By the time her breast cancer was diagnosed, Notaro felt like she'd been given more than she could handle.
She emerged from this dark period with comic voice that audiences found both powerful and absurd. Soon, she was co-writing and co-producing the autobiographical "One Mississippi," a dark comedy on Amazon. This past year, Netflix acquired "First Ladies," written by Notaro and her wife, Stephanie Allynne, and starring Notaro and and Jennifer Aniston.
The Flat Movement: Embracing Your Body After Treatment
Notaro, like a growing number of women SurvivorNet has spoken with, embraced her new body, opting to "go flat" after a mastectomy. They choose not to have breast reconstruction for a variety of reasons, including the desire to just be done with surgery. For many, it's a bold decision that flies in the face of convention.
Artist and breast cancer survivor Marianne Cuozzo
"A lot of us women are sticking together and helping each other through this journey of being this new look," says artist and survivor, Marianne Cuozzo. "We're trying to make it so that it's not this stigma."
Learn more about SurvivorNet's rigorous medical review process.
---