Soccer Legend Keeps Going Amid Colon Cancer
Brazilian soccer legend Pele was reportedly hospitalized amid his battle with colon cancer. His daughter later clarified and said her father wasn't there for an emergency or "new dire prediction."
Pele was diagnosed with colon cancer in 2021 after going for a series of routine examinations that he'd postponed due to the COVID-19 pandemic. He has undergone surgery and chemotherapy.
The term colorectal cancer is used to describe cancers that begin in the colon or the rectum — so some people just use the term colon cancer if that's where the disease began.
Colorectal cancer screenings have made a big difference in colorectal cancer prevention. But with colorectal cancer cases in younger people on the rise, the recommended age for beginning screening has been moved from 50 to 45.
Brazilian soccer legend Pele, 82, was recently hospitalized amid his battle with colon cancer. The soccer icon has lived a long life, including seeing one of his sons battle a drug addiction. While Pele's daughter clarified that he wasn't admitted for any emergency, a colon cancer battle is nothing to take lightly.
Kely Nascimento, Pele's daughter, shared via Instagram an update on her father's health. She says, "He is in the hospital regulating medication. Some of my siblings are visiting Brazil. There is no emergency or new dire prediction."
Read More
ESPN Brasil reported that Pele had been admitted to Sao Paulo's Albert Einstein Hospital with "'general swelling' and was undergoing several tests for more in-depth assessment of his health issues," according to Reuters. Reuters also reports Pele had a tumor removed from his colon in September 2021 and "has since been in and out of the hospital for treatment on a regular basis."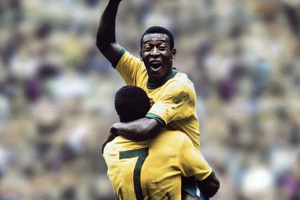 Pele has recently been posting old photos from his soccer days as the FIFA World Cup has been taking place.
"Pele is the only player in history to have won three World Cups (1958, 1962 and 1970) and is widely regarded as the best to ever play the game," according to Mirror.
The former Santos player has several children. One being Edinho, whose real name is Edson Cholbi do Nascimento, who had a drug problem and was arrested for drug trafficking in 2005. He became a soccer star like his father and faced a lot of pressure following in the footsteps of greatness.
Edinho was initially sentenced to 33 years in prison for money laundering, but that sentence was reduced to 12 years, Reuters reported at the time.
Pele reportedly stood by his son throughout the ordeal, and now is facing his own battle with colon cancer. He has reportedly undergone surgery and chemotherapy for the disease.
Colon Cancer Screening
Colon cancers begins as a polyp, or small growth, in the colon that causes no symptoms. Although polyps can't be felt, they can be picked up by screening tests before they cause a problem. It takes up to 10 years for a colon polyp to become a full-blown cancer, which gives doctors time to remove the polyp before it causes a problem.
Dr. Heather Yeo, a medical advisor to SurvivorNet and colorectal cancer surgeon, explained the best and most complete way of screening is a colonoscopy every 10 years.
"In general, you should get your first colonoscopy at age 45 but the guidelines differ depending on your risk category. If you have a close relative who had colon cancer, a rule of thumb is to get screened 10 years prior to their age of diagnosis to make sure any growths or cancers are caught early," said Dr. Yeo.
If you have several family members who had colon cancer, or family members who got it at a young age (less than 50 years old), it may be necessary to undergo genetic screening, she added.  And if you have a lot of polyps on your colonoscopy or if you yourself have had colon cancer previously, you will need a colonoscopy every 3 to 5 years.
Colon Cancer Screening is Extremely Important; Guidelines Now Say to Start at Age 45 if There Is No Family History.
Staging Colon Cancer
When staging colon cancer you have to take into account the depth of the tumor in the colon, if the cancer has spread to the lymph nodes, or if the cancer has metastasized to other organs, such as the liver or lungs.
"A preliminary staging workup is done after diagnosis with imaging studies, such as a CT scan, which can show if the cancer has spread to other organs. For patients who have had surgery to remove their cancer, the final stage is determined based on the final pathology report. After the colon is removed, a pathologist looks at the colon under a microscope. It can take up to one week to receive the final pathology report, which can be a very stressful time for patients," said Dr. Yeo.
Colon Cancer Stages One, Two and Three
Stage one and stage two colon cancer means the tumor has not grown outside of the colon. The stage one cancers mean the tumor has only penetrated the superficial layers of the colon, whereas stage two cancers involve the deeper layers of the colon wall, said Dr. Yeo.
Stage three cancers are those in which the cancer has spread to the lymph nodes around the colon. Stage four colon cancers are those that have spread to other organs, such as the liver, lungs, or peritoneal cavity.
What To Expect After Colon Surgery
A colon resection surgery is scary, but we have some information to help get you through. On average a patient stays in the hospital for about 5-7 days.
The length depends on various factors including your exact operation, how much pain you are having, and how well you are eating and drinking after surgery. You will then need a few weeks to recover after leaving the hospital. Most patients will feel back to normal in about one month.
Dr. Yeo says it is recommended that you get out of bed and walk the day after your surgery. You will usually be given clear liquids within one day of surgery, and given food over the next few days depending on how you are feeling. It is often recommended that you stay on a low-fiber diet (no raw fruits and vegetables) for a few weeks after surgery.
Related: Sugar, The Western Diet And Cancer Prevention
When you are discharged from the hospital, you should continue to be active and walk daily. It is recommended that you do not lift more than 5-10 pounds for about one month after surgery.
Learn more about SurvivorNet's rigorous medical review process.
---