Derek Vanderhorst's 'Left Turn'
After being diagnosed and surviving Stage IV head and neck cancer, Hollywood sound designer Derek Vanderhorst, who's worked on Oscar-winning films, decided he would take his career in a new direction.
Vanderhorst's first album, Wildflower, was a by-product of his cancer diagnosis and treatment, and the "grateful" attitude he was able to maintain.
Vanderhorst offers several useful tips for coping with head and neck cancer, including staying current with dentist appointments, and creating a support system.
Wildflower
, Derek Vanderhorst's debut solo album, was 53 years in the making.
"I got buried in work for way too long and didn't even think about it," explains the sound designer for film and TV, on the eve of his record release party. "I didn't touch my guitar or instruments for almost 20 years and then things take a left turn and you decide what's important again."
Read More
That "left turn" for Vanderhorst was a diagnosis of Stage IV head and neck cancer at the age of 47 and the prophetic words of an oncologist.
"This is going to seem insane," the UCLA doctor told him, "but you are going to come in here in two years and be grateful that you had cancer in a way or you are going to go into a total depression. It's your choice which direction you want to take. With the 'grateful' you had cancer, you're going to make some life changes that you wanted to make and you needed to make, and things are going to be a lot different for you."
Choosing Grateful
Vanderhorst, known for his work on Oscar-nominated films such as No Country for Old Men, Hidden Figures, and most recently The Eyes of Tammy Faye, chose 'grateful.'
"I took that to heart. I changed," says the Encino, California-based musician. "I had a stage in my house where I would mix films. I was working seven days a week, maybe twelve, fifteen hours days in a highly stressful environment. I sold my equipment and turned it into a music studio. Now I'm choosing projects a lot more carefully. I'm taking a lot of time off, and I'm spending a lot more time doing music. I went through a divorce. I have a fiancé now. I reprioritized myself instead of work and other people and everything else outside of me. You figure out it's like: We're literally lucky to be on the other side of the dirt every minute. It's such a short time, I gotta make some changes. When you're young it's forever, then you realize, we're just here for a second."
Still reveling in his recent opportunity to play both at the South by Southwest music festival and as an opening act for The Boxmasters, Billy Bob Thornton's band, Vanderhorst recognizes the dire direction things could have gone instead.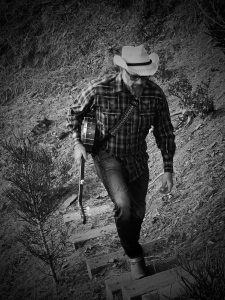 'You Got A Big Lump On Your Neck'
"I had a big lump on my neck that I ignored for way too long," he explains. "I was sure it was swollen glands or something."
It was a colleague calling it out on a film set one day that finally prompted a doctor's visit. "Man, you got a big lump on your neck," said the sound mixer who could see it even with Vanderhorst's bushy beard.
"That next day I went to the doctor. It was like House.  He had this big wooden desk. He looked at me, he brought me into his office, sat me down and he goes:  'I'm going to call a surgeon right now and get you looked at tonight.' Things progressed very quickly."
The doctor had a very definitive opinion on his treatment given Vanderhorst's line of work.  "Look if you go to any hospital they are going to want to cut you open, they are going to do surgery and try to remove as much as they can and get the margins," the surgeon explained. "In your case it's just another thing you're going to have to recover from and the likelihood of it helping you is maybe 1 to 2%. Avoid it at all costs."
Filled With Gratitude
Vanderhorst is filled with gratitude that his work connections gave him access to some of cancer's top doctors.
"One of the heads of Fox Searchlight went through cancer and another one of the heads of Fox does a lot to raise money for cancer awareness and they set me up with Dr. (John) Glaspy at UCLA," he says while acknowledging that not all are as fortunate in their resources. "Seeing a chemo [medical] oncologist before the surgeon puts him in charge of my treatment. I found out that whoever you see first becomes the leader in your treatment. They sent me to Glaspy because he does so much research on chemo treatment and the chemo I was going to receive destroys your hearing.  My job is hearing; I supervise films so it was a super scary time, it was like, 'Ok, I could die or lose my hearing.'"
His radiation oncologist gave him more frightening news.  "He was like, 'Look, if you lose too much weight, we're going to give you a feeding tube and you're going to lose your swallow muscle and you may never swallow again, you may lose your voice.'  I was like, 'Wow, this went from bad to worse.' Things can go very badly, and it was incredibly scary."
Though the treatment was just three months from start to finish — Dr. Glaspy's plan was "lighter doses more often" to save the hearing — it was brutal.
"My oncologist was like 'Here's the deal, It's going to be the most painful treatment you could possibly have, but it's very successful. Just imagine heating up one thousand ball bearings and then pouring them down your throat. By the end that's what it's going to feel like.'' Vanderhorst's response:  "I guess that's better than the easiest treatment and then I'm probably going to die."
"I went in with that attitude," insists Vanderhorst.  "But I tell you, through the treatments I was like 'I don't care if I die.' It was so painful. I saw a lot of people with their neck, blistering and peeling from the radiation [which] gives you third degree burns inside and outside of your neck. I would take old t-shirts and soak them in aloe vera and just wear them 24 hours a day. That helped the outside, but there was no getting around the pain on the inside. Even after treatments, weeks later my throat would totally close up. I couldn't even get a drop of water down. I'd have to go to the emergency room. It's more scary than anything. The last three weeks of treatment and the first two weeks after [there were times] I thought 'I hope I do not wake up.'"
SurvivorNetTV Presents Maintaining a Positive Headspace Through Cancer
'It Took Months To Be Able To Eat Again'
Miraculously, Vanderhorst was able to stave off a feeding tube, which doctors said would become necessary should he lose 40 pounds.
"I would be swishing morphine in my mouth and drinking protein shake watered down because it's too thick to swallow. I'd be in tears for a half an hour just trying to swallow that. I would make sure I would [drink] three to four a day but it got so painful I could only do two a day at the end," he says. "So I started wearing cowboy boots stuffed with rocks into my radiation so I could avoid the feeding tube for the last two weeks.  I was cheating at school but I got through it. It took months to be able to eat again."
Vanderhorst credits his huge support network —  "you find out how amazing the humans are around you when you go through that" — with ultimately pulling him through to the other side. He recounts the kindness from an old colleague who had braved his own cancer battle.  "We kind of lost touch, but as soon as he heard I had cancer he brought over this beautiful box filled with these rocks, one for every day of treatment. He said 'Just throw one out every day until that box is empty.'"
It was a year or two after when Vanderhorst started voice lessons "just to see" if he could start talking again normally. "My throat was pretty devastated from treatment. [My voice] sounds totally different," he explains when asked if this was his "before" voice. "I don't have much of a falsetto anymore. It's definitely a lot rougher, maybe it has a little more character. It's improving, I do voice lessons four days a week."
Regardless of its new roughness, the oncologist who puts the camera up and down his throat is impressed with the lessons' effects. After a year of voice lessons he looked at the images and told him, "Man it looks like your throat is almost 100% to where it was before we started treatments."
He has since started recommending voice lessons with rehab specialists for other patients, recognizing the "miraculous effects"  it had on Vanderhorst. "I could sing maybe one line and then I would start choking when we first started. On my album I recorded all the vocals in one day — twelve or thirteen songs. I was thinking 'If i can do an album even if nobody ever hears it; it will be a great success.'"
Why the HPV Vaccine is so Important in Preventing Cancer
Spreading The Word
There's more to it than music for Vanderhorst who plans to use his new found exposure to shine a light on head and neck cancer, especially this month, April, which is Head and Neck Cancer Awareness Month. "That's why I'm trying to book a lot of things this month so I can talk about it honestly with a lot of people."
He wants people to hear his story and learn from it.
"Early detection makes a huge difference," says Vanderhorst, all too aware of his own initial reluctance to see a doctor. "If I wasn't so stubborn it would have been a lot easier on me. I'm a guy. When you're healthy your whole life and you're male…. I think women are more used to going to the doctor. You go through your invincible period in your 20s and 30s; in your 40s, you can't really admit you're not that anymore."
A good place to start is at your routine dentist appointments. "They are the ones who are supposed to spot it first," he says, while also noting the importance seeing of a dentist after head and neck cancer treatment. This is important because when you body doesn't produce as much saliva,  you lose your defense against gum disease and cavities and can face a loss of bone density.
Also important in his advocacy work — he's typically mentoring three, four, five people at a time with head and neck cancer — is making people aware of what they are going to face during the treatments. People need to "hear some positives as well as what they're going to go through." Vanderhorst puts it to them honestly telling them, "'It's going to be really shitty, but you're going to live.'  It's crazy what you go through during the treatment. It's horrible, but they just need to know, 'Ok that's going to happen and ok, that's how I dealt with it.'"
It's come full circle for Vanderhorst, thinking back to those prophetic words about being "grateful" for cancer from his very first oncologist appointment.
At his recent South by Southwest performance, recalls the now 53-year-old, "there were 600 or 700 people. I was between a rockin' country band and a hip hop band. I was just a guy with a guitar on the stage. I'm totally frightened, but it's exciting also. I'm like  'Well, this is how you live your life. You just have to do things that seem way out of your grasp or comfort zone.' Just conquering things like that rather than conquering the work day is so much more gratifying. Those kinds of scares in life are way better than cancer."
About Head & Neck Cancer
Head and neck cancers account for nearly 4% of all cancers in the United States, according to the National Cancer Institute. Head and neck cancers can occur in the:
Oral cavity
Throat
Voice box
Sinuses & nasal cavity
Salivary glands
Risks for head and neck cancer include:
Alcohol and tobacco use
Infection with cancer-causing HPV (human papilloma virus)
Occupational exposure
Radiation exposure
Ancestry
Underlying genetic disorders
Dr. Jessica Geiger, a medical oncologist specializing in head and neck cancer at Cleveland Clinic Cancer Center, says treatment for head and neck cancer can be challenging.
"It can be a challenge to get them through treatment," Dr. Geiger said in a previous conversation with SurvivorNet. "However, by the time I see them, they've already been diagnosed with cancer and so, I, in addition to being a medical oncologist and giving chemotherapy and following patients through their treatment, I also tell them that I serve as their cheerleader. I'm there to coach them through treatment."
Treatment for head and neck cancer involves a multi-facted approach.
"The treatment of head and neck cancer and to cure head and neck cancer, it involves multiple specialties, radiation oncology, medical oncology, nutrition, speech and language pathology to make sure that patients are swallowing appropriately and getting their nutrition in," Dr. Geiger says. "All of us need to work together as a cohesive team in order to make that happen."
Dr. Geiger says it's not uncommon for head and neck patients to "feel depressed or down."
"It's important for caregivers and support that patients have either a spouse or a close family member, or friend or relative to help get them through treatment as well," Dr. Geiger says. "No one can get through treatment for head and neck cancer on their own. It really does take a community. Not just with the medical professional staff but also caregivers and support at home."
Learn more about SurvivorNet's rigorous medical review process.
---