Relationships and Cancer
George Alagiah, a 66-year-old journalist, was first diagnosed with stage four bowel cancer in April 2014. Since then, the disease has spread, and he says he's expecting it to take his life one day.
But Alagiah has learned and grown so much during his cancer journey. In fact, he says it's allowed for a newfound intimacy with his wife of 37 years.
Going through cancer treatment can be a very vulnerable and emotionally exhausting experience, so it can help to have a strong relationship to lean on for support.
A cancer diagnosis can affect a relationship with your partner in many ways. But for George Alagiah, his stage four diagnosis brought him something he's grateful for to this day: a newfound sense of intimacy with his wife of 37 years.
The 66-year-old journalist is known for his work with the BBC, which he first joined in 1989. At that time, he worked as a foreign correspondent reporting on events such as the Rwandan genocide before becoming the successful anchor he is today.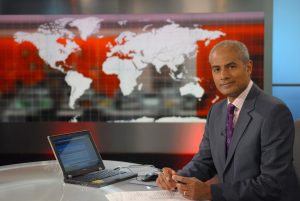 Read More
But both his mindset and his work life has changed since his stage four bowel, or colorectal, cancer diagnosis in April 2014. The disease has since spread to his lungs, liver and lymph nodes, and he's confident the disease will take his life one day. Still, he's not giving up. In October 2021, he decided to take a break from TV as he continues to battle the disease and regularly undergo chemotherapy treatments.
During a recent conversation with Craig Oliver for his Desperately Seeking Wisdom podcast, Alagiah discussed how living with the disease for the last seven years has changed his life.
"I don't think I'm going to be able to get rid of this thing. I've got the cancer still. It's growing very slowly," he said. "Probably … it will get me in the end. I'm hoping it's a long time from now, but I'm very lucky."
"Lucky" isn't always used by cancer warriors to describe their journeys with the disease, but it truly is how Alagiah feels at this point in his life.
"I had a diagnosis of cancer of an incurable disease caught a very advanced stage, and it stops you in your tracks, and you've got to take stock," he said. "There's many ways of dealing with cancer as there are people who've got it. I mean we're all different both physically and psychologically. But to get to that point where you're able to see life as a gift is, I think, really important."
And though he would never wish he had cancer, Alagiah is forever thankful for the way it has enriched his life – particularly concerning his relationship with his wife. In fact he says sitting opposite the woman he loved and trying to find a way to tell her that "you might not make the end with her" truly created a newfound "intimacy" between the two.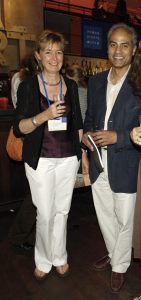 "I remember thinking about Fran, my wife [when he was first diagnosed]… I couldn't bear the thought of leaving her," he said. "To get to the point where you have to be so honest with each other and say, 'Look, you know, this thing that we envisioned together may not happen, got us to a place where, you know, we thought we had a great relationship and we got a better one.
"I wish I'd never ever had cancer, obviously. But I'm not 100 percent sure that I'd give the last seven years back because I've learned stuff about myself. Think about life differently. My relationship with friends… life's richer."
Understanding Colorectal Cancer
Bowel cancer is a general term for cancer that begins in the large bowel, but generally we use the term colorectal cancer in the United States.
Colorectal cancer, like all cancers, presents its own unique challenges for patients on the road to recovery. But Dr. Heather Yeo, a surgical oncologist and colorectal surgeon at New York Presbyterian Weill Cornell Medical Center, wants to remind people how far the treatment of this disease has come.
"One of the most exciting things about my job is that we've made a lot of progress on treatment options," Dr. Yeo says in a previous interview with SurvivorNet. "However, patients are still — while they're living longer, they are still living with colon cancer, and so I think it's really important that we talk about how some of the things in your life affect you."
Navigating a Colorectal Cancer Diagnosis
Dr. Yeo also reminds people of the importance of colorectal screenings such as colonoscopies because most colorectal cancers can be prevented early with screening.
"In the United States, on a national level, colorectal cancer has been decreasing for the last 20 years," Dr. Yeo says. "And much of that is thought to be directly due to screening for colon cancer."
Symptoms of Colorectal Cancer
Colorectal cancer might not immediately cause symptoms, but these are possible symptoms to look out for:
A change in bowel habits, such as diarrhea, constipation or narrowing of the stool that lasts for more than a few days
A feeling that you need to have a bowel movement that's not relieved by having one
Rectal bleeding with bright red blood
Blood in the stool, which might make the stool look dark brown or black
Cramping or abdominal (belly) pain
Weakness and fatigue
Unintended weight loss
Navigating Relationships during a Cancer Journey
It's no secret that fighting cancer can be extremely overwhelming, so having physical and emotional support during your battle is crucial. That being said, it's very important to know your limits on what you can handle – including relationships – during treatment.
"Going through treatment is a very vulnerable and emotionally exhausting experience," licensed clinical psychologist Dr. Marianna Strongin wrote in a column for SurvivorNet. "Noticing what you have strength for and what is feeling like too much… [is] extremely important to pay attention to as you navigate treatment."
Dr. Strongin does note, however, that having people by your side during this "arduous chapter" of your life can be hugely beneficial.
"Studies have found consistently that loneliness is a significant risk factor for physical and mental illnesses and the trajectory of recovery," she wrote. "Therefore, it will be important that you surround yourself with individuals who care and support you throughout your treatment."
RELATED: Sex and Cancer: How to Communicate Your Desires & Fears and Create New Sexual Experiences
For actress and melanoma survivor Jill Kargman, cancer was a true test of the strength for her relationship. In an earlier interview with SurvivorNet, Kargman says the disease "is a great way to find out if you're with the love of your life or a shithead."
Jill Kargman on Relationships and Cancer
"I think it presses the fast forward button on getting to the bottom of that answer, because a lot of people in middle age are kind of at a crossroads, waiting for their kids to fly the coop," Kargman said. "I think if you're with someone who is not supportive and kind of emotionally checked out or doesn't tell you you're still beautiful with that, this might not be your person."
Learn more about SurvivorNet's rigorous medical review process.