"There's no way I can do anything but be at 100 miles an hour. What I do with that 100 miles an hour, we'll see. But, as my dad always said, 'Well, you can rest when you're dead.'"
That's what Mandy Ginsberg, one of the most successful female CEOs in the country, tells SurvivorNet in a wide-ranging interview, her first since making the decision to step down from her position as Match Group CEO. Ginsberg is taking a break right now, but she's already thinking about the next chapter, and was even just appointed to the board of Uber.
Read More
For 14 years, Ginsburg was on the executive team at the Match Group, which owns popular dating sites such as Match.com, Plenty of Fish, Tinder and more. What some would consider a shocking decision, Ginsberg says was a necessary pause for her hectic life.
To say the former CEO had inherited a significant familial risk of cancer is an understatement; she tells SurvivorNet that almost every woman in her family died around age 60 due to cancer. So, more than a decade ago, she had her breasts and her ovaries removed to reduce her cancer risk.
After those procedures, Ginsberg says, she got right back to work. However, before she decided to temporarily step back from her incredibly impressive career this year, Ginsburg had two life-altering events happen to her in a really short span of time — her home was hit by a tornado and she found out the breast implants she got after her prophylactic (preventative) mastectomy had been recalled by the FDA.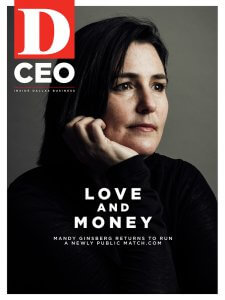 RELATED: New Worldwide Recall for Textured Breast Implants
"As a result of all of these things that happened, I felt it was time to take a little bit of a pause and take care of myself," Ginsberg says.
Ginsberg went on to explain that she had been through health struggles in the past, and typically, she's the type of person to "bounce back" and get "right back into the office." However, after her last surgery to remove her recalled breast implants, she really felt the need to slow down.
While Ginsberg decided she didn't want to live with the risk after her breast implants were recalled, in the Food and Drug Administration's recall of textured breast implants during the summer of 2019, the agency said that women who already had these implants need not worry if they weren't experiencing symptoms. The risk of developing the type of cancer associated with the implants, called "breast implant-associated anaplastic large cell lymphoma" (BIA-ALCL), is small according to the FDA.
"The true risk of developing [BIA-ALCL] is extremely low," Dr. Niamey Pender Wilson, director, Breast Surgery Quality & Research at Hartford HealthCare Cancer Institute, told SurvivorNet shortly after the recall. She also said the secondary cancer in question "is extremely treatable. So rather than having thousands and thousands of women undergo a procedure that is not really necessary, it seems reasonable to monitor and see how someone is doing clinically."
For Ginsberg, however, given her family history of cancer, she decided to go ahead and have her implants removed.
Cancer pre-vivor Mandy Ginsberg offers advice to other women going through their own health struggles.
Taking Action to Prevent Cancer
The former Match CEO explains that she had a prophylactic mastectomy because of cancer that ran in her family, noting that her mother, grandmother and aunts, who all faced breast or ovarian cancer, were a generation or two too late to take cancer prevention action.
"She just didn't have the options that we have," Ginsberg says, while sharing an extremely emotional anecdote about her mother, who didn't take a genetic test until the day before she passed away in 2004. "I found out when I was in my late-30s that I had this genetic defect, and I felt that I had all these options and actions I could take. The generation above us just didn't."
Ginsberg has a BRCA genetic mutation, she says, which can run in families and significantly increases a woman's chance of getting both breast and ovarian cancer. She explains that the women in her family, despite the fact that so many of them had to deal with cancer, were an incredible inspiration — and took on the health challenges with so much bravery.
"My mom, and my aunt were just a force of nature," Ginsberg says. "They were five years apart. We lived a couple blocks from each other … they really were just such a powerful duo. They were best friends and sisters and they cared, really passionately about their families. And, I think that when my mom found out she had ovarian cancer, she was like, 'I'm going to beat this. I'm going to beat this.' And she fought such a hard fight. And ultimately my mom passed away in 2004. So it's been a lot of years, but there's not a day that goes by, that I don't think about her."
RELATED: Making the Incredibly Difficult Decision to Have Surgery to Prevent Cancer
Her mom's decision to get a genetic test before she passed away just may have saved Ginsberg's life. Watching her mom and aunt pass away made the decision to have preventative surgery all the more imperative for Ginsberg.
"So many people have said to me, 'Was it a hard decision?' I'm like, 'No, it wasn't a hard decision at all.' … I watched my mother Joy and my aunt die, and it just became very obvious to me that they gave this gift to me, which was knowledge. And, with that knowledge, I can make decisions, which is probably one of the reasons why I'm sitting here right now and not fighting probably what would have been a fight of my own."
Women don't always know how to ask for help, Ginsberg told SurvivorNet, because we're so used to caring for others.
The Decision to Take Time Off
When Ginsberg decided she was going to leave Match, she says she was happy to find support from billionaire businessman Barry Diller, whose holding company IAC controls the online dating empire.
"When I decided to leave, he gave me pretty incredible advice, which I've never really talked about," Ginsberg says. "He said, 'I don't want to see you go, but what are you going to do now?' I said, 'I'm gonna take some time, spend some time with my family, take care of myself. I'm just going to get a little headspace.' He said, 'When I was 49 years old, I took a year off and it was one of the best things I ever did.'"
Diller advised Ginsberg to "be smart, take the time and figure out what's next."
And that's exactly what she's doing.
RELATED VIDEO: What is a Prophylactic Mastectomy?
Dr. Elizabeth Comen, an oncologist at Memorial Sloan Kettering Cancer Center, explained to SurvivorNet in a previous interview that some women who find out they have a significantly increased breast cancer risk due to family history do opt for a prophylactic mastectomy — removing both breasts so that the risk of cancer drops significantly.
"A woman may have a significantly increased risk of breast cancer in their lifetime because of their family history," Dr. Comen said. "Perhaps they've inherited a BRCA1 or 2 mutation. …A woman could have only stomach cancer on her father's side of the family and did not realize that she could be — with a rare gene — at increased risk for breast cancer. So, the family history component is key."
Learn more about SurvivorNet's rigorous medical review process.