Finding Balance
Former White House spokesperson Kayleigh McEnany, 32, talks to SurvivorNet about her 2018 preventative mastectomy that she had with the emotional support of her loving husband, and how she wants to have a preventative hysterectomy (to reduce the risk for ovarian cancer) after having more children.
McEnany gives SurvivorNet a glimpse into her life at home with her husband and 1-year-old daughter Blake, and how she shuts off her "political brain" with cooking, a little wine, and watching shows like The Bachelor and Tiger King.
McEnany's hosting duties on Fox News begin today. She'll co-host Outnumbered with Harris Faulkner and Emily Compagno.
The world got to know Kayleigh McEnany at the podium in the White House press room. But what a lot of people may not know is that before the national spotlight, the 32-year-old former press secretary had a radical surgery to prevent cancer, and when she took the White House job McEnany had a tiny infant at home. Now she has a major new TV hosting job at Fox News, and tells SurvivorNet she plans to have more surgery to ward off cancer.
McEnany is an example of what's called a previvor. This is someone who carries a genetic mutation that predisposes them to getting cancer. Like her mother who also carries the BRCA2 gene (which raises a woman's risk for breast and ovarian cancer), McEnany had a preventative mastectomy in 2018, and says she plans to have a preventative hysterectomy to reduce her risk of ovarian cancer after she expands her family.
Read More
"It always changes with life, but we would like 3 to 4 kids, maybe even adopting one if it ever fit into our life," McEnany tells
SurvivorNet, 
noting that having a hysterectomy is "certainly the plan, probably in my 40s." In a wide-ranging interview conducted over Zoom due to the pandemic, McEnany opens up about motherhood, mom guilt, her new job, life at home and how she balances it all.
Related: The Angelina Jolie Effect Important New Research for Women Making Critical Decisions About Breast Cancer
The Decision to Have a Double Mastectomy
McEnany found out she carried the BRCA2 gene when she was 21. She also knew she had a family history of breast cancer.
"We had eight aunts, extended aunts that had breast cancer, and my mom found out my senior year of college that she had the BRCA2 genetic mutation," McEnany says.  McEnany's mother never had breast cancer, but people who carry the gene have an 84% chance of breast cancer and about 23% chance of ovarian cancer.  While McEnany was in college, her mother had a double mastectomy and a hysterectomy.
Related: Stars Who Have Battled Cancer
"I got tested for the gene and I found out that I was positive which was such a whirlwind to find out at such a young age,"  McEnany says. She knew she wanted to have the preventative surgery, but she knew her risk for getting breast cancer was lower in her 20s, and she wanted to meet a partner before going through with her mastectomy.
Enter Sean Gilmartin, 30, Kayleigh's husband.
"We actually met on Twitter, which is interesting, social media led to a marriage for me," McEnany says with a laugh. Initially, she had taken some time off from dating to put her heart into Harvard Law School.  "Around two years in, I decided to get back in the mix, and I saw this guy on Twitter who was in camo in New York City, which is not often the type of profile you see of a guy in New York." Gilmartin was with the New York Mets at the time, and McEnany initiated a conversation. She picked a BBQ restaurant for their first date, Southern Hospitality.
They hit it off and have been together ever since, despite having to frequently spend time apart. "He's been with a bunch of different baseball teams, which has been a challenge. Often times [he's] in one state and I'm in another on the campaign trail and in the White House, but we always found a way to meet in the middle on the weekends, it was exciting."
McEnany says Gilmartin never questioned her decision to have a preventative double mastectomy.
"He was there every step of the way, and afterwards, just telling me that I was beautiful. I was nervous of course that it was a 'new me' or at least in my mind it wasbut for him to tell me I'm just as beautiful as ever and just to be supportive," McEnany says. "Because women, it's not about our breasts, it just isn't, it's about who we are in our soul and our spirit, and the wives we are and moms we are and friends we are and partners we are, and that's what makes me a woman, not my breasts, not my anatomy."
Related: White House Spokeswoman Kayleigh McEnany Had Preventative Double Mastectomy 2 Years Ago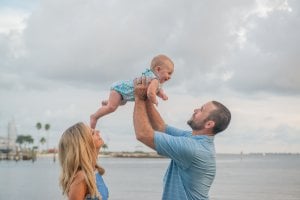 A New Career Opportunity
On Tuesday, the Harvard Law graduate joins the Fox News show Outnumbered as a co-host. McEnany interned at Fox News in college and her first job out of college was with Fox News, so she calls it a natural fit.
"It is such an honor to be part of this network and to be one of the new co-hosts of Fox Outnumbered with Harris Faulkner and Emily Compagno, two incredibly talented women," McEnany says.
During Donald Trump's presidency, McEnany spent a lot of time sparring with reporters during White House press briefings and says that it's normal to still have nerves before going live. (Her co-hosting duties will be done remotely from her home in Florida to start.)
"You know, certainly at the podium, of course you would get nervous before," she says. "I think it was someone with the administration that said, 'You never want to lose that sense of nervousness because it keeps you on your toes' and that still holds, you know."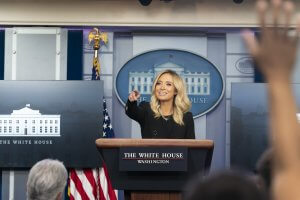 For now there's no podium, and McEnany gets to be at home with her 1-year-old daughter, Blake. She says being apart from Blake was one of the most challenging issues about her former job. Thankfully, McEnany's mother helped take care of Blake in Tampa while McEnany was working in the White House, and her family would bring her up to visit.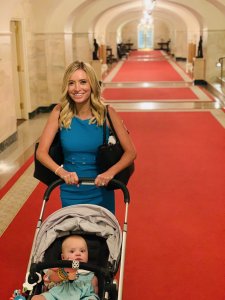 Related: 'Bachelorette's' Becca Kufrin, 30, Makes Big Decision After Losing Dad to Cancer: 'I'm Taking a Proactive Step'
"That was a very challenging time because America locked down and for a lot of parents, that meant getting time at home with their kids and I had a daughter that was three or four months old when I took the (press secretary job) so it was incredibly difficult leaving to go to Washington D.C. because I didn't know when I would see her again," she says. "There were tears involved, it was tough."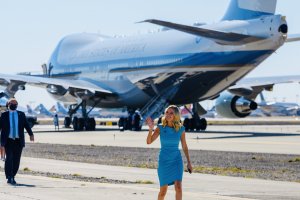 For now, McEnany's new FOX gig allows more time with her family. "I don't have that same level of guilt because it's not being in a different city, it's being in the same house and leaving for short periods of time," she says. Gilmartin is also at home in Tampa and became a free agent in November, so he's currently not under contract with a team.
Eventually, she'll be in New York on set, "which will be fun to be back in a bustling hallway. I think we all have a piece of us that wants to get back to a pre-pandemic life, but for now, yes working from home and trying to time calls like this around my daughter's naps, take food to her while doing my hair and makeup before heading to the studio to do my job so it's a challenge for any working mom working from home you have these Zoom calls and I've said, you know, there's dogs walking in the background and it's kind of just the new way of life, so if you hear banging upstairs that's my husband trying to entertain my daughter."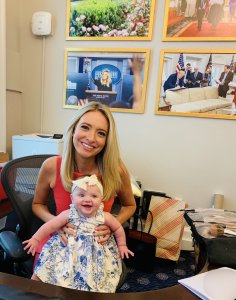 How McEnany Manages It All
McEnany likes to go through her schedule in her head the day before. "I try to do lists but sometimes my lists get lost, but I realize sometimes when you're a list-maker, writing the list takes more time than actually doing the items on the list…I try to keep up and put everything in a calendar, but we're at the point where my husband and I are needing to sync our iPhone calendars."
Just like with any endeavor she takes on, McEnany will give it her all and go above and beyond to prepare.
"I treat this the same way I would treat a press briefing. Obviously it's a different format, it's a talk show with five individuals talking about news of the day so it's different than speaking for the president at the podium," she says. "But I put in the same level of preparation because what I find is when you read an abundance of articles for five or six topics we're talking about, the more you read, the more levels of nuance and detail you discover which makes you a better commentator, a better co-host, a better communicator of information, and that's what we would do in the White House.  I want to bring the best possible fact that no one has talked about, found or discussed."
This work ethic makes it a challenge for McEnany to shut off her "political brain." But she and Gilmartin do have have some home life rituals.
"My husband loves to cook, which is a blessing for me but I have started to enjoy cooking because he does," she says. "Trying new recipes is definitely fun with a glass of wine in hand."
Like a lot of couples, they watch Netflix and a lot of TV, even though Baby Blake tends to get first dibs. "We watch a lot of animation these days which tends to happen with a 1-year-old. Disney films and Frozen usually plays twice a day in my house."
For more grown up shows? "I've always been into The Bachelor, that's been my way of unwinding and turning off my political brain and just watching some reality TV. We're watching Designated Survivor, an older series but a lot of fun, and Tiger King, I'm a big Tiger King [fan], so that's a good one."
A Previvor: What to Know about BRCA Genes
McEnany is a previvor because she was proactive about her health.
Related: What is a BRCA Mutation?
"Specific mutations in BRCA genes lead to an increased risk of developing breast cancer," Dr. Freya Schnabel from the NYU Langone Medical Center tells SurvivorNet. "People who have a family history of breast or ovarian cancer may want to consider being tested for mutations, particularly if the relative was diagnosed with cancer before age 50."
Dr. Schabel says that if you've been diagnosed with a BRCA mutation, there are steps you can take to lower your risk of developing a cancer. A preventative mastectomy is the safest route.
"When I meet with women who are at an increased risk for breast cancer because of BRCA mutations, I like to talk about the three options that they have for managing their risk," she says.
Intensive surveillance: "This means keeping an eye on your health, in an attempt to catch disease early if it does present itself."
Medication: "There are certain drugs available to lower the risk of developing breast cancer," Dr. Schabel says. "But as with any medical treatment, risks and benefits must be considered."
Surgery: "This is the option that will lower a woman's chance of getting breast cancer as much as possible," she says. "It involves removing as much breast tissue as possible, while attempting to preserve the nipple area, should a woman opt for reconstruction."
"By newer surgical techniques, patients having prophylactic mastectomies will frequently have the option for having the surgery done in a way that preserves the nipple and areola," Dr. Schnabel says. Prophylactic surgery means removing one or two breasts to reduce the risk of breast cancer.
What Are the Options if You Have a High Risk of Developing Breast Cancer?
McEnany says her preventative mastectomy was "the best decision I ever made."
"I look the same as I did before, just an implant instead of breast tissue, and it's amazing what they can do, for me it wasn't emotionally challenging, I had a really supportive partner there, was so happy with the results and it had been just a breath of fresh air to no longer have to go in all the time for mammograms, all the time for surveillance and ultrasounds and just be able to say confidently that I'll never die of breast cancer."
View this post on Instagram
McEnany encourages more women to have the confidence to go through with the surgery if they choose to do so.
"I've always hated the idea that it's chopping off your breasts, and it's not that, it's honestly a modern miracle what they can do with surgery and you can look just as incredible after as you did before, but again, that's not what makes me me, and my husband being there and telling me that and supporting me and having verbal affirmation was big."
In anticipation of her double mastectomy, McEnany had breast implants placed right after college. These served as expanders prior to the surgery.
When you don't have implants, they go through an expander process, which McEnany says can be painful. (A tissue expander is an empty breast implant that is filled with saline over about 6 to 8 weeks until it reaches the desired breast size.)
"For me, having the implants in first and then 10 years later had my breast tissue removed meant that I had to wake up, and I still looked like me," she says. "I did a nipple-sparing mastectomy, and I had those implants that kind of served as placeholders."
McEnany says another important thing to know as a mother is that you can't breastfeed after having a mastectomy.
"Every woman, it's their choice whether they want to breastfeed or not, there's no right choice in my mind, and we used a great formula, and Blake turned out great – you know I wasn't breastfed so for me it wasn't something I had to do with my daughter, I just wanted to be there with my daughter," she says. "As someone who went in for mammograms and had little scares, that kind of emotional turmoil is something I wanted behind me and when I had Blake, I wanted to know I would be there for Blake."
McEnany went to Moffitt Cancer Center in Tampa for her procedure. "Moffitt is amazing. That cancer center has saved so many lives, they've changed so many lives for women, and men here today that wouldn't be if it weren't for Moffitt Cancer Center. They are incredible."
A Healthy, Proactive Lifestyle
McEnany is a self-described "paranoid doctor-goer," thanks to her genetic mutation. "I just think it makes you very aware of your health. So every start of the year, I do all of my appointments. Skin care is very important, I am high risk for that as well. Looking out for skin cancer is important here in Florida, staying out of the sun as much as you can." She prefers sunless tanners these days.
Experts often say that eating a healthy diet and exercising are two ways to reduce your risk of cancer. McEnany wasn't always a big workout person, until she got pregnant. She was never sick and had an abundance of energy, so she started working out by going on the treadmill every day. She still this does this first thing at 6 a.m. for a little time to herself.
"I love running. I love the endorphins, it just makes you feel so good," she says. "It made me a healthier person."
The family just celebrated Easter together at the beach before McEnany starts the next phase of her career. She shared their plans ahead of the Easter weekend.
"Blake has three baskets, one from my mother-in-law, one from my mother, and one from me. They are filled with Frozen paraphernalia," she says. "We are going to the beach and we're going to do an Easter egg-hunt and of course go to our Baptist church first thing on Sunday morning, which we are very excited about to celebrate the resurrection of my Lord and Savior, Jesus Christ."
The Tough Decisions: When You Know You Have a High Risk of Getting Cancer
Learn more about SurvivorNet's rigorous medical review process.