What's Dame Deborah Up To?
After a brief social media hiatus, "Bowelbabe" Deborah James, 40, came back online with an announcement that the British toilet paper brand Andrex will print bowel cancer symptoms on its toilet paper rolls in her honor.
James, a British TV reporter and podcaster, is urging more to join her in displaying early signs and symptoms of bowel cancer on toilet paper to raise awareness toward the disease.
Dame Deborah, who has stage four bowel cancer, has been out and about, spending quality time with family and making appearances at events like the prestigious Royal Ascot.
Her charity has so far raised more than $8 million followers.
Dame
Deborah James
, lovingly known as the "Bowelbabe," has taken to Instagram to reveal that the British toilet paper brand Andrex is going to start listing bowel cancer symptoms on its packaging from now on.
The English 40-year-old had been pushing for stores to put symptoms of bowel cancer on TP rolls in an effort to raise awareness toward early signs of the disease.
Read More
After a few days of James going ghost-mode on the Gram, she posted a story making the announcement: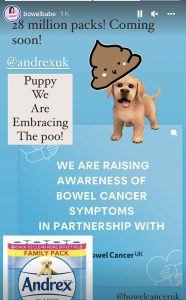 And, last week, we learned that James sizes her hats like her contributions: huge.
James' "Bowelbabe" campaign is reaching the £6.7 million mark (about $8.2 million), providing major support toward Cancer Research UK, the Royal Marsden Cancer Charity and Bowel Cancer UK. She's also been making headlines after appearing at the Royal Ascot – a prestigious horse-racing event in England – wearing a navy polka dot dress and a big smile alongside family.
View this post on Instagram
The cherished BBC host has been battling stage 4 bowel cancer since 2016, sharing her story and making a multi-million dollar difference ever since.
Known as the "bowel babe" in the cancer community, the wife and mother-of-two recently announced she is no longer receiving active treatment for her disease, instead, putting her time and energy into cancer campaigning.
View this post on Instagram
Last month, James received a damehood from the Duke of Cambridge, and, most recently, she's been supporting those participating in the Race For Life, and choosing to cherish her own every day while she's at it.
.@reallorraine and the team smashed Race for Life yesterday 👏

We were all inspired by our fabulous @bowelbabe who had a special message for us about why the race is so important to her 💕 pic.twitter.com/2asvwvBXRg

— Lorraine (@lorraine) June 9, 2022
"Firstly, congratulations on running Race For Life last night to celebrate life, celebrate why we're all here and to raise vital funds," she said in a video for Twitter.
In the twitter update, James also shared how she's been doing. A huge priority for her has been spending time with daughter Eloise, 12, and son Hugo, 14, but she still finds the energy for her advocacy and fundraising efforts.
View this post on Instagram
"I am doing okay, I am stable – I think stable is a good thing," she said. "I'm taking life slowly – Not on social media too much and just spending time in the garden with my family.
"A much slower pace of life, which is not what I'm used to. Physically, I'm quite tired, but mentally I'm still a campaigner. I'm still asking people to check their poo. I'm still on it about getting that messaging on loo roll across the country."
Understanding Bowel Cancer
Bowel cancer is a general term for cancer that begins in the large bowel, says the National Health Service. Depending on where cancer starts, bowel cancer is sometimes called colon, rectal, or colorectal cancer.
Dr. Paul Oberstein, director of the Gastrointestinal Medical Oncology Program at NYU Langone's Perlmutter Cancer Center, previously told SurvivorNet a few common symptoms of the disease to look out for:
Change in bowel movements — sudden changes to the size, consistency or caliber of stool
Change in stool color — bright red or black stool is a sign that an individual should seek medical attention
Pain in the abdomen — unusual discomfort or bloating of the stomach. In the case of women, pain isn't related to the menstrual cycle.
Sudden and unexplained weight loss — rapid drop in weight that isn't the result of diet or exercise
Anemia — Individuals who feel a general sense of malaise or faintness, or are constantly tired or weak much more than usual, may want to consult a doctor.
Many symptoms of bowel cancer are similar to those of irritable bowel syndrome, so make sure to consult with your doctor.
In the UK, where James lives, bowel cancer is one of the most common types of cancer diagnosed. It typically presents in people over the age of 60. And in the U.S., colorectal cancer is the third most commonly diagnosed cancer in both men and women, excluding skin cancers.
"Continuing with the campaigning is keeping me going," she admits. "But obviously, the Bowel Babe fund is a legacy that I am so proud to leave behind when I am no longer here. But for the moment, I'm here, I'm alive [and] kicking as much as I possibly can, and sending my love and thank you for all your kind messages."
Contributing: Sydney Schaefer, Marisa Sullivan
Learn more about SurvivorNet's rigorous medical review process.
---