Remembering Carl Wilson
Founding member of The Beach Boys Carl Wilson died of lung cancer on February 6, 1998. He was a longtime smoker.
Carl played a crucial role in holding the band together over the years. His pitch-perfect voice and talented guitar playing became a trademark sound for The Beach Boys decades-long career, and he helped them create many a hit that brought surf rock to fans all over the world.
Lung cancer is the second most common type of cancer and it can develop in both smokers and non-smokers, but people who smoke cigarettes are 15 to 30 times more likely to get lung cancer or die from lung cancer than people who don't smoke.
There has been lots of progress within the world of lung cancer treatment – specifically when it comes to immunotherapy. One of our experts says "it's really changed the face of lung cancer, just like targeted therapies."
You might not know his name, but you know Carl Wilson's sound. As a founding member of The Beach Boys, he made sure surf rock left the shores of Southern California.
But, like all too many people, Carl's life was cut short from lung cancer. He was only 51 when he died over 20 years ago.
Read More
Thankfully, we've come a long way in treatment options since that day. And we can honor Carl's legacy by taking a look at the life of The Beach Boys lead guitarist, continuing to enjoy the music his band brought us and celebrating the advancements we've made in the disease that took his life.
Carl Wilson: One of the Iconic Beach Boys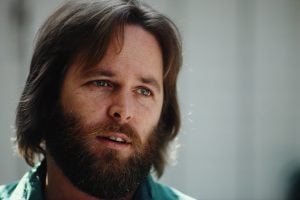 Carl Wilson grew up in Los  Angeles, California, singing alongside his brothers, Brian and Dennis. Brain would teach him to sing in harmony, Carl studied the guitar and, eventually, the three of them joined forces with their cousin, Mike Love, and friend, Al Jardine, to form a band. They started
playing locally under names like Kenny and the Cadets or Carl and the Passions
, but they eventually found their rhythm when Dennis suggested a surf theme for their music. Under the name, The Beach Boys, the quintet made its first public appearance on New Year's Eve in 1961 at Long Beach's Municipal Auditorium.  Later that year, they recorded Brian Wilson's song "Surfin'," and the rest is history.
After signing with Capitol Records in July 1962, The Beach Boys released their first album, Surfin' Safari. Soon after, the surf rock wave crashed over the world and people far from Malibu's perfect wave were singing to the tune of an idealized California life.
Carl played lead guitar for the band, but he also sand lead vocalist on some of the group's most-beloved songs like "Good Vibrations" and "God Only Knows." Being "a completely egoless musician," Carl hardly had any guitar featured on his productions for the band.
"He never wanted credit for their success, but he was the glue that held the band together," Stan Love, brother to Mike Love, told the Los Angeles Times. "Whenever you saw a great Beach Boy concert you saw what Carl Wilson was bringing to the stage."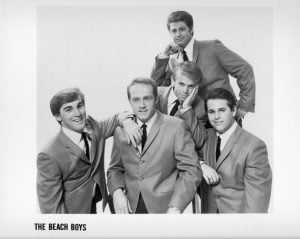 Carl was a "a rock for the group" through the bands many ups and downs. Sadly, they would have to overcome family feuds, drug abuse, fame and the tragic death of Dennis as they became one of the most critically acclaimed and commercially successful bands of all time.
"Sure, we've had our fair share of ups and downs," Carl said in 1985. "But I don't know if we've had more than any other rock band. . . . We just have a way of getting ourselves into hot water."
In a heartfelt interview for The Vinyl Dialogues Book, Carl's friend and songwriting collaborator Robert Johnson spoke to the crucial role Carl played in keeping the band afloat.
"I don't think Carl ever got the accolades that he deserved for his musical contributions, instincts and abilities," Johnsons said. "If it hadn't been for him, the Beach Boys would have died a long time ago.
"He kept it together, he kept it going. He was the heartbeat, he kept it real, vocally and artistically. He was a true inspiration to me, even with his regard to his humanity. It doesn't take me much to get teary-eyed thinking about him. I was honored to be his friend."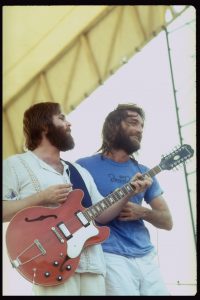 Over the course of their unforgettable career, The Beach Boys four number one hits on the "Billboard Hot 100" – "Kokomo," "I Get Around," "Good Vibrations" and "Help Me, Rhonda" – with 37 other songs cracking the top 50.
Carl did take a brief break from the band in 1981 for some solo work – he even opened for The Doobie Brothers during a solo tour in 1981 – but he returned to the band by the next year. And the success of their iconic sound got The Beach Boys inducted into the Rock & Roll Hall of Fame in 1988. Still, no amount of success seemed to change who Carl was as a person.
"He was one of the most lovely humans to ever walk the Earth," Johnson said. "He didn't have a mean bone in his body. And the fact that he was that way with all that he'd been through, with all the fame that he had experienced, there was always this humility. He was kind to everybody."
Carl Wilson's Lung Cancer Battle
Sadly, Johnson and the rest of the world would have to say goodbye to Carl on February 6, 1998.
Carl Wilson was diagnosed with lung cancer in 1997 after cancer was reportedly found in his brain and a lung, according to the Associated Press. For treatment, he underwent chemotherapy and radiation all while continuing to prioritize his music.
Former & Current Heavy Smokers Should Get Lung Cancer Screenings Using CT Scan, Says Leading Expert
But, unfortunately, his health would ultimately fail about a year later.
"Even though he was diagnosed with cancer last year and going through treatment for a year, he was a real fighter," his publicist Alyson Dutch said at the time. "He participated in the entire summer tour this year."
Anyone can get lung cancer, but people who smoke cigarettes are 15 to 30 times more likely to get lung cancer or die from the disease than people who don't smoke. Though we don't know exactly what caused Carl's cancer, it's probably safe to say smoking played a role.
"He'd been smoking since he was 13 or 14," his cousin and bandmate, Mike Love, said in an interview.
Thankfully, people with lung cancer can rest assured that treatment options have only improved since Carl waged his war against the disease. But before we get into some of those advancements, let's have a better understanding of the disease in general.
Understanding Lung Cancer
Lung cancer is the second most common type of cancer. Diagnosis and treatment of the disease can be tricky since symptoms often don't appear until the cancer has spread.
An initial symptom, for example, could be as serious as a seizure if the lung cancer has already spread to the brain. But other symptoms can include increased coughing, chest pain, unexplained weight loss, shortness of breath, wheezing, losing your voice or persistent infections like bronchitis or pneumonia.
The two main types of lung cancer are non-small cell, which makes up 85 percent of cases, and small-cell. These types act differently and, accordingly, require different types of treatment.
Dr. Patrick Forde, a thoracic oncologist at Johns Hopkins Medicine, tells SurvivorNet about how distinguishing between the two types – and their subtypes – can be very beneficial.
What Happens When You've Been Newly Diagnosed With Lung Cancer
"Within that non-small cell category, there's a subtype called non-squamous adenocarcinoma, and that's the group of patients for whom genetic testing is very important on the tumor," he explains. "Genetic testing is looking for mutations in the DNA, in the tumor, which are not present in your normal DNA."
Declining smoking rates have lead to an improved outlook for lung cancer since cigarette smoking is the number one risk factor for the disease. In fact, the Centers for Disease Control & Prevention states that cigarette smoking is linked to about 80 to 90 percent of lung cancer deaths.
It's important to remember, however, that even people who've never smoked before can still get lung cancer. The CDC reports that, in the United States, about 10 to 20 percent of lung cancers, or 20,000 to 40,000 lung cancers each year, happen in people who've never smoked.
RELATED: 87% of Eligible People Skipped Lung Cancer Screening, Analysis Finds; Knowing the Importance of Lung Cancer Screenings
"Some lung cancers are from unknown exposure to air pollution, radon, or asbestos," Dr. Raja Flores, system chair of thoracic surgery at Mount Sinai previously told SurvivorNet in a previous interview. "We also see more never-smokers with lung cancer who have a family history of it."
Advancements in Lung Cancer
Despite the fact that lung cancer is the leading cause of cancer deaths for men and women in the United States, there has been lots of progress within the world of lung cancer treatment – specifically when it comes to immunotherapy.
"Immunotherapy is here to stay," Dr. Brendon Stiles, chief of thoracic surgery and surgical oncology at Montefiore Health System, told SurvivorNet. "And it's really changed the face of lung cancer, just like targeted therapies."
RELATED: Do You Have Lung Cancer With An EGFR Mutation? If So, The Drug Tagrisso Might Be Right For You Based On New Results From A 'Practice Changing' Trial
Getting even more specific, checkpoint inhibitors and our ability to genetically test for targeted medications have made a huge difference. Checkpoint inhibitors are a class of immunotherapy drugs that specifically target proteins found either on immune or cancer cells to prevent their binding together. In other words, these drugs don't kill cancer cells directly, but instead stimulate the immune system to attack cancer cells while hopefully not affecting other surrounding healthy cells.
"It's amazing to me now that you can have Stage IV lung cancer and actually not even need chemotherapy," Dr. Stiles said. "If you have high expression of a protein that we know is targeted by immunotherapy, you may just get immunotherapy alone."
Immunotherapy and Targeted Therapy for Lung Cancer: What Is It?
But how do doctors know if immune checkpoint inhibitors can be used to treat your lung cancer? Through testing.
If you were recently diagnosed with non-small cell lung cancer (NSCLC), your cancer care team should take the time to talk about PD-L1 testing with you. PD-L1 testing is a laboratory test cancerous tumor tissue is sent to a laboratory for evaluation and analysis in order to helps physicians determine if a patient will likely benefit from immune checkpoint inhibitors.
RELATED: What Is PD-L1 Testing In Lung Cancer And Why Does It Matter?
PD-1, referred to as programmed cell death 1, is a protein that is found on the outer surface of cells in your immune system. PD-L1, referred to as programmed cell death ligand, is on the outer layer of some normal blood cells, as well as some cancer cells. When PD-1 binds to PD-L1, this puts the brakes on the immune system and can prevent immune cells from attacking and killing cells.
Normally, this acts as a braking mechanism to prevent our immune systems from becoming overactive and going somewhat haywire by attacking our normal cells. Cancer cells can take over or override this innate mechanism, preventing cancer cells from dying.
RELATED: Clinical Trials for Lung Cancer
Immune checkpoint inhibitors are drugs that are designed to blocks proteins called checkpoints that are made by some types of immune system cells. Two important such checkpoint proteins are PD-1 and PD-L1 as well as CTLA4.
"Immune checkpoint inhibitors … these are IV therapies — antibodies — that wake up the immune system," Dr. Geoffrey Oxnard, a thoracic oncologist at Boston Medical Center, told SurvivorNet. "We are blocking this signal called PD-L1. PD-L1 is a signal that your tumor uses to tell the immune system to go away and ignore it.
"It is a Jedi mind trick, OK? It tells the immune system, 'Move on. Bye. Ignore me.' If we block that signal, the immune system wakes up, sees the cancer, and attacks."
Checkpoint inhibitors for non-small cell lung cancer (NSCLC) patients include the following:
Nivolumab (Opdivo)
Pembrolizumab (Keytruda)
Cemiplimab (Libtayo)
Ipilimumab (Yervoy)
In addition, it's important to remember that there are many targeted therapies out there for patients. And genetic testing can reveal the presence of certain genetic mutations — including KRAS, ALK, EGFR and a number of others — which can help doctors tailor treatment for each person's specific lung cancer. Overall, it's important that people with lung cancer advocate for themselves and ask if targeted therapies and immunotherapies may be right for them.
Contributing: Dr. Andrea Tufano-Sugarman
Learn more about SurvivorNet's rigorous medical review process.