Rebecca Crews Cancer Diagnosis
Rebecca Crews received a stage one breast cancer diagnosis in 2020 following a mammogram and ultrasound. Today, she is cancer-free after a double mastectomy.
Crews, who credits a mammogram screening for saving her life, previously told SurvivorNet she is "grateful to be alive" and encourages other women to get checked, because "detection saves lives."
Stage one breast cancers are relatively small; they either have not spread to the lymph nodes or only a small area of cancer has spread to the sentinel lymph node.
Treatment will likely be surgery and radiation following surgery, along with chemotherapy or some other therapy. For women whose breast cancer is hormone receptor positive doctors will also recommend hormone therapy. For HER2 positive cancers the drug Herceptin will be recommended.
Growth can be uncomfortable, says Rebecca Crews, the wife to American actor Terry Crews and mom of five, in one of her recent uplifting social media posts. The breast cancer survivor has taken to Instagram to share words of wisdom since her cancer diagnosis.
"Hey Family, always know this: Growth is often uncomfortable, challenging, and full of feelings, and that is okay," said Crews, in a post. "Every success story is a tale of constant adaption, revision, and change. Everything is hard before it's easy. Take chances, make mistakes, that's how you grow."
Read More
The 56-year-old actress and singer was diagnosed with stage one breast cancer in 2020 following a mammogram and ultrasound. She then had a double mastectomy in March. With the help of screenings and early intervention, Crews is cancer-free today and living life to her fullest after battling the disease. She also remains open with her fans in hopes to help others on their cancer journeys.
Rebecca's Diagnosis
Upon hearing the diagnosis, her husband, Terry, recalled that he was casually working out on the treadmill at home when she delivered the news to him.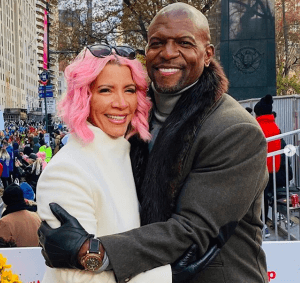 "I actually felt a mild panic attack," Terry said in a previous interview with SurvivorNet. "The only way I can describe it is that I felt like my insides were melting."
Understandably, it was hard for Terry to digest what he'd just heard. His best friend and partner in life had cancer. However, Rebecca snapped him right out it, not allowing his moment of panic to last long. She immediately took charge and talked about what needed to happen next.
"She said don't look at me like that," Terry says. "I was like 'right, right, OK.' It's almost like she grabbed me and said 'come on man, wake up.' She said she was ready to fight, and I knew I needed to be strong."
Facing Challenges Together
Despite immense fear the couple felt following Rebecca's diagnosis they knew, based on their history of beating previous challenging times together, that they would prevail. In fact, their relationship only got stronger.
"My wife and I have been through a lot of things," Terry says. "We've lost homes; we've lost children before — things that would have taken a lot of people out — and we survived them all. I looked at it like an opportunity. This is what love is. When you look at the marriage vows it's not when everything's great. This is where the rubber meets the road."
Due to the COVID-19 outbreak, Terry had to take on the role as Rebecca's caregiver while she recovered from surgery and the stress from treatment. Fortunately, it ended up being an experience they both actually appreciated, given how busy they both were before the outbreak. A hopeless romantic, Terry jokes that the world shut down so he could take care, support her through tough days, and ultimately watch her get better.
"Our love right now is the strongest it's ever been because we survived," Terry says. "We made it. You get a new appreciation for what life is. We've been through everything, but we have never faced a problem like this. It's a whole new challenge, and I was proud of how she became a warrior. My wife is 100% cancer-free. This is a win."
Contributor: SurvivorNet Staff
Learn more about SurvivorNet's rigorous medical review process.
---