Tracking Pekar's 'Cancer Year'
Battling cancer is not for the faint-hearted, even when the result is recovery, and for many, a long and extended life. For someone like the cantankerous comic book writer Harvey Pekar, the prospect of moving to a new house was terrifying enough, let alone radiation treatments.
With the help of his wife Joyce Brabner, Pekar survived months of painful cancer treatments in 1990 and 1991. He died 20 years later in July 2010, not of cancer, but from what was ruled an accidental overdose on painkillers. He was 70.
Non-Hodgkin lymphoma is one of the most common types of cancer, accounting for 4% of all cancers this year, with a five-year survival rate for those diagnosed of 72%. (Pekar lived for 20 more years.)
By David Colton
Battling cancer is not for the faint-hearted, even when the result is recovery, and for many, a long and extended life.
Read More
For someone like the cantankerous comic book writer
Harvey Pekar
, who famously debated David Letterman on television and had his life portrayed by Paul Giamatti in the cult film
American Splendor
, the prospect of moving to a new house was terrifying enough, let alone radiation treatments.
"I catastrophize about everything,'' Pekar told me in a 2005 interview, 15 years after he was first diagnosed with non-Hodgkin lymphoma, a cancer of the immune system.
Catastrophizing? "The other day I lost my keys in my car,'' Pekar explained. "I'm thinking, people will see the keys dangling from the ignition, throw a rock through the window and drive it away. Everybody's got certain fears about a few things, but I seem to be afraid of just about everything.''
Surely not an ideal candidate for months of chemotherapy, conflicting medical opinions and a constant dread of what might come next.
But with the help of a loving wife, writer and social activist Joyce Brabner, the fearful Pekar survived months of worry, anger and painful cancer treatments in 1990 and 1991. He died 20 years later in July 2010, not of cancer, but from what an Ohio coroner ruled as an accidental overdose on painkillers. He was 70.
Pekar's comic books weren't about superheroes; they were about the ordinary experiences of ordinary people. He worked in a monotonous civil service job in Cleveland, writing about his co-workers' day-to-day experiences, which he called "the substance of life — arguing with supervisors, things like that." Working with various artists, including legendary underground cartoonist R. Crumb, Pekar says he was able to "live a two-tiered life, supporting the artistic side of me with the civil service job."
Tracking Pekar's 'Cancer Year'
No topics were off limits for his comic books, including his struggle with cancer, chronicled in an award-winning graphic novel, Our Cancer Year, written by Pekar and Brabner and illustrated by Frank Stack in 1994. The 252-page novel is unflinching, from the harrowing effects of chemotherapy to the psychological impact on both patients and family, and the importance of finding the right doctors and treatments.
Set against the run-up to the Gulf War in 1990, Pekar ignored a small lump in his groin for months. "When are you going to do something about it, Harvey?" wife Brabner demands in one comic book panel. "It could be something serious. You're not being fair to yourself, or me."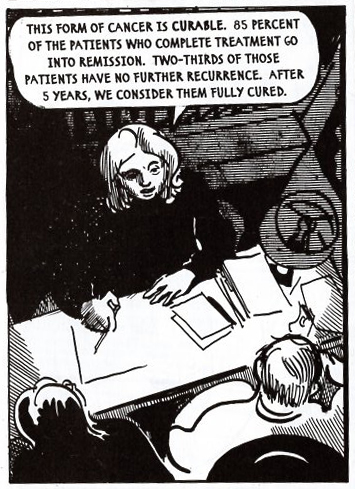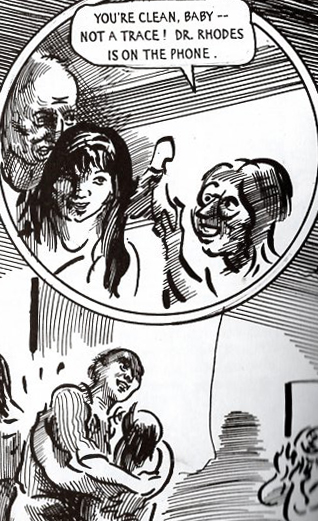 In a thought balloon, Pekar reveals, "Yeah, and if she only knew, it's getting bigger." Later he says, "I just don't want to deal with it now." But Brabner insists.
"Harvey thought he was indestructible,'' recalled Brabner, 69, in a recent interview. "Harvey may have been unaware, but I was aware. Only one of us was realistic. You find a lump? Do something about it! I got him to the doctor the minute I knew."
Indeed, a doctor at work tells Pekar he should get the lump checked. "It's large now and you say it's growing. It might be lymphoma."
Taking a Closer Look at Lymphoma
In Pekar's case, it was stage 1 non-Hodgkin lymphoma, a cancer that attacks lymphocytes — a type of white blood cells that are part of the body's natural immune system. Cancerous lymph nodes can turn up throughout the body — in the throat, the digestive tract, bone marrow, or in Pekar's case, near his pelvis.
Non-Hodgkin Lymphoma: It's More Than Just One Type
The American Cancer Society reports that non-Hodgkin lymphoma is one of the most common types of cancer, accounting for 4% of all cancers this year, with a five-year survival rate for those diagnosed of 72%. (Pekar lived for 20 more years.)
There is no recommended screening test for non-Hodgkin lymphoma, but signs can show up early, such as enlarged lymph nodes in the form of lumps along the neck, armpits or groin. Symptoms can include protracted fever, chills, heavy sweating at night, weight loss, fatigue and swelling in the abdomen.
One problem for early detection is that those kinds of symptoms, even the lumps, can be caused by many things, including infections. But in all cases, such signs should be checked by a doctor.
Treatment Worse Than the Cure?
An operation removed Pekar's large cancerous growth, and he began chemotherapy. Chemo differs for all patients, some soldier through while others exhibit severe reactions, physically or emotionally.
Pekar's built-in sense of dread — the self-styled "catastrophizer" — seemed to amplify those adverse reactions. "Why is the glass always 'half-empty' for me?" he thinks, expecting the worst every step of the way.
His hair fell out everywhere (which is not uncommon), his body ached, he could not sleep, or climb steps. Panel after panel shows him in a state of panic and doom. He tries to return to work, ends up being sent home. "I'll lay on the bathroom floor and die,'' Pekar writes at the opening of one chapter in the book.
Non-Hodgkin Lymphoma Treatment: Finding the Right Fit for You
In a startling encounter, Pekar's first doctor admits, "Chemotherapy can be at best a 50/50 proposition. Who knows? Some of the drugs I've given may have killed as many patients as I've cured."
With a new and more empathetic oncologist, though, and tough love from his wife, Pekar got through chemo, then a final round of radiation. The cancer is declared to be gone. "You're clean, baby. Not a trace,'' Brabner tells her husband triumphantly after the doctor calls.
His hair grows back. His life resumes. The couple even becomes foster parents of a 9-year-old girl.
Pekar had another bout with cancer after that but recovered again and remained an active writer. Brabner says one lesson she learned from it all was to not take on caregiving alone, "One thing I would have done differently, I would have opened myself to more help."
Brabner, who works with refugees and dissidents from war-torn countries, summed up her experience this way: "Cancer is so prevalent. It's part of our world. Catch it early, don't be afraid, get help. Talk to experts and always seek a second opinion."
"You don't have to be a hero to get through it."
Learn more about SurvivorNet's rigorous medical review process.