Oni's Journey
Now 14, Oni was just in elementary school when his cancer first presented as headaches.
He underwent treatment, but his cancer returned just as he entered high school.
Instead of opting for a years-long course of chemotherapy, Oni's family opted for proton therapy at St. Jude.
While most fourth graders are focused on their friends and the playground, one was experiencing debilitating headaches. It was 2015 and Oni, his family would learn,
had a brain tumor
. Oni was diagnosed with a tumor known as juvenile pilocytic astrocytoma (JPA) which is a rare childhood brain tumor.
His family took him to a neurologist who discovered the tumor sitting on the little boy's optic nerve. That's when "the bottom of my world fell out," mom Kim told St. Jude Inspire. His surgical team was able to remove a third of Oni's brain tumor, and he undertook an arduous chemotherapy course that lasted for a year and a half. His family "thought he was cured," Kim said.
Read More
Juvenile pilocytic astrocytoms typically grow slowly and cause symptoms based upon their location in the brain.
Dr. Mike Soike
 Assistant Professor of Radiation Oncology at the O'Neal Comprehensive Cancer Center at the University of Alabama at Birmingham tells
SurvivorNet
, "JPA is a slow growing tumor that is often found accidentally on a scan for another reason. When these tumors are not found early they tend to cause headaches and other symptoms based upon their location in the brain. For instance, if the tumor is near the optic nerves this may cause trouble with vision, or if the tumor grows in the back part of the brain (cerebellum) this may cause issues with balance." Treatment for JPA may include surgical resection, chemotherapy, radiation therapy or a combination of several of thse treatments. The goal in treating JPA is to remove the tumor entirely in hopes that it does not return. Dr. Soike says "fortunately, most patients with JPA do very well with treatment and will have normal life spans." Despite this, sometimes the tumor can return and may require additional treatments with surgery, chemotherapy or radiation.
Unfortunately, their struggles were not over yet: Oni's headaches returned in 2018.
A High School Freshman in the Fight of His Life
By the fall of 2019, just as Oni was starting his freshman year in high school, doctors discovered that his tumor had tripled in size. They recommended three to four more years of chemotherapy. If everything went well, he'd still be in treatment when he graduated.
The family sought an alternative plan. At St. Jude Children's Research Hospital, they found it: The approach would be proton therapy, and the family moved forward with determination and strength.
The Benefits of Proton Therapy
"He's been through so much and he's never complained," his mom said. "He's like, 'OK, whatever I have to do about my brain tumor, I am willing to do.' He is such a remarkable young man."
A Survivor With a Bright Future
It was a long road to get to this point, but now he has a lot to celebrate. At 14-years-old, Oni recently returned to St. Jude for his 90-day post-treatment checkup, and the news was good: The tumor is shrinking and his vision in his right eye, which had been compromised by the growth of the tumor, is substantially improved.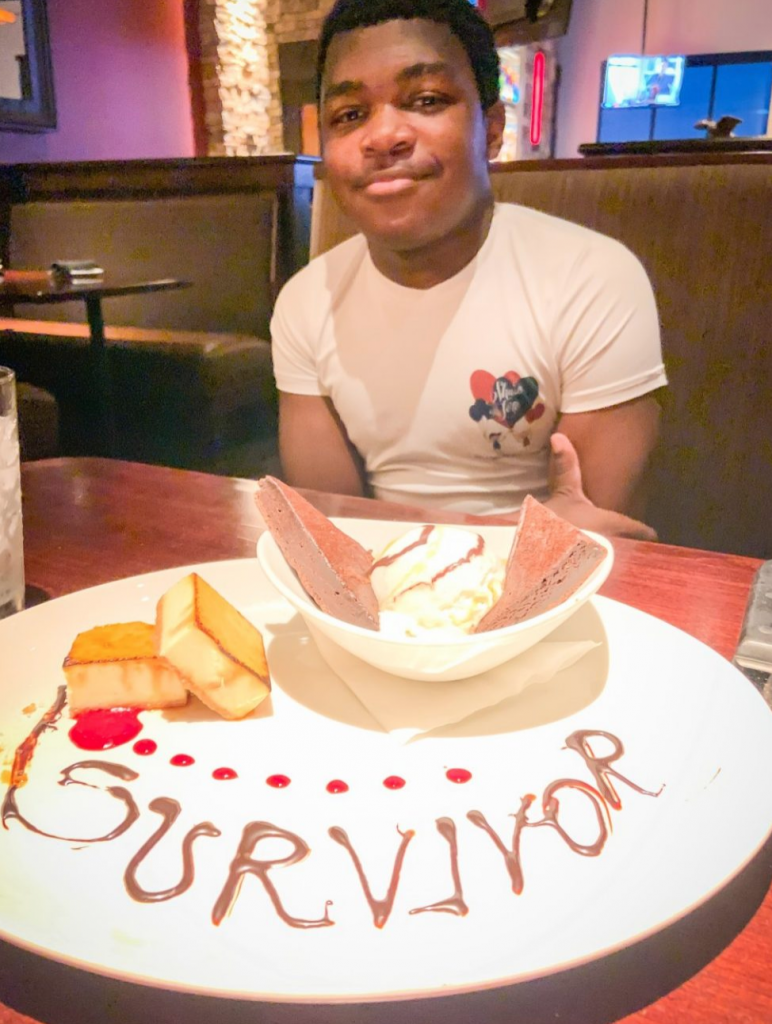 St. Jude patient Oni underwent proton therapy.
He finally gets to look forward to the things that kids his age should be able to look forward to — getting on the field to play football with his friends and teammates. "Oni's dream is to play professional football," his dad says. But father Ken would also like to see his only child earn a degree that would also enable him to help others.
Proton Therapy at St. Jude "Changed Everything"
It was the decision to try proton therapy that moved the family in a fateful new direction. "That one conversation changed everything," his mom explained. "The doctor we talked to at St. Jude said that since proton therapy is not irradiating the whole brain, but just targeting the tumor, it has fewer side effects than traditional photon radiation."
Doctors also explained to the family that Oni was the ideal candidate to undertake this treatment. We all left that meeting saying, 'Yes, we are in the right place,'" she said. "'The extraordinary team at St. Jude knew what they were doing, and they were the answer to our prayers.'"
Dr. Soike tells SurvivorNet that "both photon and proton radiation therapy are effective in treating this type of tumor. However, in children who are expected to have a long life span we want to minimize side effects from treatment so we strongly recommend proton therapy. Proton therapy has the benefit (over photon therapy) of reducing the amount of normal tissue exposed to radiation within the brain and this reduces the side effects from radiation treatment."
Related: Kicking Cancer's Ass — One Survivor's Advice for Taking On Brain Cancer
The treatment required 465 miles of travel from their home against the backdrop of the COVID-19 pandemic. Having had to travel without Ken, Kim and Oni stayed together at St. Jude for the eight weeks he received proton therapy.
But despite the challenges, the family felt deeply grateful for the opportunity. In fact, it's their attitude of gratitude — even amid their only child's tough diagnosis — as well as their faith that kept them going.
"To me, the whole purpose of life is to steer you towards God," said dad Ken. (In fact, Oni is an African name meaning "prayed for.") "Our situation could be something that's going to encourage someone else. So you can't just say why me? Because why not you? If your purpose is to go through a bunch of trials and tribulations, then so be it. Go through that. But you're not going through it alone."
Radiation Therapy: What's the Difference Between X-Rays and Protons?
While at St. Jude, multitalented Oni composed lyrics that fit the bill just right: "Got people praying for me every day, man I am glad… I got God and he'll show me where to go… When I'm stuck here thinking how am I gonna grow… No brakes, just look at our milestones."
Related: "The Mental Game Is as Strong as Medicine"—Cancer Survivors Share How They Keep Going In Uncertain Times
Whatever the future holds for the young man, it's definitely looking bright. "Oni's story is a good story," his dad says. And one that can inspire us all.
Learn more about SurvivorNet's rigorous medical review process.